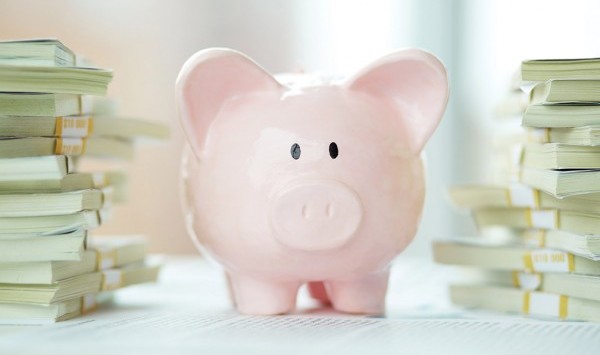 The unintended consequences of rate cuts
Repeated interest rate cutting by central banks around the world was supposed to drive consumer spending and boost economic growth. But recent research suggests the cuts are having the opposite effect – household savings rates in many OECD countries are on the rise.
The issue of low and negative interest rates across the globe has been topical for quite some time now, and I think for the most part we know why central banks around the world keep cutting rates and providing liquidity in various forms. After all, as money becomes cheaper and easier for consumers and businesses to get their hands on they should spend and invest more, jump-starting economic growth, employment and inflation. The financial and psychological boost that comes with rising asset prices should provide even more confidence to borrow and spend. Interestingly, but maybe not surprisingly, it seems the exact opposite is happening.
According to a recent Wall Street Journal article based on data from the Organisation for Economic Co-operation and Development, Moody's and corporate regulatory filings consumers in countries with negative rates are actually saving more now than in 1995. The household savings rates in Germany (10-year bond yield of minus 0.11 percent), Japan (minus 0.10 percent), Switzerland (minus 0.56 percent), Denmark (minus 0.05 percent) and Sweden (negative short term policy rate) have all been on an upward trend recently. Of these 5 countries, only Japan's consumers are saving less of their income today than they were two decades ago. And a measure of corporate cash coffers compared to revenues for Europe and neighbouring countries has been climbing over the past 5 years. At the end of 2015 the ratio was at a level not seen since 2010, representing almost 1 trillion Euros in corporate bank accounts.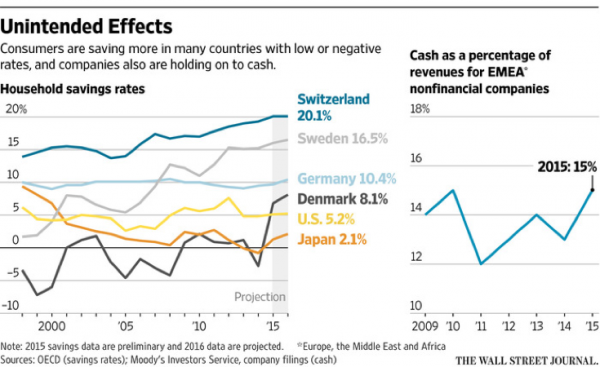 Source Wall Street Journal 
This outcome is not entirely surprising. To begin with many developed nations have old and ageing populations. They are characteristically savers not spenders. As the return on their accumulated assets and pensions declines with low interest rates they have less to spend and require a greater nest egg for the future. This encourages saving.
Workers are faced with the same problem, yet it is compounded by the slow state of the current and projected economic environments. When central banks, government officials and the financial community have low expectations for economic prosperity, the confidence of businesses and consumers is also sure to fall. Confidence in the economy is a necessary condition for spending, and today's lack of confidence means more saving.
Unfortunately for central bankers hoping to boost spending by offering cheap loans, they may have only boosted the incentive to squirrel away even more money. Counterintuitively, higher rather than lower interest rates may be the key to stimulating these economies. But that has a whole other set of issues to deal with.
Christopher Demasi is a Portfolio Manager with Montgomery Global Investment Management. To invest with Montgomery domestically and globally, find out more.