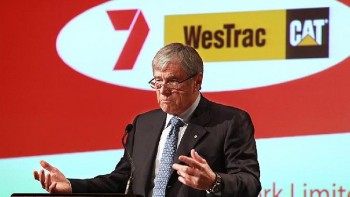 The curious case of Seven Group Holdings
At the beginning of this month, Seven West Media (ASX: SWM) announced its full year financial results which fell short of market expectations. In addition, earnings guidance for the next financial year were also below expectations. In a brutal two-day period following the announcement of its results, Seven West Media's share price declined by 28 per cent. In dollar terms, more than $400 million was wiped off the value of the company.
And since the stock's most recent 52-week high achieved in June, $700 million in value had been wiped off the company's value following its result.
The challenges facing the traditional media industries have been well documented: at a time when eyeballs are increasingly hard to come by (unless you are Facebook or Google) – and advertising revenues waning, content costs are increasing.
So what does this have to do with Kerry Stokes' Seven Group Holdings (ASX: SVW)? Well, Seven Group Holdings owns approximately 41 per cent of Seven West Media. So the approximate math is as follows: for every $700 million that Seven West Media declines in value, Seven Group Holdings should decline by approximately $290 million – all else being equal.
Now, over the period during which Seven West Media declined in value by $700 million, Seven Group Holdings actually increased in value by approximately $500 million! So to be clear, this implies that the non-media assets in the Seven Group Holdings portfolio increased in value to the tune of nearly $800 million (or by around 30 per cent) over just a two-month period. This is a fantastic outcome for Stokes' non-media assets.
The next question is: what are these non-media assets – and why are they doing so well? Seven Group Holdings' primary non-media assets include 100 per cent ownership in WesTrac – a dealer of Caterpillar equipment in Australia and China; 46.5 per cent ownership of Coates Hire – a leading construction equipment hire business; and 100 per cent ownership in Allight Sykes – a manufacturer of industrial lighting, pumps and generators. In addition, Stokes' conglomerate also owns interests in energy assets, property and other listed investments.
Now, it's fair to suggest that Stoke's energy, property and listed assets probably are not responsible for the 30 per cent two-month gain observed in his non-media portfolio. So that leaves his equipment businesses. But according to Macquarie, WesTrac is not expecting any sales growth at all over the next twelve months – and if Caterpillar's global outlook is anything to go by, demand for mining and construction equipment is unlikely to improve any time soon. All in all, Macquarie expects these non-media assets to deliver earnings that are down around 5 per cent over the coming year versus the year just gone.
Is a 5 per cent annual earnings decline worthy of a 30 per cent re-rating in value? It could well be – depending on how low the market's expectations were leading into the result. For example, if the market were expecting, say, a 10 per cent decline, then 5 per cent is a great outcome.
Whichever way you cut it, investors in Seven Group Holdings need to pay a lot more for a business that is barely growing today, than they have for some time. Upon considering the ratio of the company's enterprise value to its expected full-year earnings (before interest, tax, depreciation and amortisation): just three years ago it was below 6 times; at the beginning of 2016 it was a little over 10 times; and today, it is more than 13 times. It may well be justified. But as the price goes up, so too do the required future earnings that the business needs to deliver for investors to make money.
Montaka has a "short" position in Seven West Media.
Andrew Macken is a Portfolio Manager with Montgomery Global Investment Management. To invest with Montgomery domestically and globally, find out more.