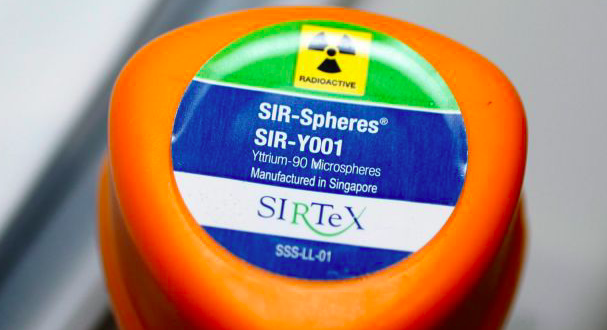 The news looks good, so why have Sirtex shares been dumped?
Over the weekend, the results were released of a trial comparing the efficacy of two treatments for late stage liver cancer. The treatments were SIRT, pioneered by Australian biotech, Sirtex, versus Sorafenib. The results were generally positive for SIRT. So why has the market responded so harshly?

The results of the trial, named SARAH, were released at the International Liver Congress in Amsterdam. (Note this is different from Sirtex's (ASX: SRX) upcoming trials in treating metastatic colorectal cancer in the first line setting; these are SIRFLOX, FOXFIRE, and FOXFIRE Global, whose results will be released later in FY17).
The SARAH trial demonstrated that SIRT (which stands for Selective Internal Radiation Therapy) results in median overall survival (OS) of 8.0 months compared to 9.9 months with Sorafenib. On the surface, it appears that SIRT's performance is inferior to that of Sorafenib; however, we must take statistical significance into account.
Statistical significance allows us to infer whether a result occurred just by chance or is actually real. In this case, whilst Sorafenib's OS was higher than that of SIRT, the finding was not statistically significant and hence we'd say that the OS was roughly equivalent for each group unless new evidence/data is uncovered.
It's also worth pointing out that some market commentary that 'SIRT does not increase overall survival in patients' is incorrect. The result simply says that it doesn't improve overall survival relative to the current standard of care, namely, Sorafenib.
Interestingly, SIRT performed better than Sorafenib on many other metrics. The response rate (i.e. data which indicates that the cancer has been affected by the treatment) was higher for SIRT than Sorafenib (19.0% versus 11.6%). Further, SIRT demonstrated a much better toxicity profile relative to that of Sorafenib. Rates of both low grade (i.e. a minor side effect) and high grade (i.e. a major side effect) adverse events were lower for SIRT and quality of life indicators were much higher.
Overall, it seems that SIRT is equivalent to Sorafenib in terms of OS benefit but makes patients less sick and with a better quality of life in their final days.
There is more work to do before the result can be commercialised. Notably, the FDA in the US would need to give SIRT a label upgrade, and insurers/government payees would need to be convinced of the efficacy of the treatment. Once Sirtex has the required approvals, it will then begin consultations with the oncologist community.
The stock is down 14% today and we're slightly puzzled as to why. Whilst there are still hurdles for the firm to jump, the study provides a medical basis for use of SIRT over that of Sorafenib. At worst, the study should have nil impact and, at best, a decent clip of upside. Note that a treatment of SIRT is much less expensive than Sorafenib and seems to make patients much less sick. Hence it appears to have a good value proposition.
We do have more questions around the sub-group data/efficacy of the result which will be released in time. Understanding under what conditions the treatment is effective, and when it isn't, is crucial to the firm's valuation. Montgomery is hence not in a position to discuss as to what value the firm may be, but we will continue to blog on SRX as more results are released.
Montgomery does not own shares in Sirtex.
This post was contributed by a representative of Montgomery Investment Management Pty Limited (AFSL No. 354564). The principal purpose of this post is to provide factual information and not provide financial product advice. Additionally, the information provided is not intended to provide any recommendation or opinion about any financial product. Any commentary and statements of opinion however may contain general advice only that is prepared without taking into account your personal objectives, financial circumstances or needs. Because of this, before acting on any of the information provided, you should always consider its appropriateness in light of your personal objectives, financial circumstances and needs and should consider seeking independent advice from a financial advisor if necessary before making any decisions. This post specifically excludes personal advice.
INVEST WITH MONTGOMERY