The News Cycle: Reality Versus Viral News Media
In a world where news stories break within seconds of an event occurring, and media organisations are permanently engaged in a battle royal for people's attention, it can be hard to separate fact from fiction. Hence we thought it might be interesting to take a look at some of the most viral news stories over the last ~20 years which combine people's fear of widespread death transmitted through an uncontrolled medium (i.e. virus, flu, disease, physiological disorder, etc).
Looking at the period from 2000 – 2017 for events that fit this description and caused global media frenzies, the intensity of news mentions has varied with the Ebola outbreak (black graph below) in 2014 taking the top spot with its peak literally off the chart (truncated in order to highlight the other data sets), followed by Swine Flu (pink graph) in 2009. Naturally a global pandemic which has no known cure is going to the garner a great deal of attention until the fear dissipates (a spike). This is somewhat differentiated from a lingering concern such as an induced psychological disorder from violent video games (red). Violent video games has consistently been a background concern since 2000, in fact there was a mass shooting in Florida, USA in late August 2018 tied to this cause.
Multiple Axis Timeline of Viral News Media Mentions by Topic (2000 – 2017)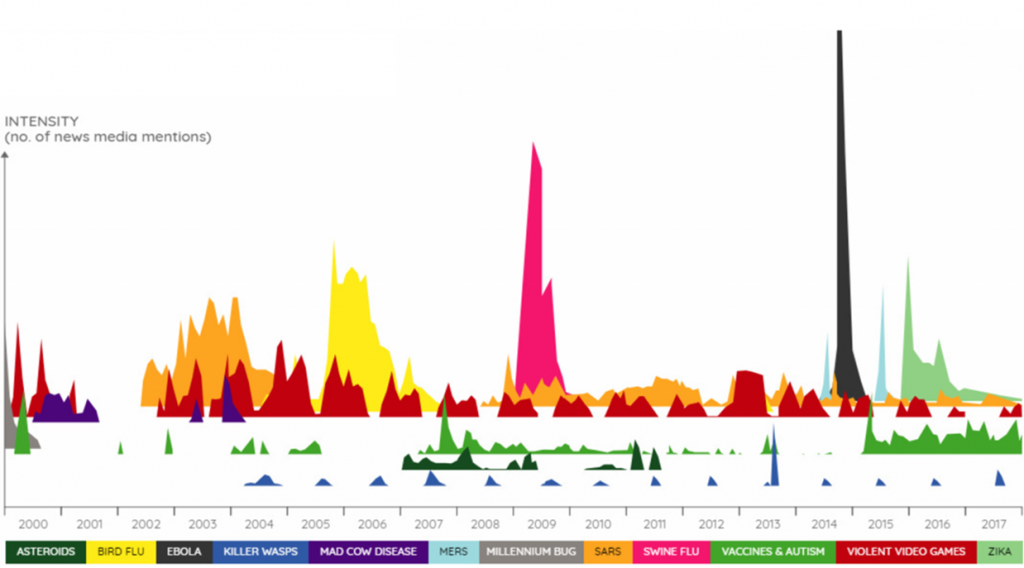 Source: Information Is Beautiful
Taking the above data and mapping it onto a single axis, highlights the magnitude of the Ebola spike relative to the rest of the data (much, much higher). This result perhaps highlights the propensity of people to panic and the media to push the narrative in that direction to achieve a maximum audience.
Single Axis Timeline of Viral News Media Mentions by Topic (2000 – 2017)
Source: Information Is Beautiful
Given we are looking at the most extreme, crisis producing events (i.e widespread deaths from an uncontrollable source), one may expect the news media to most actively cover those events that corresponded with the highest number of deaths. This however is not the case, as the media is more often focused on covering events that attract the largest audience and perhaps generate the most fear. This is evident from the following mapping which shows the number of deaths caused by each of our events. Staggeringly there is a sharp mismatch between deaths and what the media covers most extensively, with Bird Flu, SARS and Swine Flu causing many more deaths than their corresponding media coverage, whereas Ebola was the opposite.
Actual Deaths Attached to Viral News Media Topics (2000 – 2017)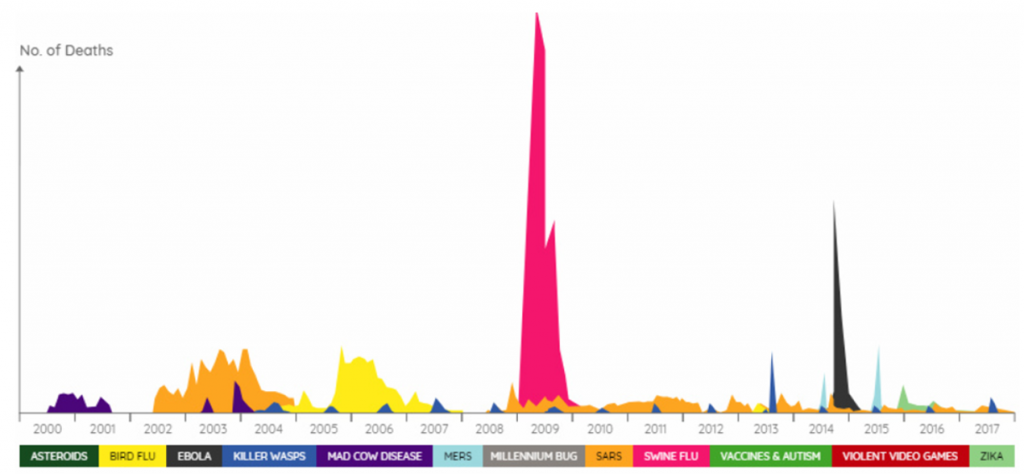 Source: Information Is Beautiful
The team at Montgomery Global is highly attuned to what is reported in the financial press and what goes into a high quality investment, with the pair often uncorrelated. Having an appreciation of how the media works, assists us in separating reality from hype and value from manias, as we pursue the most attractive destinations to deploy our investors capital.