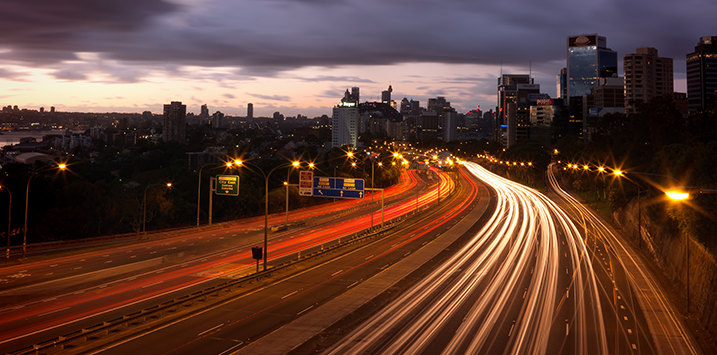 The Montgomery Fund – year in review
The Montgomery Fund (The Fund) closed an impressive 2021, outperforming the S&P/ASX 300 Accumulation Index by 7.61 per cent, after fees. Over the year The Fund also paid a solid distribution at 30 June and a smaller one at 31 December, which collectively represented approximately 4.2 per cent of the calendar year's return, also on an after-fee basis. In this article I review some of the key drivers of performance over calendar year 2021 at a sector and stock level.
Graph 1 – Sector contribution to return (calendar year 2021)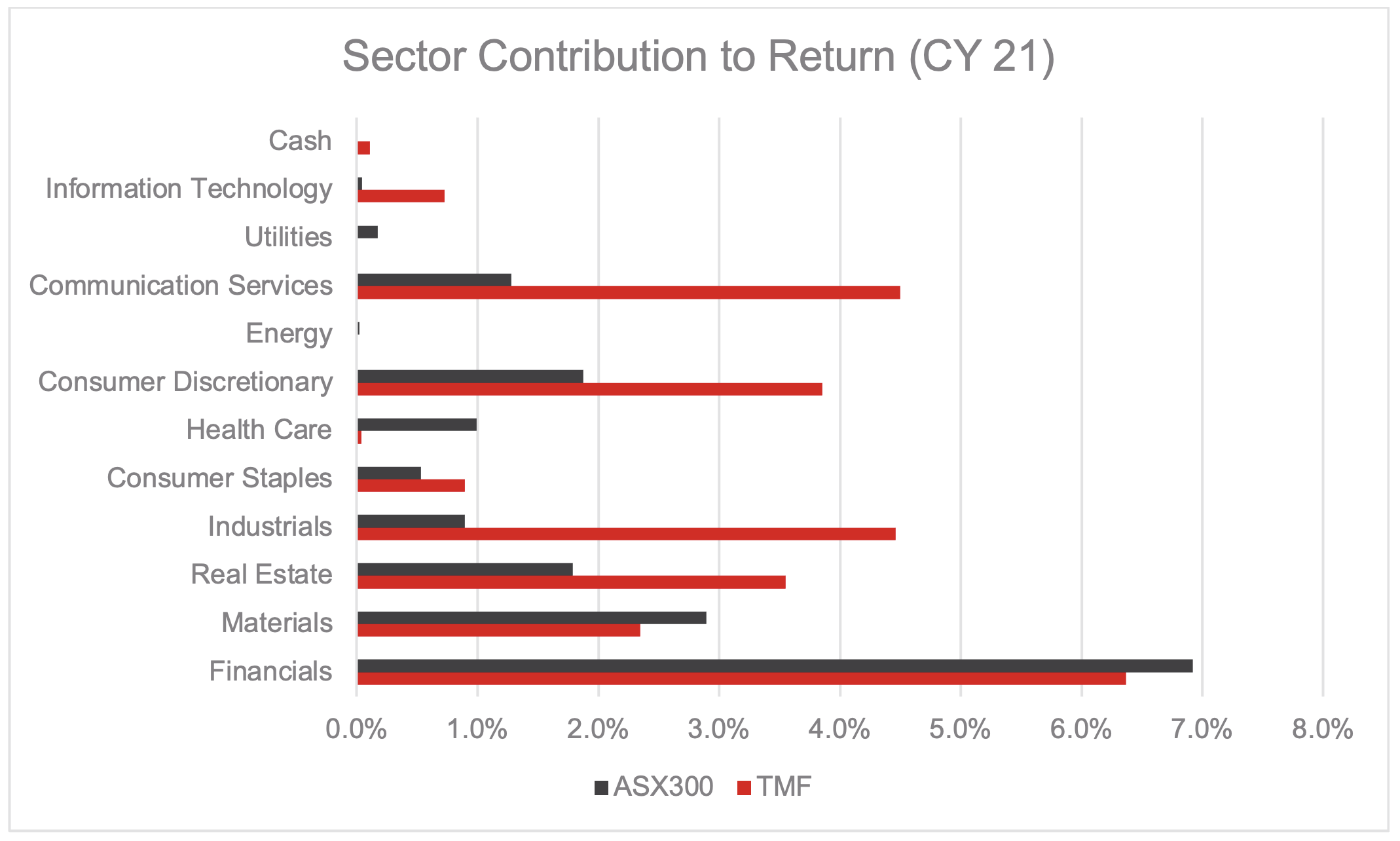 Source: MIM. Gross contribution to return, 12 months as at 31 December 2021
The strongest performing sector in terms of contribution to the overall return was Financials for The Montgomery Fund at 6.4 per cent, as shown in Graph 1. This is noteworthy as The Montgomery Fund has traditionally been underweight the big four banks relative to the index. At calendar year end the big four banks (of which three Montgomery own) only represented 14 per cent of The Fund whereas they collectively represent approximately 20 per cent of the S&P/ASX 300 Accumulation Index. The Montgomery Fund did increase its weighting in aggregate to the banks throughout calendar year 2020, and not surprisingly the fifth largest contributor to performance in The Fund over calendar year 2021 was the Commonwealth Bank of Australia (ASX:CBA) which still remains the largest position in The Fund.
Other notable contributions to performance by sector included Communication Services (4.5 per cent) and Industrials (4.5 per cent). I think this sector analysis reveals that the drivers of performance in The Fund are very different to the Index. This is because The Montgomery Fund, as readers would be aware, is a concentrated quality focussed, benchmark unaware portfolio.
Table 1 – Stock contribution to return (calendar year 2021)
Contributors (basis points)
Macquarie Group Ltd (Financials)
243
Capricorn Metals Ltd (Materials)
234
Reliance Worldwide Corp Ltd (Industrials)
215
Total Positive
2,886
Detractors (basis points)
Avita Medical Inc (Health Care)
-149
Aristocrat Leisure Ltd (Consumer Discretionary)
-29
PointsBet Holdings Ltd (Consumer Discretionary)
-18
Total Negative
-212
Source: MIM. Gross contribution to return, 12 months as at 31 December 2021
At a stock level, the total positive contributors to performance for The Montgomery Fund outweighed the negative contributors by almost 14 times over 2021, which is captured in Table 1. Obviously the last calendar year was generally a kind year to equity investors, but I also think this result outlines a strong risk management discipline at the stock level for The Fund.
The top three positive contributors to The Montgomery Fund over calendar year 2021 were Macquarie Group Ltd (core position), Capricorn Metals Ltd (smaller position) and Reliance Worldwide Corp Ltd (intermediate position), all of which are still current holdings in The Fund.
On the negative ledger was Avita Medical Inc, and to a far lesser extent Aristocrat Leisure and PointsBet Holdings Ltd. Avita Medical Inc is a company we continue to hold as an intermediate position and take a long-term view on, and we think is poised fundamentally for a stronger 2022. Aristocrat Leisure Ltd, a name the readership should be familiar with, was only reintroduced into the portfolio at the back end of 2021 and PointsBet Holdings Ltd, a smaller position in The Fund throughout 2021, was also exited at the back end of 2021.
As we look ahead for 2022, a key callout for The Montgomery Fund is that it will continue to remain fully invested and back the diverse range of quality names in the portfolio. Throughout calendar year 2021, cash in The Fund only averaged 6 per cent which was well down for its historic average of 20 per cent since The Fund's inception. Going forward this cash range will be closer to around 5 to 10 per cent of The Fund.
To learn how to apply you can visit The Montgomery Fund's web page here. 
The Montgomery Fund owns shares in the Commonwealth Bank of Australia, National Australia Bank, Westpac, Macquarie Group, Capricorn Metals, Reliance Worldwide, Avita Medical, Aristocrat Leisure, PointsBet Holdings. This article was prepared 13 January 2022 with the information we have today, and our view may change. It does not constitute formal advice or professional investment advice. If you wish to trade these companies you should seek financial advice.
Portfolio Performance is calculated after fees and costs, including the Investment management fee and Performance fee, but excludes the buy/sell spread. All returns are on a pre-tax basis. This article was prepared by Montgomery Investment Management Pty Ltd, AFSL No: 354564 (Montgomery) the investment manager of The Montgomery Fund (TMF), ARSN 159 364 155. The Responsible Entity of The Fund is Fundhost Limited (ABN 69 092 517 087) (AFSL No: 233 045) (Fundhost). This document has been prepared for the purpose of providing general information, without taking into account your particular objectives, financial circumstances or needs. You should obtain and consider a copy of the Product Disclosure Document ('PDS') and Target Market Determination (TMD) relating to the Fund before making a decision to invest. Available here: http://fundhost.com.au/investor/tmf. While the information in this document has been prepared with all reasonable care, neither Fundhost nor Montgomery makes any representation or warranty as to the accuracy or completeness of any statement in this document including any forecasts. Neither Fundhost nor Montgomery guarantees the performance of the Fund or the repayment of any investor's capital. To the extent permitted by law, neither Fundhost nor Montgomery, including their employees, consultants, advisers, officers or authorised representatives, are liable for any loss or damage arising as a result of reliance placed on the contents of this report. Past performance is not indicative of future performance.