The Great Divide in U.S. Real Estate
A recent Wall Street Journal article pointed out the correlation between increases in the developed residential area of U.S. cities, and the change in home values over a thirty-year period. Although there may be a range of factors driving differences in the home values of cities, the data suggests that as a city's developed residential area expands, this should lead to more housing supply which helps keep a lid on house price growth.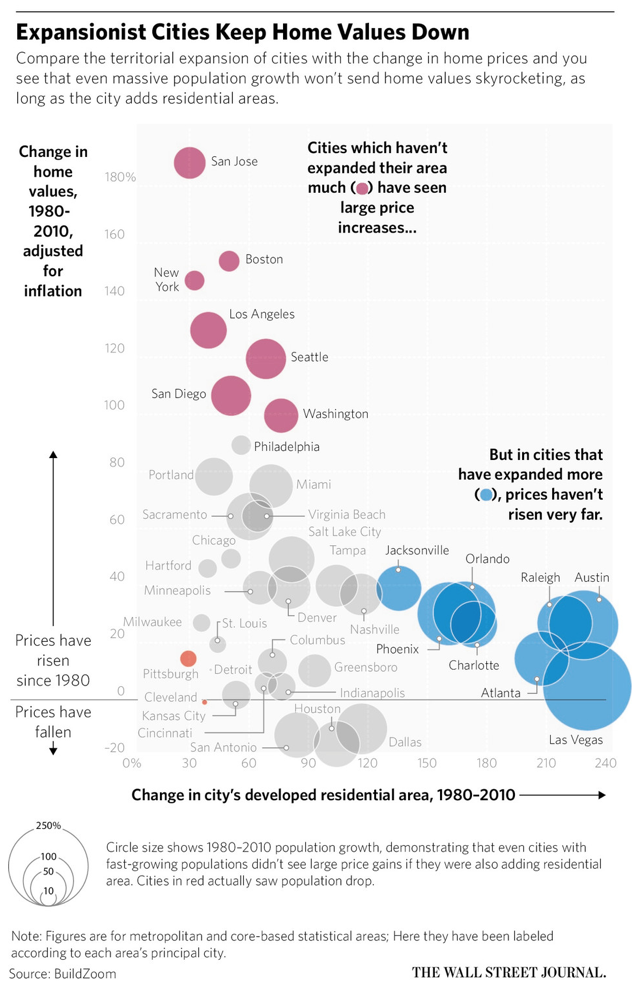 The WSJ article noted a stark contrast in the home value appreciation of two cities over the thirty-year period, due to vastly different levels of developed residential land growth. For example, Atlanta's real home values grew by a mere 14 per cent over the 1980-2010 period, muted no doubt by a 208 per cent growth in the developed residential land area of that city. At the other end of the spectrum is the city of San Francisco, which experienced home value growth of 188 per cent and meagre developed residential land growth of 30 per cent.
There are factors which may inhibit cities from expanding outwards such as building regulations or geographic barriers (e.g., cities landlocked by oceans or mountains). Furthermore, cities with thriving industries and job opportunities (e.g., tech in the case of San Francisco) have the ability to attract an influx of people from all over the world – this additional demand can pressure a housing stock which fails to grow at a commensurate pace. Nevertheless, extreme house price increases in a select number of U.S. cities have created affordability issues. Perhaps a similar situation has emerged in some of Australia's cities…
George Hadjia is a Research Analyst with Montgomery Global Investment Management. To invest with Montgomery domestically and globally, find out more.