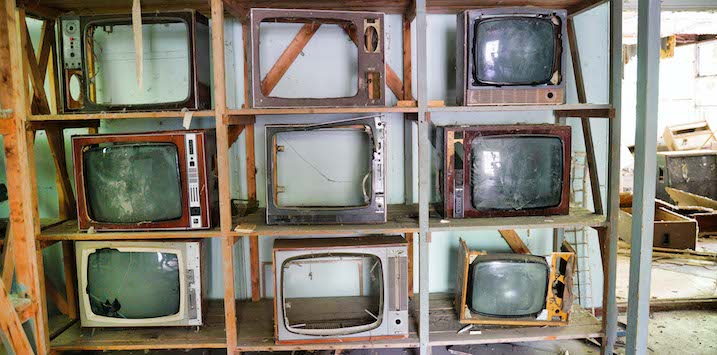 The COVID quake may have structural aftershocks: part II
In part I of this series we discussed the cyclical nature of the advertising industry, explored the extent to which TV had been over-earning as it had maintained market share of advertising dollars despite audiences falling more than 20 per cent in the U.S.
Additionally we observed the acceleration of digital advertising trends following the 2008/2009 recession, which largely pulled market share away from print, direct mail, outdoor, etc into the digital realm, but left TV advertising broadly unscathed. Today we will explore what ramifications the COVID-19 recession may have on the industry and whether TV advertising is finally ripe for disruption.
As we enter the COVID-19 induced global recession, there are several unique variables to consider in the context of the structural shift to digital and how it may unfold this time. Perhaps most notably, with consumers confined to homes and social distancing with their families, overall TV viewership has seen a significant reversal of trend, however the benefit has largely accrued to cable news networks with people tuning in to follow what was happening with the pandemic. Broadcast (aka free-to-air), general entertainment and kids shows have been flat on TV, while the biggest draw for advertisers to the TV medium, live sports viewers, has collapsed as sports leagues across the world are suspended in the wake of the virus.
Viewership is still declining for most tv categories outside news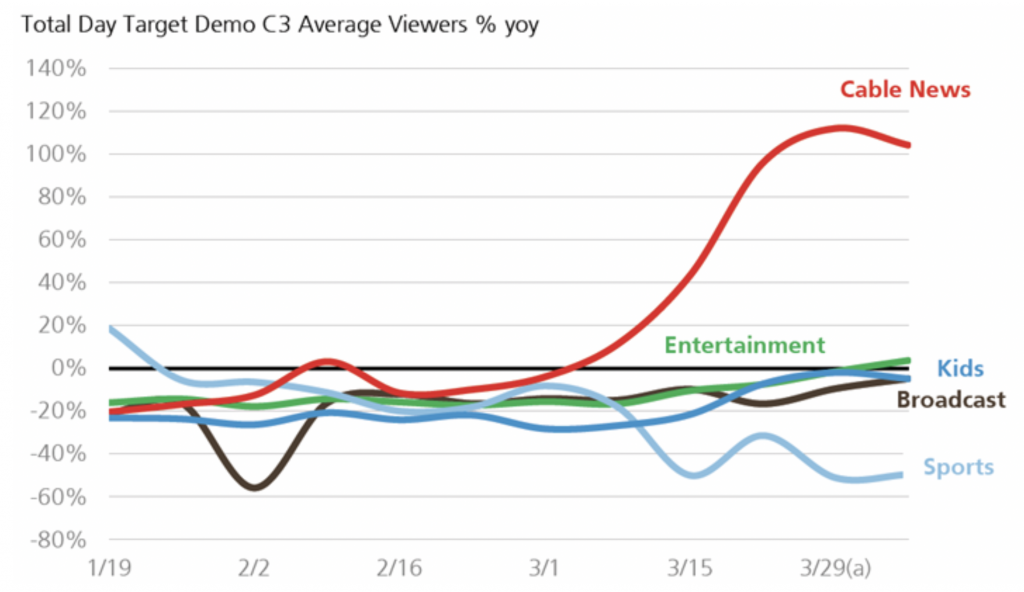 Source: Nielsen, (a) denotes UBS estimate
Cord cutting pressures usually rise during a recession with cable TV perceived as a discretionary expense. In fact this impact may be amplified during this downturn, as avid cable sports viewers may be more willing to cut the cord given the lack of content this time around. Perhaps an even more significant threat for TV advertising is the explosion of Direct-To-Consumer (DTC) Subscription Video On Demand (SVOD) services, many of which are not ad supported (eg. Netflix, Disney+, HBO Max, Hulu, etc). These platforms drive incremental competition for consumer attention, while simultaneously leaving fewer options for ad dollars as the audience shifts.
In fact, the gap between People Using Television (PUT) for homes with SVOD services, versus homes without them, has increased during the lock-down, suggesting consumers are gaining more value from their SVOD entertainment content versus the regular cable bundle (heightening pressure to again cut the cord on ad supported cable TV).  Given the duration of the lock-down so far, this change in consumption patterns may not reverse, particularly as more content becomes available on DTC platforms.
People using television (put) in homes with SVOD versus those without has widened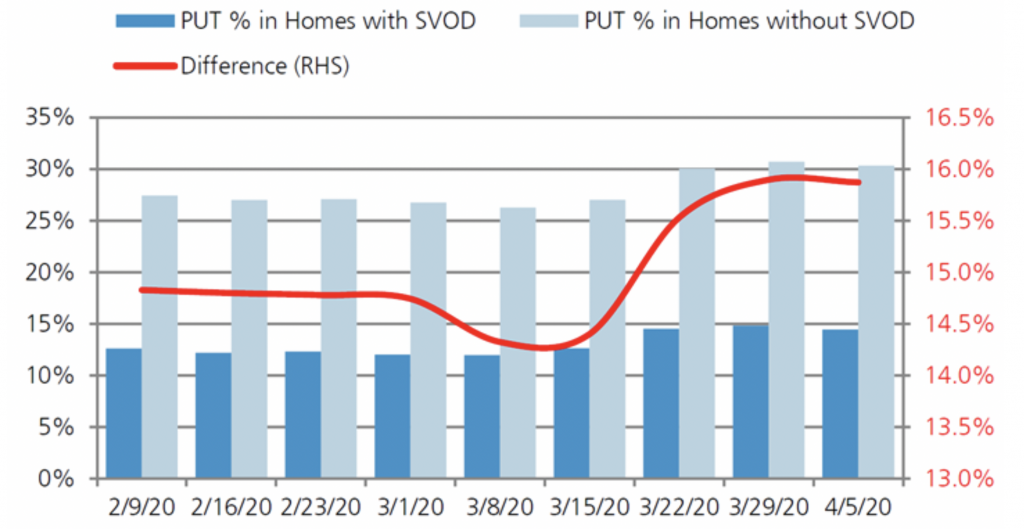 Source: Total Day
With consumer behaviors rapidly evolving in a COVID-19 world, TV advertising is under severe pressure from falling audiences, lack of sports and increasing DTC/SVOD options for consumers with this recession potentially servicing as a catalyst for a shift.  Much like what happened to traditional advertising after the 2008/2009 recession, COVID-19 might force an acceleration of adverting dollars away from traditional mediums (this time TV) and into the long waiting arms of the digital advertising platforms. Viewers voted with their eyeballs long ago and if advertising dollars finally follow, we may be at the beginning of another structural shift induced by the inherent cyclicality of the advertising industry.