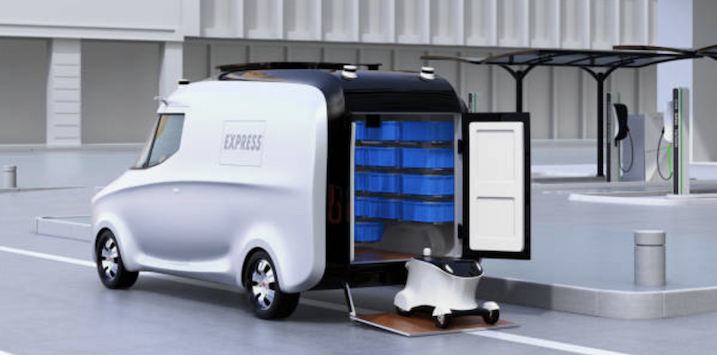 The age of autonomous vehicles is closer than you think
In a recent report by BIS Research*, the autonomous vehicle market was estimated at 6.6 million units in 2017 and is anticipated to reach 67.5 million units by 2028. This new technology will have a disruptive impact on jobs, not to mention firms linked to the auto industry, like Sydney Airport (think car parking revenues), Cabcharge, Transurban, Automotive Holdings, AP Eagers and Carsales, Bapcor, Super Retail Group and many others.
Another step toward broad scale global adoption has been announced in China this week with Ciston PR Newswire publishing a press release stating "China Post and Deppon Express, two of China's leading delivery and logistics companies, have begun autonomous package delivery services with the first self-driving vehicles to be put into daily commercial use in China. The delivery trucks will operate on autonomous driving technologies developed by FABU Technology, a leading artificial intelligence (AI) company focused on intelligent driving systems."
Putting aside China's claims that all the above companies are "leading" – ignoring Waymo and many others – the press release detailed the recent testing of the technology;
"China Post, the state-owned enterprise that operates the official postal service of mainland China, employs 860,000 employees in over 82,000 post offices and branches. The service operates over 39,000 transport vehicles, which travel over a delivery network with 1,926,250 miles of streets and highways. Deppon Express is a leading logistics company in China, with operations in Korea, Japan, Thailand, Singapore, Malaysia, and Vietnam. Deppon Express operates 10,000 retail offices across China's 34 provinces.
"Starting in November 2018, FABU partnered with China Post and Deppon Express to begin testing Level 4 autonomous driving trucks in China's heavily populated Zhejiang Province. In Level 4 autonomous driving, the car handles the majority of driving situations independently although a human driver can still take control when needed.
"During the testing, self-driving trucks operating on FABU autonomous driving technology averaged 40-mile daily round trips along three different routes, with one delivery route passing through 50 intersections, 26 of which were controlled by traffic lights. The trucks drove both in daylight and at night, and on highways, through tunnels and along residential streets filled with pedestrians, schools and flea markets. Since the self-driving tests were conducted in winter, these Level 4 trucks also had to drive their routes during challenging weather conditions such as rainstorms, snow and fog."
The carrier however did not specify how many autonomous vehicles it would begin using in April.
Autonomous delivery is on the radar of many U.S. and global carriers. The US struggles with a truck driver shortage. Analysts reasonably expect autonomous vehicles to significantly reduce labour and insurance costs for logistics companies but in the US, most of the autonomous delivery technology is operating on footpaths. Amazon Prime is piloting its 'Scout' delivery technology in Washington, FedEx is piloting its SameDay robot in a few months' time and Starship Technologies is operating in San Francisco's Bay Area.
Having said that, this Reddit Post shows a user's photograph of an autonomous truck operated by the freight company Embark hauling an Amazon Prime trailer autonomously from Texas to California. This official website shows the Embark trucks operating autonomously.
It may only be a few years before autonomous vehicles are operating. Logistics and robotaxis are expected to be the first 'use cases'. It is also true that in a decade's time, hundreds of millions of conventionally operated vehicles will still be on the road.  It may be 50 years or longer before the entire global fleet of conventionally operated vehicles are mothballed but a change is definitely afoot.
*  Global Autonomous Vehicle Market – Analysis and Forecast, 2018-2028.