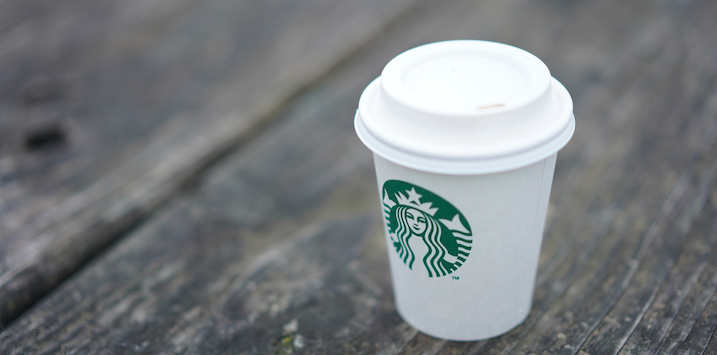 Starbucks Fighting to Deliver in China
Starbucks is facing its first real sense of competition in its second-largest and fastest growing market. With over 50 per cent of national market share and about 3700 stores, Starbucks has not faced a major competitor in China since expanding there two decades ago. However, Chinese unicorn Luckin Coffee has entered the market with cash to burn and an unprecedented business model.
While Starbucks positions itself as a café for the wealthier Chinese consumers who want to enjoy expensive drinks in a desirable environment, Luckin's business is delivery-focused for the consumer willing to pay for efficiency and convenience. Many of their stores are too small to allow seating areas, designed for quick to-go and delivery orders. Since being founded in October 2017, Luckin has already established 2000 stores and is targeting 4500 by year end, surpassing Starbucks.
Luckin undercuts Starbucks' coffee prices by as much as 30 per cent and guarantee delivery to your door in under 30 minutes, creating a viable alternative for consumers in China's bustling major cities. Luckin are a private company and do not disclose revenue numbers, but their impact on Starbucks' same-store-sales has been so profound that Starbucks has introduced their own coffee delivery offering to compete directly. Partnering with Alibaba's food delivery arm Ele.me in August 2018, Starbucks expects to have delivery offering available in 90 per cent of its Chinese stores by September.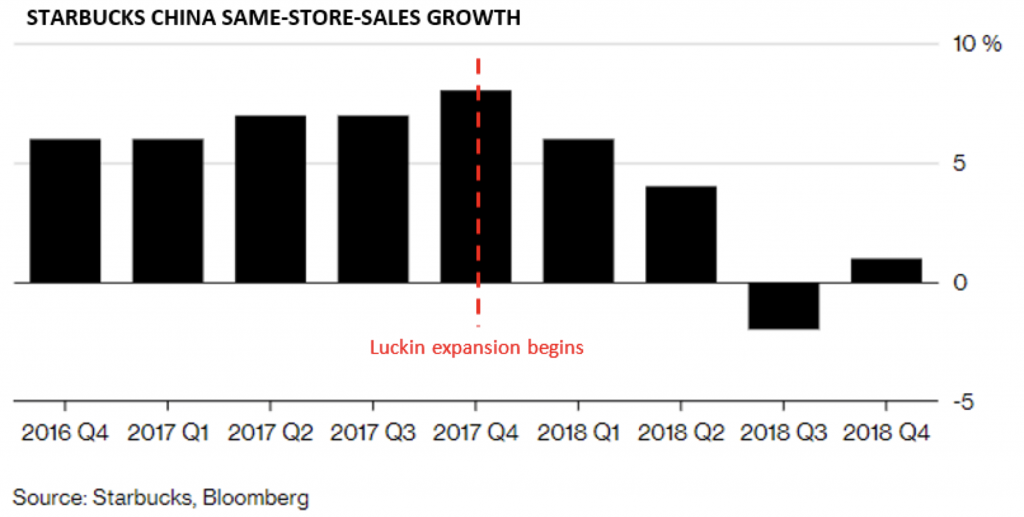 Starbucks' sales growth decline is especially significant in the context of China's rapid growth in coffee consumption. The International Coffee Organisation estimated a 16 per cent annual increase in the recent decade compared to 2 per cent globally, and Daxue Consulting has projected that to continue at 15-20 per cent over the next few years. That projection may even be underestimated, with historically tea-loving Chinese consumers still only drinking 5-6 cups of coffee per capita according to Bernstein, compared to around 300 cups in Taiwan, Hong Kong and South Korea, and over 350 in the United States. This suggests there is not only room for both Starbucks and Luckin to compete, but for many more new coffee chains to take incremental market share.
The major challenge for both Starbucks and Luckin now will be profitability. No food delivery company in the world, let alone China, has built a sustainably profitable business model yet. After raising US$400 million over two rounds of funding, Luckin is reportedly burning through US$130 million per year in their rapid expansion strategy, ultimately hoping to control enough of the market to become profitable when they stabilise growth. Meanwhile, Starbucks has admitted that they expect profit margins to be hurt by associated delivery costs.
Moreover, Luckin's quick rise to competitiveness highlights the potential for venture-backed startups in rapidly growing markets. History says innovation is rewarded most significantly in fast growing industries. If Luckin can optimise their new business model to find a profitability point they will be well on their way to challenging incumbent Starbucks for the fastest growing coffee market in the world. And with exciting new technology now being tested in our backyards, it may even include drone delivery.