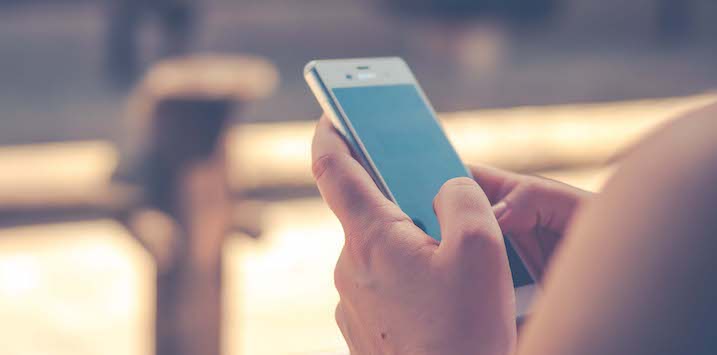 Smart phone sales show the growing strength of Chinese consumers
The latest global data on smart phone shipments reflect the massive spending power of Chinese consumers.  They also point to the growing appeal of a number of Chinese tech companies.
Regardless of what your personal preference may be when it comes to Android vs iOS, when it comes to buying a new phone, most of us are likely to gravitate towards an iPhone or a Samsung Galaxy – assuming the price tag is not a major consideration. These two brands dominate the Australian market and account for more than 60 per cent of all new phone sales in Australia.
So when it comes to global market share, most of you would not be surprised to know that Samsung and Apple are the top 2 sellers by total smartphone shipments.
But what may surprise you is that the next four are Chinese companies – Huawei, Xiaomi, Oppo and Vivo – with Huawei briefly overtaking Apple in 2Q 2018.  As an aside, it is interesting to see iPhone shipments spike up by approximately 50 per cent every Q4, much more so than peers. The timing coincides with the launch of new iPhone models – usually late September – suggesting many potential buyers are those seeking upgrades to their existing models.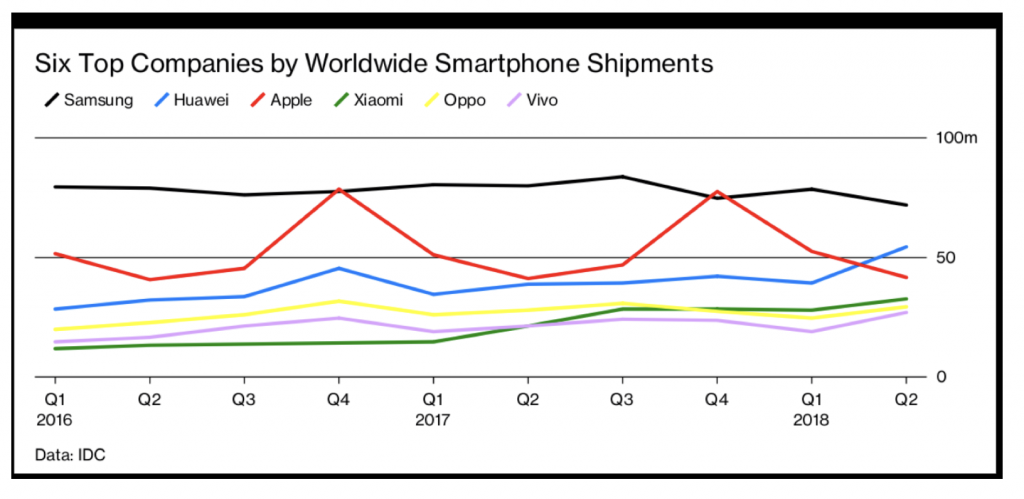 Now compare the latest data to the top five companies by phone shipments in 2002, and outside of Samsung, the existing list bears no resemblance whatsoever.
The leader board back then – three European companies (Nokia, Motorola and Siemens), one recently merged European and Japanese company (Sony Ericsson) and Samsung wedged in between. Nokia dominated the market with more than 35 per cent share with the 6600 range while Motorola boasted 15 per cent share despite the launch of the iconic RAZR V3 model being a full two years away in 2004.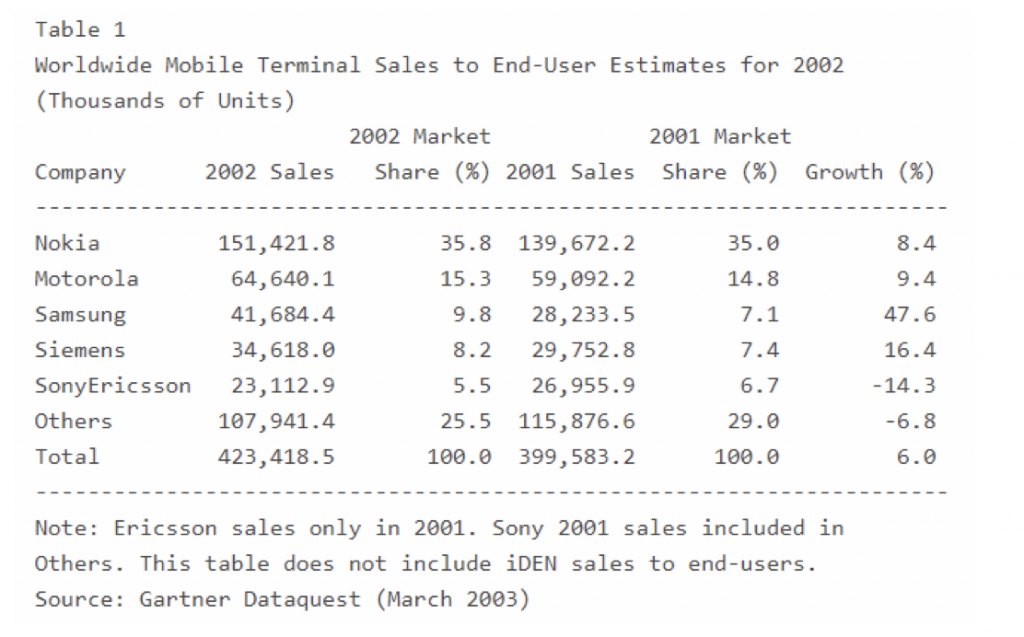 Nokia would hold its number one position until 2011 before being surpassed by Samsung; Motorola and Sony Ericsson fared less well and fell out of the top five by 2010 (Siemens dropped out of the top five by 2005). Of the four, only Sony Ericsson is still owned by its parent company Sony; the others have sold their handset divisions (Nokia / Motorola) or have shutdown altogether (Siemens).
A couple of takeaways from this little journey down phone handset memory lane:
The Chinese consumer is a significant opportunity – if this was not evident already, the rising power of the Chinese consumer has resulted in the formation of four of the top six smartphone companies by worldwide shipments, predominantly by dominating their local market. For smartphones, this is helped by China's embrace of all things Internet, which sees higher levels of smartphone ownership relative to where the population is along the wealth curve. Please click on the image below to see a larger version.

Source: Pew Research Centre
This level of penetration versus economic wealth is an important distinction; and price may be a greater consideration in purchasing decisions for the Chinese consumer.
Investing in companies reliant on consumer trends requires a level of vigilance – while this extends to most product categories, it may be especially the case for companies specialising in tech gadgets, where there is a constant stream of new innovations. New models may not always satisfy fickle customer loyalty, which in turn highlights the importance and value of a strong brand in maintaining market share.
The Montgomery Global Fund own shares in Apple. This article was prepared 14 January with the information we have today, and our view may change. It does not constitute formal advice or professional investment advice. If you wish to trade Apple you should seek financial advice.