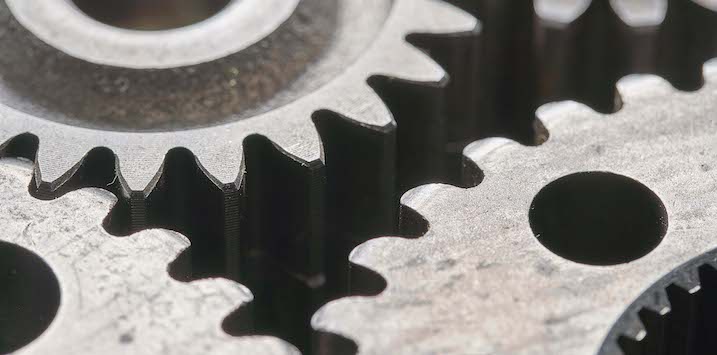 Six challenges facing the revival of Aussie manufacturing
After years of standing by as our manufacturing industries were sent offshore, the Federal Government has set up a task force to restore local manufacturing. "Australia drank the free-trade juice and decided that off-shoring was OK. Well, that era is gone," Andrew Liveris, who is on the task force, told the AFR.  It's a great idea, but there are some mighty challenges ahead.
Liveris will be working with Ned Power's advisory commission. He is the former CEO of the US Chemical giant Dow Chemical, and sees the current crisis as an opportunity to kick-start a resurgence in local manufacturing.
To start with, let's have a look at the recent history of manufacturing in Australia. It should not come as a surprise that manufacturing as a per cent of total GDP is lower for Australia than for other comparable countries given our heavy focus on resources exports but it was a bit of a surprise to me to see the extent that we are lagging other comparable countries and also the extent the percentage has declined over the last 30 years.
If we look at this chart below which contains data from the World Bank, we can see two things that stand out:
Manufacturing as a per cent of GDP in Australia is half of what it is in the United States. This is probably not that big of a surprise but what was surprising to me is that it is also roughly half of what it is in Canada and New Zealand, which are also countries with significant natural resources.
It is also interesting to see that Australia is the country where the percentage has declined the most over the last 30 years, meaning that we have specialised in the extraction of natural resources and other non-manufacturing areas faster than other countries.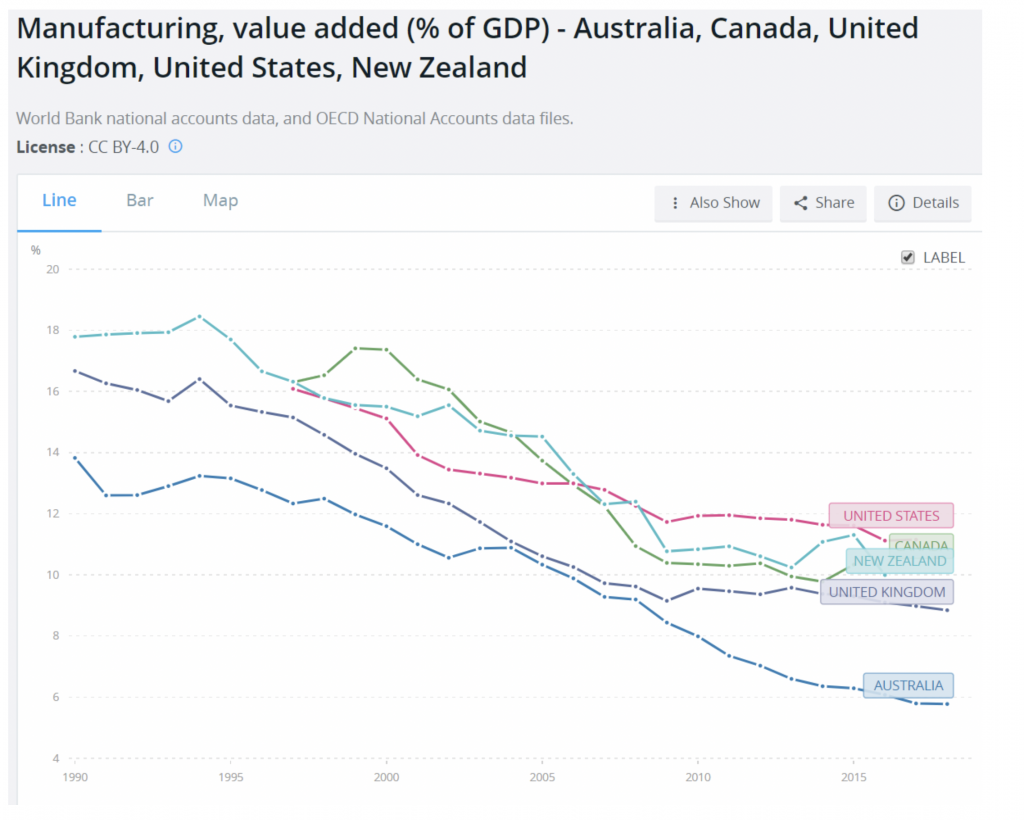 Source: World Bank and OECD
The current crisis has in many ways highlighted the issues with having little local manufacturing capacity. There are many, but to me the most important are:
In times of a crisis of any sort, that impacts the free and efficient movement of goods across the world, having little local manufacturing capacity means that you can be disproportionally impacted by such disruptions as a higher percentage of the goods needed for the efficient functioning of the economy and even to fulfill basic human needs are imported and hence at risk when a crisis hits.
Having little local manufacturing capacity and skills also means that you have low ability to focus your limited resources on the most critical needs when a crisis hits. As we happen to have local manufacturing of ventilators, this is probably not the best example, but it is interesting to see how the US has ordered its automakers and some other manufacturers to switch production and start making ventilators. Australia does not really have any industry that is capable of doing the same at scale as we do not have any suitable facilities and workers with the right skills to utilise.
The more dependent a nation is on other nations for imports, the more vulnerable it becomes when there is a change in the geopolitical landscape surrounding the nation and, hence, puts you in a relatively weaker negotiating position if the priorities of other nations change for whatever reason.
Shifting macroeconomic settings to achieve an increase in local manufacturing will be a hard nut to crack as there are many vested interests that will potentially suffer from such changes. Six of the largest challenges that Andrew and the rest of the advisory commission will have to tackle are:
1. The Australian tax system needs to be recalibrated to capture more of any profits above a certain level generated by extraction of natural resources and then channeled into giving tax incentives for local manufacturing operations. This will probably have to be through some super-profit tax which has in the past proved very unpopular with the strong interests representing the resource industries.
2. The Australian university sector will have to refocus away from the mass education of foreign students which is debasing the overall level of education (Australia has by a factor of 2x the highest portion of foreign students in the world) to being focused on applied science performed in collaboration with industry. This most likely means that the government will have to start funding universities again with money targeted for specific purposes. This will mean more public oversight over these institutions which is something that they will likely resist strongly.
3. A new employer-employee labour framework. Australian labour productivity has not improved for around 10 years and for manufacturing to reemerge I suspect that the current EBA system needs to be focused much more on linking productivity to pay which will be a tough thing to get unions to come to grips with.
4. Tax changes that encourage investments into productive assets instead of into non-productive assets like residential real estate to lower house prices and rents to free up capital for a rebuilding of manufacturing companies. This will be strongly resisted by the real estate industry and domestic property investors.
5. Connected to the previous point is a framework that incentivises banks to lend to small businesses instead of to real estate. Australia's banks are significantly under skilled in SME lending compared to the rest of the world and will need to rebuild this skill set urgently.
6. Lower energy prices by freeing up gas to be used domestically on the east coast instead of being exported to such an extent that Australian domestic gas prices are much higher than the price for the same gas received from being exported to Asia. This will be fiercely resisted by the energy companies.
As you can see from this list, there are quite a few pretty powerful interest groups that to my mind will need to come to grips with a new reality if the advisory commission will have any long-lasting impact.
Click here to read the AFR article – Liveris calls the start of the on-shoring era
This post was contributed by a representative of Montgomery Investment Management Pty Limited (AFSL No. 354564). The principal purpose of this post is to provide factual information and not provide financial product advice. Additionally, the information provided is not intended to provide any recommendation or opinion about any financial product. Any commentary and statements of opinion however may contain general advice only that is prepared without taking into account your personal objectives, financial circumstances or needs. Because of this, before acting on any of the information provided, you should always consider its appropriateness in light of your personal objectives, financial circumstances and needs and should consider seeking independent advice from a financial advisor if necessary before making any decisions. This post specifically excludes personal advice.
INVEST WITH MONTGOMERY