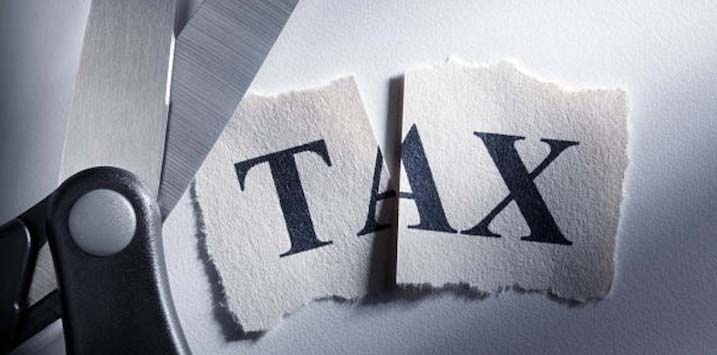 Should Australia cut the corporate tax rate?
Right now, there's a debate raging about the need to cut corporate tax rates in Australia. As usual, some of the arguments are overly simplified, if not misleading. The questions are: would a tax cut deliver the benefits spruiked by the government, and who would benefit the most? Let's take a look.
The government wants to lower the tax rate with the argument that it will stimulate investments by companies in Australia and lead to more jobs and higher wages etc. The opposition is opposed to these proposed cuts, and it seems like the Liberal Party's coalition partner, the National Party, is not too keen either.
The whole debate was kicked off by the US tax cuts that came into effect at the beginning of the year which lowered the US statutory company tax rate from 35 per cent to 21 per cent along with a lot of other changes to the US tax code.
We have also seen some other countries lower their corporate tax rate recently (Japan and Germany for example)
Theoretically, a cut to the corporate tax rate should result in a higher portion of a company's profits accumulating to the shareholders rather than to the government and hence it should in theory be positive for share prices.
In light of this, I thought it would be interesting to have a look at a comparison of international tax rates. The Congressional Budget Office in the US has helpfully put a table together which I think is interesting as it shows not only the statutory tax rate but also the average (what companies actually pay taking into account deductions and foreign income etc) and the effective tax rate (the tax rate on an investment that is just about breaking even, i.e. the tax rate you would pay on you first dollar of profits).
The table is from 2012 so a little bit out of date but generally correct with the major difference that Japan has lowered its tax rate to ~30 per cent from the 37 per cent shown in the table and, as discussed above, the US has lowered its tax rate substantially.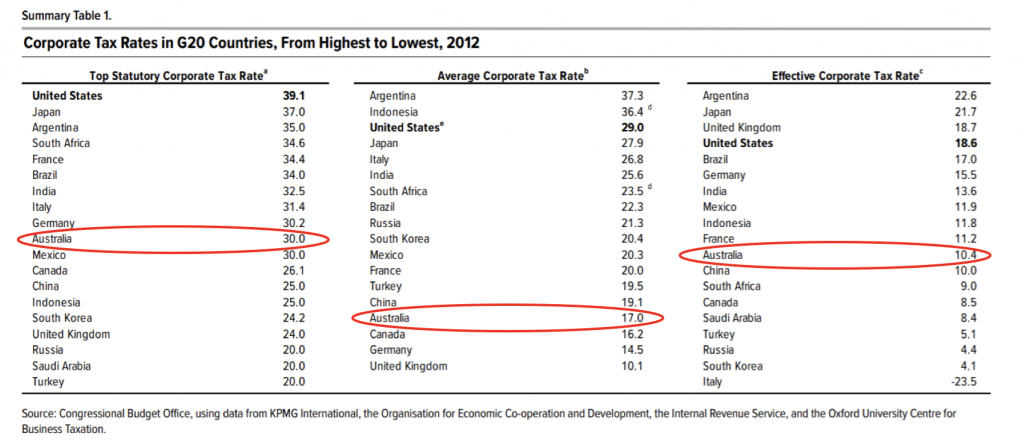 There are a few interesting things to note from this table:
The range in statutory tax rates is wider than in average and effective tax rates. This is due to the fact that a high statutory tax rate generally means that there are more generous deductions or other ways for companies to lower their tax rate.
Although Australia is in the middle of the range when it comes to statutory tax rate, it is towards the bottom when it comes to the average tax rate. There are a few reasons, such as:

Australia has historically had a quite generous interpretation of transfer pricing legislation enabling companies to transfer profits to lower tax jurisdictions.
Australia has relatively generous R&D concessions enabling companies to get tax credits for money spent on R&D. Australia and New Zealand are the only countries in the Organisation for Economic Co-operation and Development.
(OECD) with dividend imputation. In other countries, companies pay tax on their profits and then investors pay tax on the dividends they receive, but in Australia and New Zealand, companies get franking credits for tax they pay and can pass these on to domestic shareholders.
Now, we are not making a judgement on the merits of a corporate tax cut but given the above, we have a few comments:
From a competitiveness standpoint, we struggle with the argument that Australia must cut its corporate tax rate to stay competitive given that it is already towards the bottom end of the range in terms of the average tax rate.
We also struggle a bit to see how a cut to the tax rate will stimulate investments. Corporate interest rates are at all-time lows and many companies we look at have indeed got quite lazy balance sheets that could be utilised more aggressively if the investment opportunities were there.
The fact that Australia has a dividend imputation system means that Australian shareholders will not benefit from a corporate tax cut as the amount of franking credits will decrease if a company pays less tax. A cut in the corporate tax rate will therefore primarily benefit foreign shareholders of Australian companies. (And yes, as an Australian domiciled fund, we are talking our own book here).
Now, please note that we are not averse to a corporate tax rate cut but just wanted to point out that some of the arguments used in the political debate are quite overly simplified and should be taken with a grain of salt.
Right now, there's a debate raging about the need to cut corporate tax rates in Australia. The questions are: would a tax cut deliver the benefits spruiked by the government, and who would benefit the most?
Click To Tweet