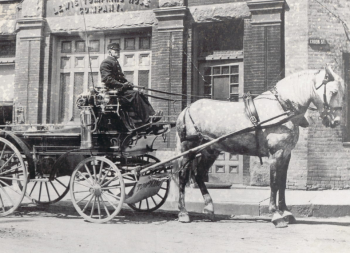 Shorting Blacksmiths
One suspects when a blacksmith first spotted the horseless carriage driving past his workshop, had he considered it more than a fad, he might have realized his business would be disrupted. But would he have referred to the car or it's manufacturer as a disrupter? Probably not. Disruption is the new buzzword to describe change or transition.
It is difficult to pick winners from change and transition. Even when new technology changes the world, it can be difficult to pick a long-term winner. Consider for example when television first appeared in the 1950's; More than 90 US manufacturers including Admiral, General Electric, Magnavox, Philco, RCA, Silvertone and Westinghouse dominated the market. In 1953 there was even a Radio-Electronics-Television Manufacturers Association, and they reported almost 7.3 million TVs were made in the U.S. By 1995 the last remaining U.S. television company, Zenith, was sold to Korea's LG.
From supermarkets to postal services, and from transport to entertainment, established businesses and entrenched incumbents are fighting a new wave of online, international and cheaper solutions to the customers' problems. And by the way, managing your own share portfolio just became a lot more challenging. Say good bye to set-and-forget.
But there is an interesting corollary to this disruption. While it's challenging to pick the winners, it can be easy to pick the losers.
One industry that is becoming a rather obvious loser to disruption is the bricks-and-mortar retailing of books. Once a dominant presence in malls and shopping strips, the bookshop has been relegated to smaller footprints and specializations (industry specific or kids, for example) if it hasn't become a curiosity.
Barnes and Noble is a brick and mortar plus e-commerce book store with bookstores across 50 US states. It is also a book retailer in structural decline. Revenues are declining by ten percent year-on-year, and given competition with Amazon, Apple and WalMart among others, this structural decline is likely to be unrelenting.
Many of the Barnes & Noble stores sell products which themselves are being disrupted. Music, Movies & TV departments within stores offer CDs, Vinyl LPs, DVDs and Blu-ray discs. That's right Vinyl LPs! Ranging in size from 300 to 8,000 square feet these departments may stock over 12,000 titles.
Happily, Barnes and Noble do have their own digital e-Reader called NOOK, but thanks to to IPAD and Kindle, NOOK revenue declined by almost 40 per cent from the 4th quarter 2014 to the fourth quarter 2015.
There was one bright spot for the company – a business called B&N Education, with 724 stores located at university campuses. Sadly this company was spun out. It trades under a newer stock ticker. It also has the Barnes & Noble CEO after he jumped ship.
It's all well and good identifying an opportunity to profit from the structural decline of a business. It is also helpful however to have unrealistic and optimistic expectations built into analyst revenue and earnings assumptions.
Given negative same store sales growth at Barnes & Noble and the rate of store closures, we believe consensus revenue growth estimates are too high and will need to be revised lower.  And despite declining revenue growth, consensus analysts still have Earnings Before Interest and Tax margins increasing.
Finally after identifying a business possibly in structural decline and with irrationally exuberant expectations, it is also helpful to have an expensive price.
For the last twelve months Net Profit amounted to just $20 million but the market capitalization of this business, with challenging prospects at best, is US$1.1 billion. That's a price to earnings multiple of 59 times.
The Montaka Global Fund went short Barnes & Noble and shortly after the shares fell almost 30 per cent. When thinking about Barnes and Noble it's worth remembering the Blacksmith.
The Montaka Global Fund and the forthcoming Montaka Global Access Fund can provide the benefits of 1) the ability to profit from extraordinary global businesses, 2) the ability to profit from deteriorating businesses, 3) enhanced downside-protection from significantly reduced net exposure to the stock market overall and 4) currency diversification.
To pre-register your interest in learning more about the Montaka Global Access Fund (minimum initial investment $50,000) click here to leave your details.