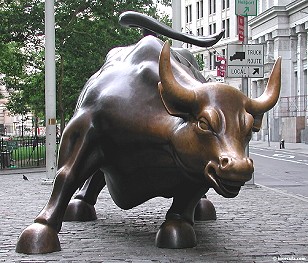 Reporting Season's Winners and Losers
As the current reporting season draws to a close, we've come up with our list of the market's best (and, by default, less-than-best) performers.
There are three elements of a bull market. The first phase is the P/E expansion as the market climbs a wall of worry. Tick. The second stage is earnings growth (which our list of winners and losers appears to suggest is underway). Tick. The third stage is known as the blow-off phase, where people start paying silly prices amid a fear of missing out. We haven't yet had that third stage, but I believe we are well into the second – and I'm tempted to believe we might see the blow-off phase sometime before or during 2016.
As we head towards reporting season's closure, it's worth reviewing those companies that are doing well and guiding for better times ahead. A rising tide lifts all boats and it's only when the tide goes out do you see who was swimming naked (thank you Messrs. Kennedy and Buffett). It's therefore worth referring to the list of winners as being companies whose shares prices may at least have some fundamental support to justify the heady gains they have made in only a few weeks and months.
Winners
Company
ASX code
Reason
Seek
SEK
Standout this reporting season. Underlying NPAT growth of 29%. Business now a true international growth story.
Sirtex Medical
SRX
18.7% increase in dosage sales for the Dec '13 qtr
Ainsworth Game Technology
AGI
Guiding investors to an expected 50% increase in PTP for H1FY '14
Commonwealth Bank
CBA
Underlying NPAT up 17% but well and truly in the price. Australia's most expensive and arguably best-run bank
CSL Limited
CSL
(Healthcare) Underlying EPS up ~13% and guiding for growth in the second half
Ansell
ANN
(Healthcare) Underlying earnings up ~15% largely due to acquisitions given core business is barely growing
Credit Corp Group
CCP
Recorded 18% earnings growth for H1, versus prior guidance of 10%
JB Hi-Fi
JBH
Positive LFL sales growth of 2.8% in H1 and total sales growth of 6-8%. Should translate to 10% earnings growth
Woolworths
WOW
Sales growth of 6% for H1FY '14
Wesfarmers
WES
Underlying NPAT growth of 6% driven by 4-5% sales growth – WOW sales result was stronger.
G8 Education
GEM
Acquisition of 63 childcare centres on 4x EBIT for $104.7m, taking total to 296. 70/30 D/E funded
ANZ Banking Group
ANZ
Dec '13 qtr profit up 13% YOY, on lower bad debts
Carsales.com
CRZ
Rev +10%, NPAT up 17% over prior half. Continues to dominate; top automotive classifieds website
REA Group
REA
Rev +30%, NPAT up 37% over prior half. Continues to dominate; top real estate classifieds website
Domino's Pizza
DMP
Rev +89%, NPAT up 28.2% over prior half. Result somewhat distorted by acquisition of Domino's Japan
IINet
IIN
(Telecommunications) Underlying NAPT up 19%. Continued consolidator in space – result includes acquisition of Adam internet
Fairfax Media
FXJ
Underlying NAPT up 71% on continued cost reductions, predominantly asset sales to repay gearing
Rio Tinto
RIO
Underlying NPAT up 10% largely on cost reductions, reducing CAPEX. Revenue was flat
BHP Billiton
BHP
Similar story to RIO (almost identical) – earnings up 18% on cost cutting. Revenues largely flat
Sonic HealthCare
SHL
Underlying earnings up 18%. Large proportion of earnings are in USD – currency tailwind + growth in core business
Challenger
CGF
(Annuities/funds management) Strong investment performance and product demand driving strong inflows, hence underlying earnings up 11%
SAI Global
SAI
Underlying earnings up 12% – benefited from lower currency, some organic revenue growth and cost growth being contained.
Losers
Company
ASX code
Reason
Super Retail Group
SUL
Revenue up 6% to $1.1b for H1, however leisure division saw LFL sales growth of only 1.6%.  Margin compression meant limited earnings growth to approx. $61.5m
The Reject Shop
TRS
H1 sales growth of 17.7% to $385.5m but significant margin compression saw EBITDA growth of 6% to around $36.75m
Logicamms
LCM
EBITDA guidance of $3m and $11-$13m for H1 and FY '14, respectively. Compares with $4.3m and $14.1m for PCP. Timing of contract awards and margin pressure. Good hydrocarbon growth and $9m net cash
Bradken
BKN
H1 profit down 185 to $38.1m. Takeover of balance of Austin engineering. DPS cut to 15c from 20c
Forge Group
FGE
Withdrawn financial support; administrators appointed. Diamantina and West Angelas Power Station contract losses from CTEC acquisition (January 2012) showed finances out of control. Board negligent?
Cochlear
COH
H1 revenue down by 5% to $371m on a 14% reduction in volume. ASP up 11%. EBIT down 54% to $49.4m
Goodman Fielder
GFF
H1 revenue up by 5% to $1.13bm but NPAT down 9% on higher inputs costs, increasing competition and capital intensiveness – all impacting margins
Emeco Holdings
EHL
(Mining services) Underlying NPAT down 164%
Boart Longyear
BLY
(Drilling/mining services) Underlying loss of 94m. Utilisation rates fallen off a cliff, business highly indebted
Swick Mining
SWK
(Drilling/mining services) Same as BLY – utilisation rates also down significantly
MacMahon Holdings
MAH
(Mining services) Underlying NPAT 24% down. Severe margin pressures
Treasury Wine Estates
TWE
(Beverages) Underlying NPAT down 44%. Has some of the best known brands in Australia which are not selling well overseas
United Group
UGL
(Mining services) This once market darling saw earnings contract again, this time by just 2%, however its outlook is not favourable hence a negative share price reaction
Imdex Limited
IMD
(Mining services/drilling supplies) Underlying NPAT down 93%
Coca-Cola Amatil
CCL
(Beverages) Underlying earnings down 10%. Business faces competition from overseas imports, hence margin pressure
Ausenco
AAX
(Mining services) Underlying NPAT down 84% – just completed a hugely dilutive capital raising to pay benefits to long-term staff they had to let go