Private patients in Public beds
Recently there has been growing press and talk about the rising costs of health insurance and private patients going through public hospitals. In particular (click for article), Bill Shorten recently commented that "Prices are up, profits are up, quality and value down. Australians are paying a lot more for their health insurance policies and getting a lot less."

So what's going on? And why does it matter?
Unless you've made a home under a rock, you would have noticed that over the last decade private health insurance premiums have been increasing substantially, as high as 6 per cent annually as an industry: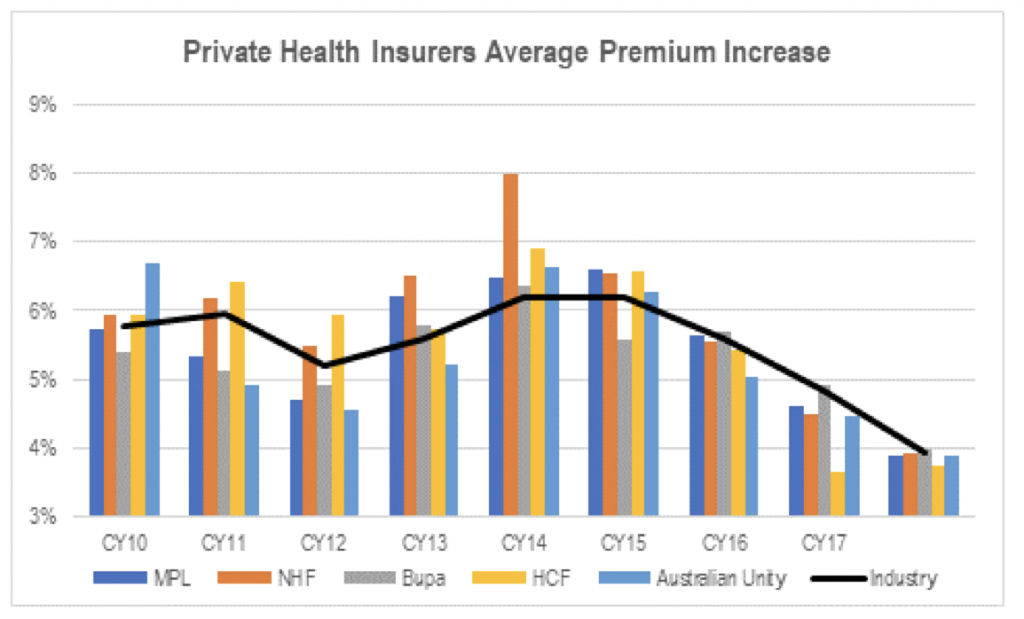 This has led to drop outs from the private health insurance system and, at the very least, downgrading of policies – we talked about this at the last reporting season. The issue with downgrading policies is that customers often move to "junk policies" with high excess covers and multiple exclusions. This has led to many insured patients being surprised at their out-of-pocket expenses.
Furthermore, states have invested billions into public hospital infrastructure and even ramped up their number of private beds. This means the public value proposition has substantially improved. In fact, the latest perception studies show for the first time consumers believe public hospital care to be better than private (Previously private hospitals were perceived to be no better than public)[1].
So it is no wonder that a secondary affect to more out-of-pockets and higher insurance premiums is more private patients going through the public system. This creates third order effects, I want to highlight three of these:
The value proposition of private health insurance gets further reduced, meaning premiums need to rise more to stay profitable with less members.
The private hospitals have less volume coming through creating pressure (we saw this at the last result)
The public system gets constrained and waiting lists increase.
The problem is we can see a lot of (1) and (2) before (3) becomes noticeable. At that point the problem needs to be solved on a national level, however until then (1) and (2) can continue on a downward spiral. We note that Greg Hunt announced a series of reforms to "make private health insurance simpler and more affordable" in October last year. This has led to the lower premium rates coming through recently.
So what more can be done at (3)? Let's leave that for the politicians to solve, but one proposal we find particularly interesting is scope to increase the Medicare Levy (full article here).
[1] source: IPSOS
Recently there has been growing press and talk about the rising costs of health insurance and private patients going through public hospitals. So what's going on and why does it mater?
Click To Tweet
This post was contributed by a representative of Montgomery Investment Management Pty Limited (AFSL No. 354564). The principal purpose of this post is to provide factual information and not provide financial product advice. Additionally, the information provided is not intended to provide any recommendation or opinion about any financial product. Any commentary and statements of opinion however may contain general advice only that is prepared without taking into account your personal objectives, financial circumstances or needs. Because of this, before acting on any of the information provided, you should always consider its appropriateness in light of your personal objectives, financial circumstances and needs and should consider seeking independent advice from a financial advisor if necessary before making any decisions. This post specifically excludes personal advice.
INVEST WITH MONTGOMERY