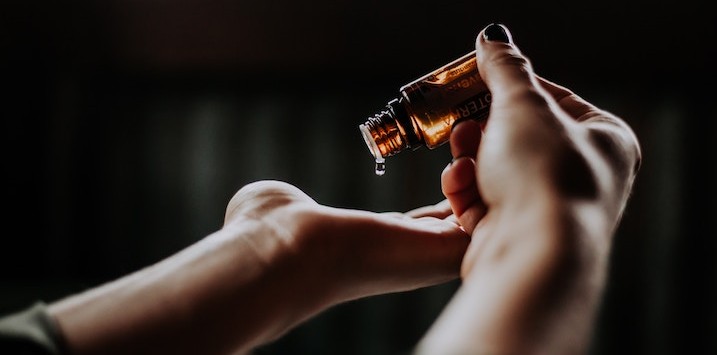 Personal care company's shares under pressure
One of the more interesting stories in the market this year has been that of BWX Limited – an Australian company that manufactures body, hair and skin-care products primarily under the Sukin brand, and one the Montgomery team has previously written about. Sukin markets itself as Australia's Number 1 Natural Skincare brand and is sold in both pharmacy channels and Coles.
Since going public in November 2015, BWX has recorded strong revenue growth of >120 per cent in its flagship Sukin brand, from less than $30 million in FY15 to over $65 million in FY18. This was driven by both increasing domestic sales and what appeared to be a successful launch into international markets including the UK (through Boots and Holland and Barrett) and Canada. The latter was especially instrumental in helping push the share price up from its $1.50/sh IPO price to a high of over $8/sh as recently as January 2018, with the market excited about its dual-growth strategy of brand acquisitions and international market penetration.
It is fair to say the company has failed to meet the market's lofty expectations from early 2018, with the share price falling by over 60 per cent since that time to be trading around $2.80/sh after its most recent trading update. A point in time comparison however understates the journey.
In the past 9 months alone, BWX has:
Issued 3 earnings downgrades relative to market expectations – at its February 1H18 result, its August market update and prior to the AGM in late October;
Received a Management Buy-out (MBO) proposal in collaboration with a major Private Equity player at a significant premium, which was subsequently pulled post due-diligence by the would-be acquirers;
A strategic review launched in response to the buy-out proposal;
Legal proceedings filed by BWX's former US-based strategic advisors against BWX on allegations of unpaid fees and breaches of continuous disclosure; and
CEO and CFO leaving the company, and subsequent disposal of shares.
BWX Limited Share Price in 2018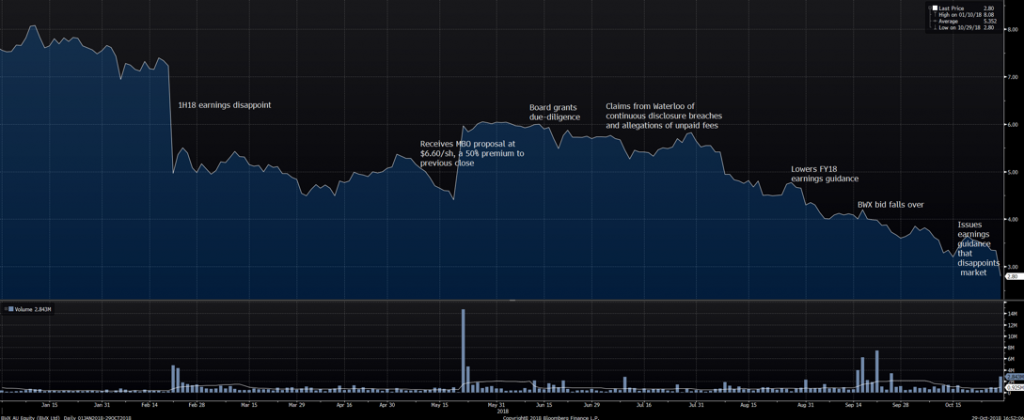 Source: Bloomberg, Montgomery
While reviewing events in hindsight provides perfect clarity and significant potential for false narrative, an assessment of this particular example reveals a number of signposts that collectively may have served as a negative indicator on the underlying operating performance of BWX:
1H18 earnings disappoint – the first warning sign and a clear surprise to the market as judged by the -30 per cent reaction. The major cause for concern was that the earnings miss was attributable to a weaker than expected contribution from its $150 million plus acquisition spree in 2017, which included an online retail platform and 2 US-based beauty brands (Mineral Fusion and Andalou Naturals).
Claims from Waterloo Capital Partners – reading allegations in the court documents lodged by Waterloo reveals some concerning revelations, including an acquisition strategy relying on financial engineering (specifically multiple arbitrage) as the key driver of value and consideration for an acquisition, questionable disclosure practices as prior management were courting private equity suitors for an extended period of time, and the CEO and CFO seeking an exit strategy for their BWX shareholding.
This was subsequently documented in media reports.
Revised EBITDA guidance issued late August – while the quantum of the downgrade was relatively small (a revised range of A$40 to $41 million vs $42 to 46 million as of May-18), the implied momentum for Sukin revenue was significantly lower than prior expectations when back-solved for the revised guidance, especially when 2H revenue was expected to benefit from a full half of sales from entry into the Coles distribution channel. The slowdown in Sukin sales momentum was subsequently confirmed in its full-year earnings release a few weeks later.
Slower revenue growth would have an impact on the $6.60/sh bid price from its private equity suitors.
Continued delays in the outcomes of the takeover proposal and strategic review – as an outside observer, this may seem questionable given the relatively simplistic nature of the businesses to be acquired.
Selldown of CEO and CFO post departure at firm – with the previous CEO selling his entire stake of 6.5 million shares at $3.70/sh shortly after Bain walked away from the bid, a significant discount to the BWX share price from just 6 months prior and a material discount to proposed $6.60/sh offer.
In its most recent update, BWX has guided to normalised EBITDA broadly in-line with FY18 of $40.3 million, compared to market expectations of $47 million. BWX blamed the disruption of the MBO process, but clearly sales have also suffered given a full half of earnings contributions from prior acquisitions has failed to materialise as expected. With a significant skew of 30 / 70 to the 2H (implying 2H operating EBITDA needs to increase 130 per cent on the 1H), the earnings guidance may yet prove to be optimistic.