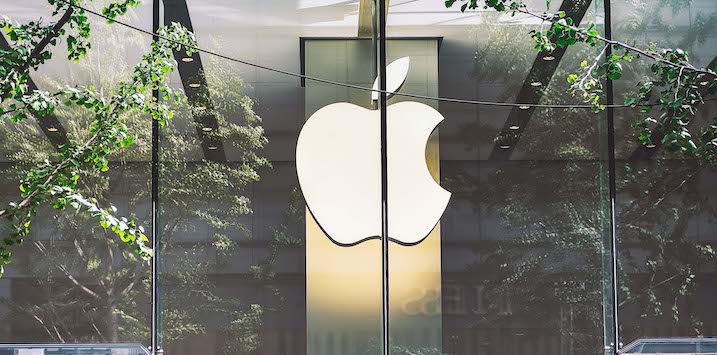 Peak Apple?
Last week, Apple became the first company in the world to eclipse US$2 trillion market capitalisation and has continued its surge above that level in anticipation of the upcoming 4-for-1 stock split. The company took 38 years to reach the first trillion and only two years to reach the second (or 11 months, if we count from the second time Apple breached $1 trillion).
Regular readers will know that Apple has been a core holding of the global funds over the past five years, and that journey has not been without its ups and downs. But with so much up in recent months, we take a breather to consider the prospects of the business.
The catalyst of the recent vertical move higher was the June quarter results, when Apple delivered a stunner that displayed a level of resilience exceeding even the most bullish expectations. Notwithstanding the global pandemic, mass store closures and soaring unemployment, Apple delivered a quarterly result that exceeded even pre-pandemic consensus broker expectations for the June quarter.
Following a weak April, demand bounced back strongly in May and June and has continued into July, benefiting from work-from-home tailwinds and government stimulus. By our estimates, iPhone revenue exited March at a c.33 per cent year over year (yoy) decline but rebounded to low-teens average yoy growth since the fourth week of April. iPad and Mac revenues grew at over 30 per cent and 20 per cent yoy respectively. It seems that for many consumers, instead of saving government stimulus cheques for a rainy day during a global pandemic, they would rather go out and buy premium-priced Apple hardware – a good problem for any consumer company to have.
However, while the market seems to see nothing but sunshine in the company's future, an investment in Apple is not without risks, which have only become more prominent as the stock price continues to rise. The obvious near-term risk is exposure to China. Substantially all of Apple's manufacturing and assembly takes place in or passes through China, and Greater China accounts for 16 per cent of revenue and likely even higher percentage of profits. With US-China relations deteriorating at a dizzying pace and Trump targeting Chinese technology champions (Huawei, Bytedance's TikTok, and even WeChat) under the guise of national security, the most logical target of Chinese retaliation is Apple. In fact, recent reports suggest Chinese regulators are already closing loopholes and exceptions that Apple has enjoyed since launching the App Store in China. China is likely the largest market for the App Store, and a share price of US$500+ leaves no margin of error for the Apple Services narrative.
On the topic of the Services narrative, the App Store business model has once again become a top-of-mind regulatory concern for investors after Epic Games, the maker of Fortnite, filed suit against Apple alleging monopolistic control over the iOS app economy and its extortionary 30 per cent commission rate. This is not the first time a critical spotlight has been directed at Apple's App Store practices, and there is gathering regulatory momentum against anti-competitive "big tech" behaviour generally and the App Store specifically. While we don't believe there is a material near-term regulatory threat to the App Store fee structure (any regulatory response will likely take years), it is difficult to wholeheartedly defend the existing structure particularly now that Apple has a "monopoly" over 1 billion active iOS devices globally.
Apple has been a key alpha generator for the global funds over the years and we continue to like the Apple business. However, at current levels, we believe the stock price fails to discount highly asymmetric near-term geopolitical risks and starts to fully price in once-free options. Accordingly, we have prudently trimmed Apple from our core holdings but continue to monitor the stock for more attractive opportunities to scale up again.
The Montgomery Global Funds and Montaka own shares in Apple. This article was prepared 27 August with the information we have today, and our view may change. It does not constitute formal advice or professional investment advice. If you wish to trade Apple you should seek financial advice.