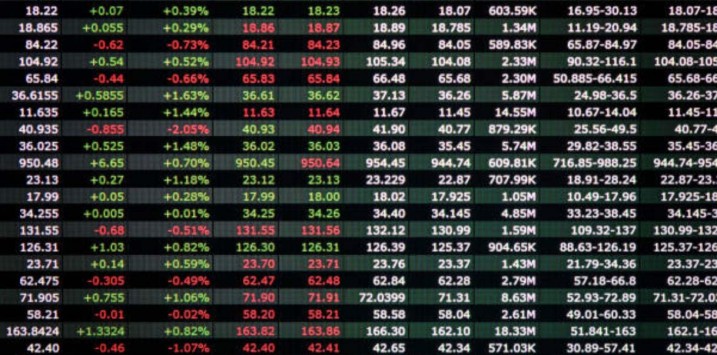 Over a decade, equities will always be up, right?
It's no secret that we are experiencing the longest bull market run in equities on record. Share market returns from the depths of the financial crisis to today are astounding. Yet many investors, allocators and institutions continue to accept that over long periods equities will always deliver, on average, strong performance. So, could equity returns ever produce lacklustre results over a long period? Not a year or two or five, but what about over a decade?
Theoretically the answer is obviously yes. Even if the expected annual return for equities is pegged in the mid-single digits, something like 6 or 8 per cent for example, statistically speaking there is variance around this central expectation. So, each year the result could be higher, or lower, than the average. And therefore, it is possible to generate a string of ten annual returns that each could result in a ten-year return that is weak, or maybe even negative. But the probability just seems so low that it's impossible. But it has happened.
Take a look at the following chart. It shows the S&P500 index, an average of the share prices of 500 US companies, over the ten-year period from the end of 1965 to the end of 1975.
S&P500: 1965 to 1975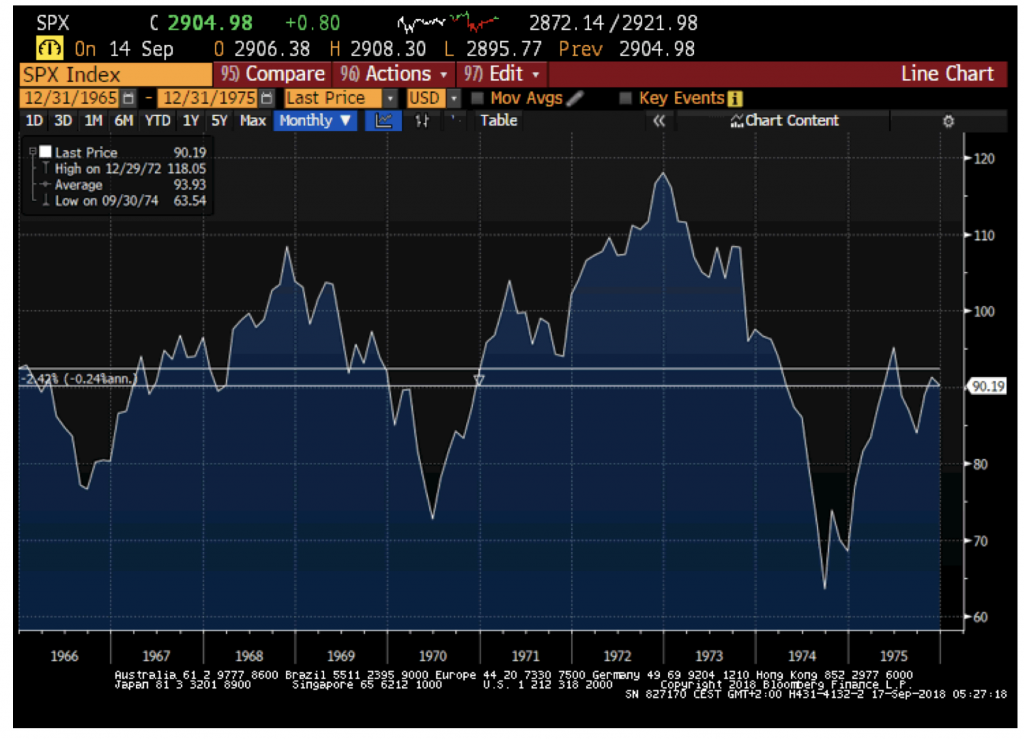 Source: Bloomberg
There were some big swings in equity prices, like the 30 per cent drawdown in 1974 and the 32 per cent rebound in 1975, but on the whole an investor over this period would have lost a little over 2 per cent from buying and holding a basket of US stocks. That's a negative return for the entire decade. And you might be interested to know what came before it.
Well, take a look at the next chart. It shows the S&P500 index in the immediately preceding decade from 1955 to 1965.
S&P500: 1955 to 1965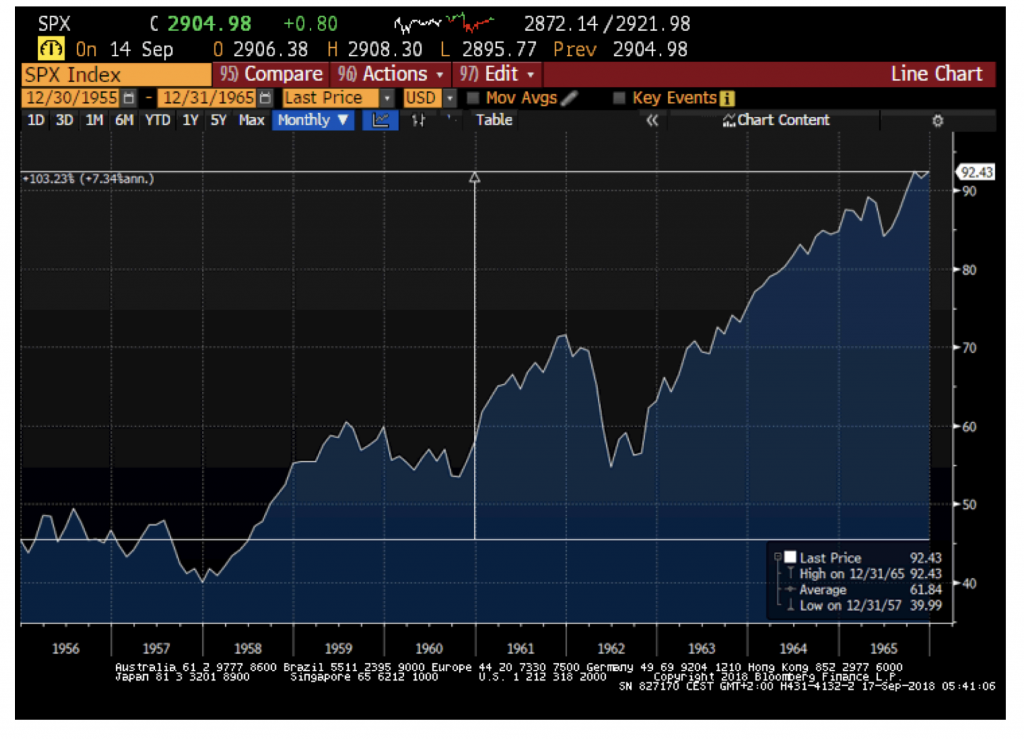 Source: Bloomberg
In this decade US equities doubled. That's equivalent to a return of more than 7 per cent per annum on average, and roughly what an equity investor would expect over a long period. It's a strong return, over a long period, that was then followed by a decade of weak returns.
Now come back to today. Here is the S&P for the last ten years.
S&P500: last ten years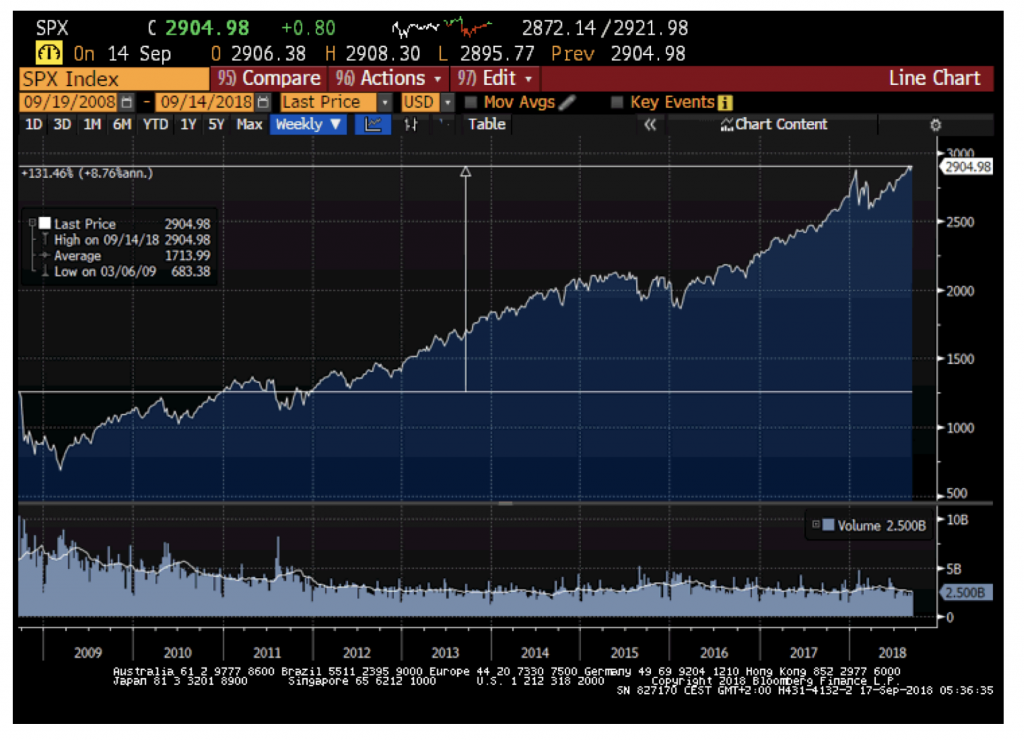 You can see that over this period, equities have more than doubled, returning around 9 per cent per annum on average, no dissimilar to the experience of 1955 to 1965. Unlike that period, there was a market crash that followed pretty soon after the starting point of the series – the global financial crisis. If we were to look at the return of equities since this low around nine and a half years ago, the performance is staggering. See the chart below.
S&P: last ten years, with the low of 2009 highlighted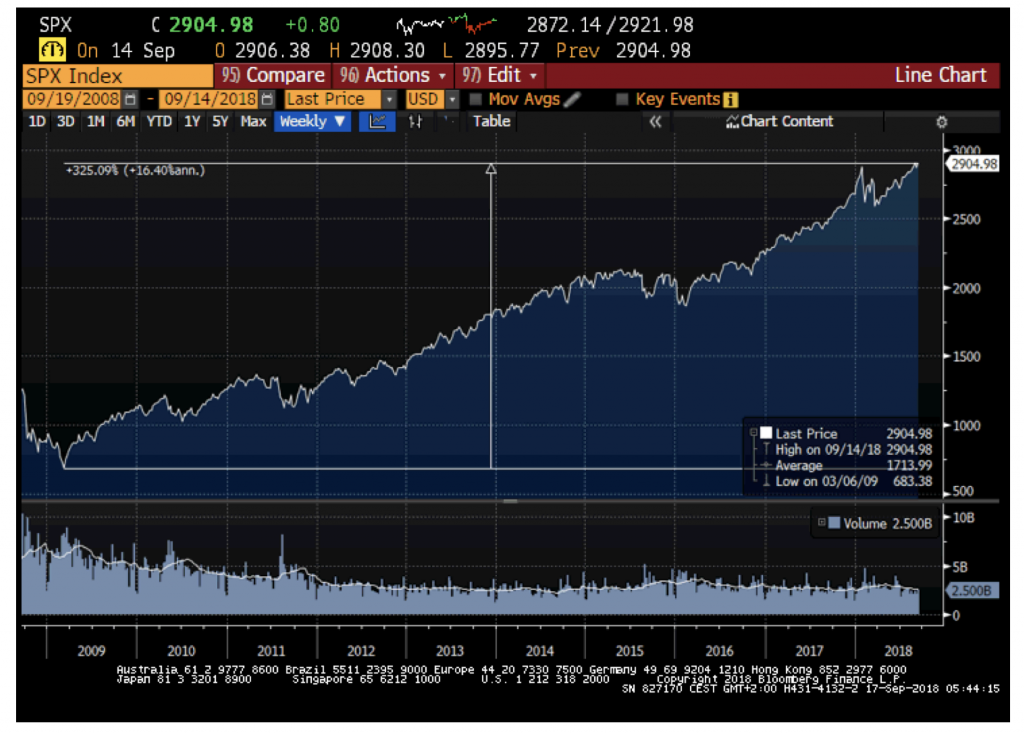 Source: Bloomberg
Since the depths of the crisis equities are up more than four-fold, equivalent to an average gain of around 16 per cent per annum. It's an extremely strong return, over a long period, so what should we expect next?
All else equal we believe the next decade has all the drivers in place to produce equity returns that are lower than those achieved in many decade-long periods that have come before. The pattern of returns shown in the 1950s, 60s and 70s caution us as to the potential long-run underperformance after a sustained period of strong performance. Beyond the charts, we think about things like: rising interest rates, highly indebted governments, and the burden of ageing populations that are all acting as a weight on corporate performance for the foreseeable future. That's not good news for those expecting stocks to finish the decade at twice the level they stand today. Said another way, 7, 8, or 9 per cent annualised average returns will be very hard to achieve.
We think strategies like the Montgomery Global Fund and the Montaka Global Fund are best placed in this type of environment. When there is not much of a wave of market performance to ride, it may make sense to protect the downside, and look for stocks that outperform on both the long and the short sides. This is what we are doing in our two global strategies.