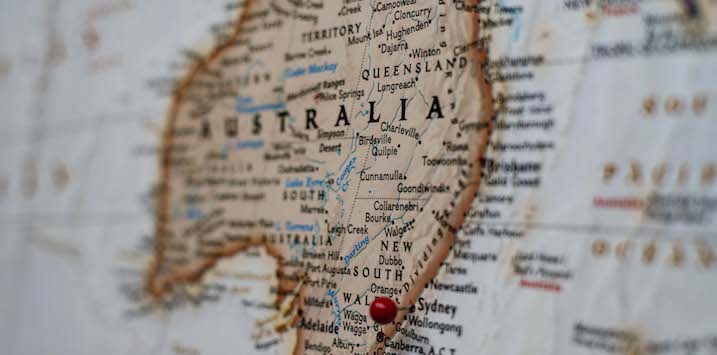 Our economy is getting simpler – and that's not good
KISS, an acronym for 'keep it simple, stupid', is a principle that works well in the field of design. But not when it comes to the national economy.  It is thus a real worry that recent research finds Australia has a 'simple' economy that depends on relatively few sources of export income. This leaves us exposed to changes in demand for our products, and creates risks for our national wealth.
There is no disputing that Australia has had a long period of economic growth with the last official recession being 28 years ago (although if we look at GDP per capita, rather than just total GDP, Australia has had a couple of recessions in the same time period).
As a result, Australia is the 8thrichest country in the world ranked by GDP/capita with US$54,093 in 2017 which, although it is about 30 per cent behind the richest countries in the world (Switzerland number one and Norway number two), is impressive in its own right.
Looking at data from Harvard University's Atlas of Economic Complexity, this figure is even more impressive considering that Australia is ranked at place 93 out of 133 countries (just before Pakistan and just after Senegal) when it comes to economic complexity as can be seen in this chart: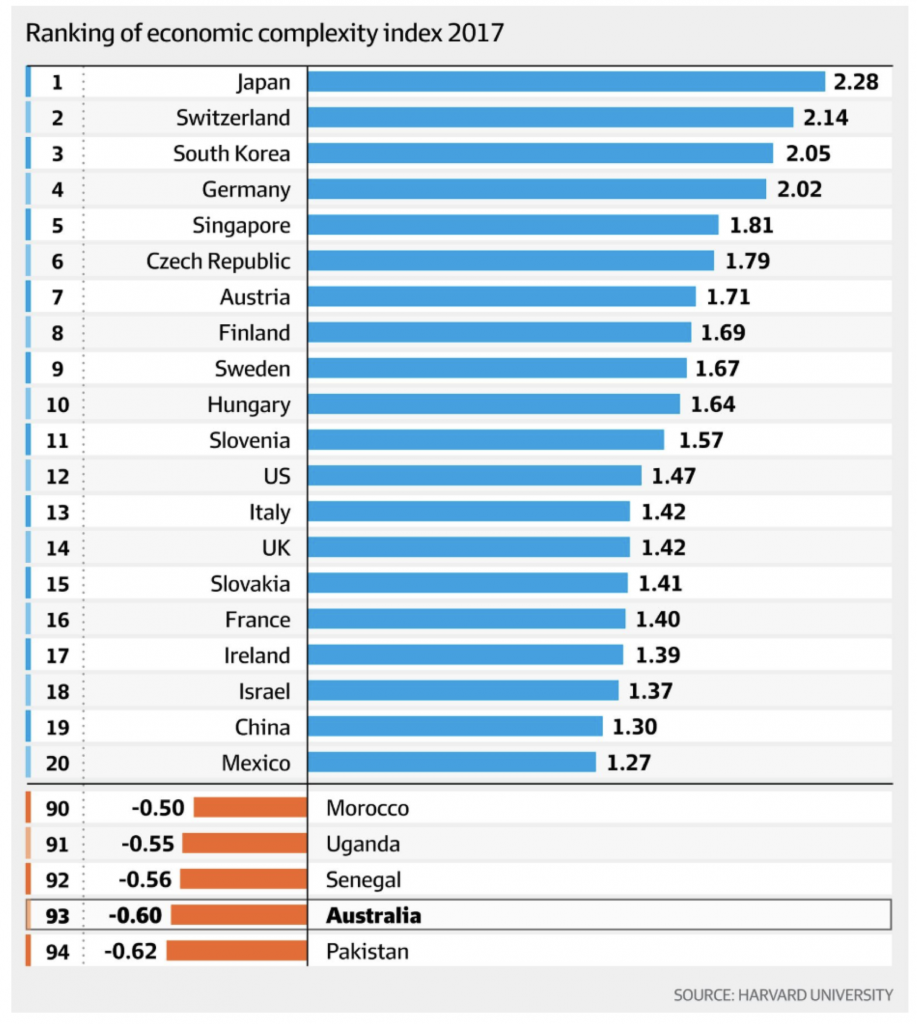 Economic complexity, as the name suggests, measures how diversified and sophisticated the exports that a country produces are. A low score means that the exports are simple in nature and/or concentrated to a few products.
Particularly telling is this chart which shows the complexity of the major trade flows and where we can see that basically all exports are ranked yellow, which indicates low complexity with only a few ranked green, which indicates high complexity.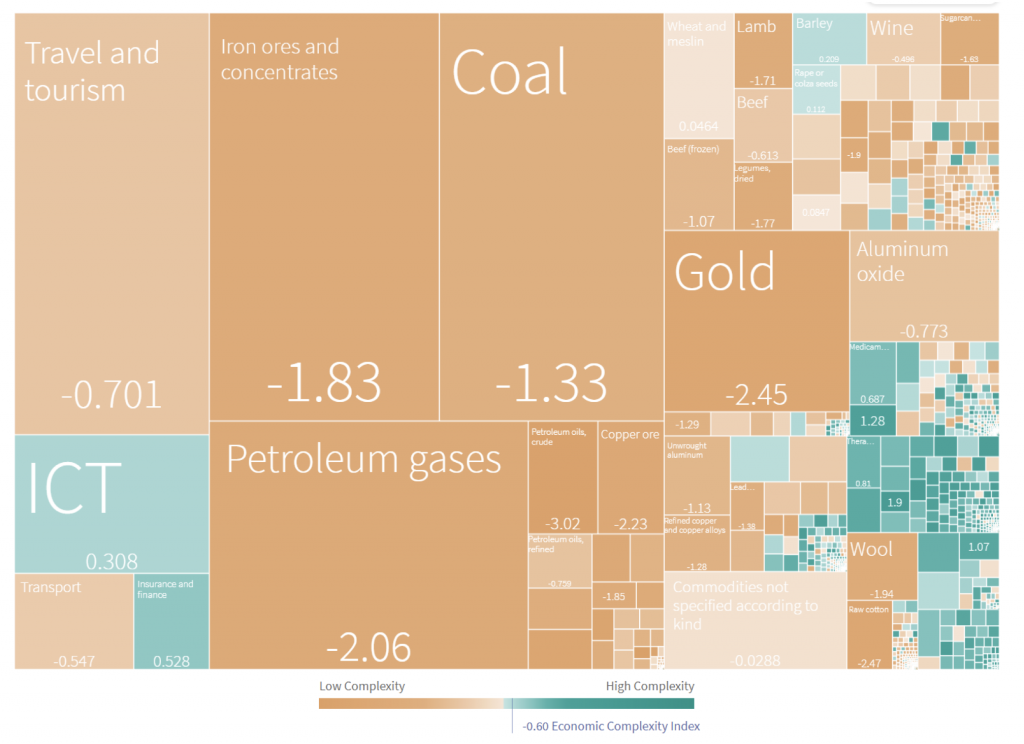 Now, there is nothing wrong per se in being very successful in selling a few products to the rest of the world as, after all, if you have a natural advantage in a particular area, you should take advantage of this and then preferably invest the proceeds of this advantage into other industries to create a diversified economy that has several legs to stand on. What is troubling to me though is that Australia's economic complexity ranking has fallen from 57 in 1993 to 93 today which indicates that the economy is becoming more and more concentrated instead of the opposite: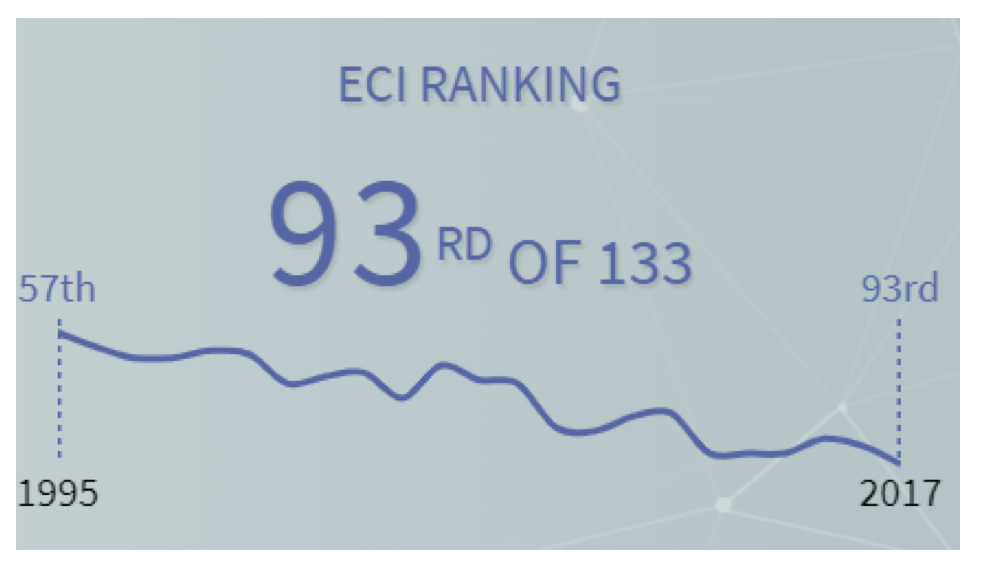 There are some very obvious dangers of being very dependent on a few sources of export income with the most obvious one being the risk that some macroeconomic factor has a significant impact on the demand for those products. If you have a diversified income base, it is less likely that all off your income sources goes down at the same time.
Another probably not so obvious impact of having an income base very concentrated in simple products is that you will have a much less flexible economy as your workers are lower skilled and will take much longer to retrain in case the demand for your exports changes, after all, it probably takes longer to retrain a coal miner to become a productive medical researcher than it takes to retrain someone with a PhD in chemistry to become a computer programmer.
For quite some time, there has been political complaints about the lack of wage growth in the economy. Is there any wonder that this is the case when the products we are producing and exporting are becoming simpler and simpler over time?