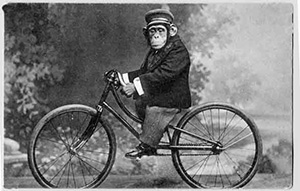 On yer bike
Lest you read Tim's comments below and err by drawing the incorrect conclusion that we are against good financial advice and planning…Keep in mind, every industry has their good and bad. Sadly, because the bad get all the press so it is easy to conclude from reading the papers and watching the news that an industry as a whole is rotten. This, in my personal experience, is not true. I have met a great many planners with a passion for their clients and a strong spirit of independence. I have met those who have left their firms when they believed their clients needs were not being best served. The standard of research I have witnessed is extraordinary and the investment being made in systems and processes is in inspiring. I am delighted to be an external advisor on the investment committee of one such group…Roger Montgomery
Back to Tim…
Early this morning I went for a bike ride with a former colleague from the investment banking industry (let's call him "Bud" for short). We rode at what is known as "conversational pace", and chatted about a range of things along the way.
One of the topics was the experience a member of Bud's family had had with a financial planner. Yes – a rant is to follow.
Bud took the time to read the financial plan that had been drawn up, and having quite a good grip on things financial, was able to articulate the key points. In summary, a large part of the plan was in the form of boilerplate legal disclaimers. The remainder was a straightforward calculation that showed how much money the family member would retire with if their salary and expenses grew at the rate of inflation for 20 years, and their savings and investments earned an assumed rate of return.

That's fine. It's good for people to have an appreciation of this. However, calculating this requires minimal effort by anyone with some basic spreadsheet skills. In this case, the planner had charged an eye-watering amount of money to prepare the report, and sought an eye-watering amount each year to "maintain" it.
It didn't take a spreadsheet to realise that the fees charged by the planner posed a greater threat to the client's long-term financial well-being than the absence of a financial "plan".
There are many very capable and honest advisers and brokers that give a great deal of comfort and reassurance to their clients, not to mention sound advice and reliable access, so we don't want to malign them. However, it is a fact that the finance industry, like any other, will always attract a small number of shonks, and from time to time we encounter dreadful examples of people whose savings have been brutalized through greedy or incompetent decisions foisted upon them. In some cases these are matters that really need attention from ASIC.
Without wanting to incite a full-scale gripefest, have you had any particularly good or bad experiences you care to mention? Without naming names, let us know your thoughts and experiences.