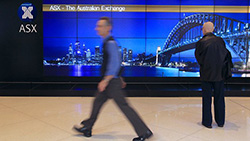 New IPOs on the block
Despite the buoyancy in the stock market over the past 12 months, it has been surprising to see so few new businesses apply for listing on the Australian Securities Exchange. Fewer still we would deem to be quality.

Rising markets are generally good for companies with IPO plans. With profits in one hand, and maturing term deposits and low interest rates in the other, investors are likely to be more open about putting their hard-earned savings to work. One way to do this is by funding those willing to take the IPO plunge.
On the other side of the fence sit the investment managers, who, having watched a rising market lift all the boats in their investment universes, are now finding it much more difficult to find new ideas. They are definitely more receptive to being handed a telephone book full of colourful facts and figures.

Despite this, having a quick look at the table published on the Australian Securities Exchange's Website, as of today we can see very few opportunities of any real size and quality in the line-up. The above list for some reason does not include the Virtus Health Limited IPO. More on that another time.
Studying this list, we are generally not interested in businesses that are focused on exploration or are involved in the resources space (reasons for which we have covered at length previously).
That leaves just Shine Corporate, which has a very small IPO, and Mighty River Power Limited (MRP), with a proposed $1.9b float. The clear standout in this IPO pack.
MRP is a well-known New Zealand company that generates about 17 per cent of the country's electricity. 90 per cent comes from renewable sources, having tapped the Waikato River with nine hydroelectricity power stations, four geothermal stations on the North Island and one gas-fired station in Auckland, meaning that it's likely to appeal to a large range of potential investors.
Assuming the float gets away, MRP will become one of the ten largest companies listed on the New Zealand Stock Exchange. And Australian investors won't miss out, as it will be dual listed on the ASX.
Currently state owned, 49 per cent of MRP is being sold in this IPO, which means that the New Zealand government will still retain majority control. We see this as a good sign for future station approvals, as the government still has large future investment plans.
Knowing that they have a number of assets being considered post this IPO, we are pretty sure this float is being priced to ensure a successful listing. Yet another good sign.
The other positive is the deal structure. With just $400m of the $1.9b being offered to institutions, the balance to retail investors, the float reminds me of when Platinum Asset Management applied a similar strategy back in 2007.
With a likely inclusion in the ASX 200 index (indeed in the ASX 100 it is entirely possible), will we see another scramble by index funds to get their position? We guess that this will be a scramble worth watching. Don't sell too early.
This post was contributed by a representative of Montgomery Investment Management Pty Limited (AFSL No. 354564). The principal purpose of this post is to provide factual information and not provide financial product advice. Additionally, the information provided is not intended to provide any recommendation or opinion about any financial product. Any commentary and statements of opinion however may contain general advice only that is prepared without taking into account your personal objectives, financial circumstances or needs. Because of this, before acting on any of the information provided, you should always consider its appropriateness in light of your personal objectives, financial circumstances and needs and should consider seeking independent advice from a financial advisor if necessary before making any decisions. This post specifically excludes personal advice.
INVEST WITH MONTGOMERY