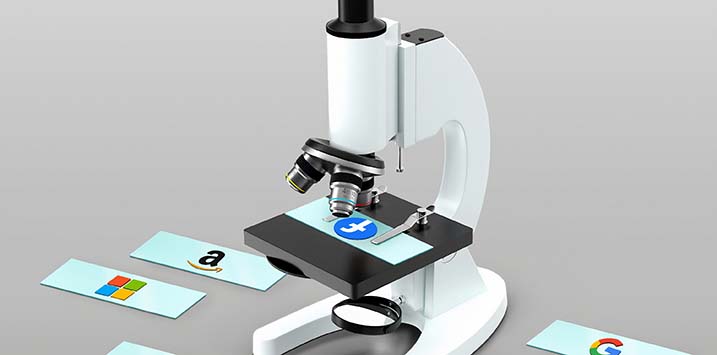 More strong Quarterly results, particularly from Facebook and Amazon
Facebook's March 2021 Quarter revenue increased 48 per cent to $26.2 billion from $17.7 billion with strong demand for advertising from the social network's 2.85 billion monthly active users, across its Facebook, Instagram and WhatsApp platforms, up 10 per cent. Net income in the March quarter jumped 94 per cent from $4.9 billion to $9.5 billion, easily exceeding analysts' expectations.
The average price per advertisement rose 30 per cent in the March Quarter, while the volume of advertisements delivered rose 12 per cent. Allowing retailers to upload their product catalogue on their Facebook page and Instagram profile has been constructive.
Facebook (market capitalisation of US$936 billion) noted a potential risk to its advertising business as Apple adds privacy restrictions on iPhones and other devices which may inhibit its ability to collect user data, which powers its targeted advertising model. The Apple iOS 14 software is requiring explicit user permission to track their activity across the web.
Facebook is building new audio-focused products to compete with social media rivals including Twitter and Clubhouse, and it has also been experimenting with different ways to bolster its video-advertising offerings.
The net revenue for Mastercard (market capitalisation of US$386 billion) for the March 2021 Quarter rose 5 per cent to $4.2 billion from $4.0 billion, and the growth is expected to accelerate in the June Quarter to at least 20 per cent on a currency-neutral basis (excluding acquisitions).
Domestic travel is expected "to improve progressively throughout the year in countries with strong vaccination programs, while international travel should start to open on a select basis in the second half of the year between countries with strong vaccination programs and/or low case rates."
More generally, Mastercard argues that it has been winning share in the debit market with US Gross Dollar Volume rising 14 per cent overall, with debit volumes growing 26 per cent and credit volumes falling one per cent. Internationally, Gross Dollar Volume grew 5 per cent, with debit volumes rising 12 per cent and credit volumes declining 2 per cent.
Typical of the Big Five US technology businesses, Amazon (market capitalisation of US$1.75 trillion) blew away analysts' expectations for the March 2021 Quarter, with 44 per cent revenue growth from $75 billion to $108 billion and a 256 per cent increase in Net Income from $2.5 billion to $8.1 billion.
Demonstrating the optionality of its business model, at 15 years of age the global leader in cloud infrastructure, Amazon Web Services (AWS), recorded an annual revenue run rate of $54 billion and is growing at 32 per cent, year on year. This now serves as an added competitive advantage for the company as new entrants do not have the capital to invest in sufficient scale, so there are few horses in this race.
Prime Video, at ten years of age has 175 million subscribers and is growing its Live Sports offering internationally and will become the exclusive home for Thursday Night Football from 2023.
And while there is little disclosure, advertising is the third relatively young but fast-growing division enjoying strengthening tailwinds within Amazon's stable.
Nestle (market capitalisation of 315 billion Swiss francs or US$346 billion) recorded 7.7 per cent revenue growth in the March 2021 Quarter to CHF21.1 billion. This was attributable to 6.4 per cent volume growth and 1.2 per cent to pricing. Growth in Emerging Markets at 11 per cent was more than double that of Developed Markets at 5 per cent.
Coffee was the largest contributor to growth, fuelled by strong demand for Nespresso, Nescafe and Starbucks products. Double digit growth was also recorded by Dairy, based on elevated demand for home-baking products and fortified milks; prepared dishes and cooking aids; vegetarian and plant-based food offerings; and confectionery.
From a channel perspective, e-commerce sales grew 40 per cent, reaching 15 per cent of total revenue.
Investing in only companies with exceptional earnings growth, driven by a sustainable competitive advantage, hear directly from Damon Ficklin and Jeff Mueller from the Polen Capital Global Growth team as they share the investing principles for successfully investing in high quality growth companies. Watch the webinar here.
The Polen Capital Global Growth Fund owns shares in Facebook, Mastercard, Amazon and Nestle. This article was prepared 03 May with the information we have today, and our view may change. It does not constitute formal advice or professional investment advice. If you wish to trade these companies you should seek financial advice.