Montgomery Investment Management's product suite
In this week's video insight David provides an update on Montgomery's product suite which comprises of four divisions including Australian Eagle Asset Management, Montgomery Lucent, Polen Capital and Aura Group.
Transcript
David Buckland
Welcome to this week's video insight. I thought I would take this opportunity to update you on the Montgomery Investment Management product suite.
As seen from the slide, we effectively have four divisions: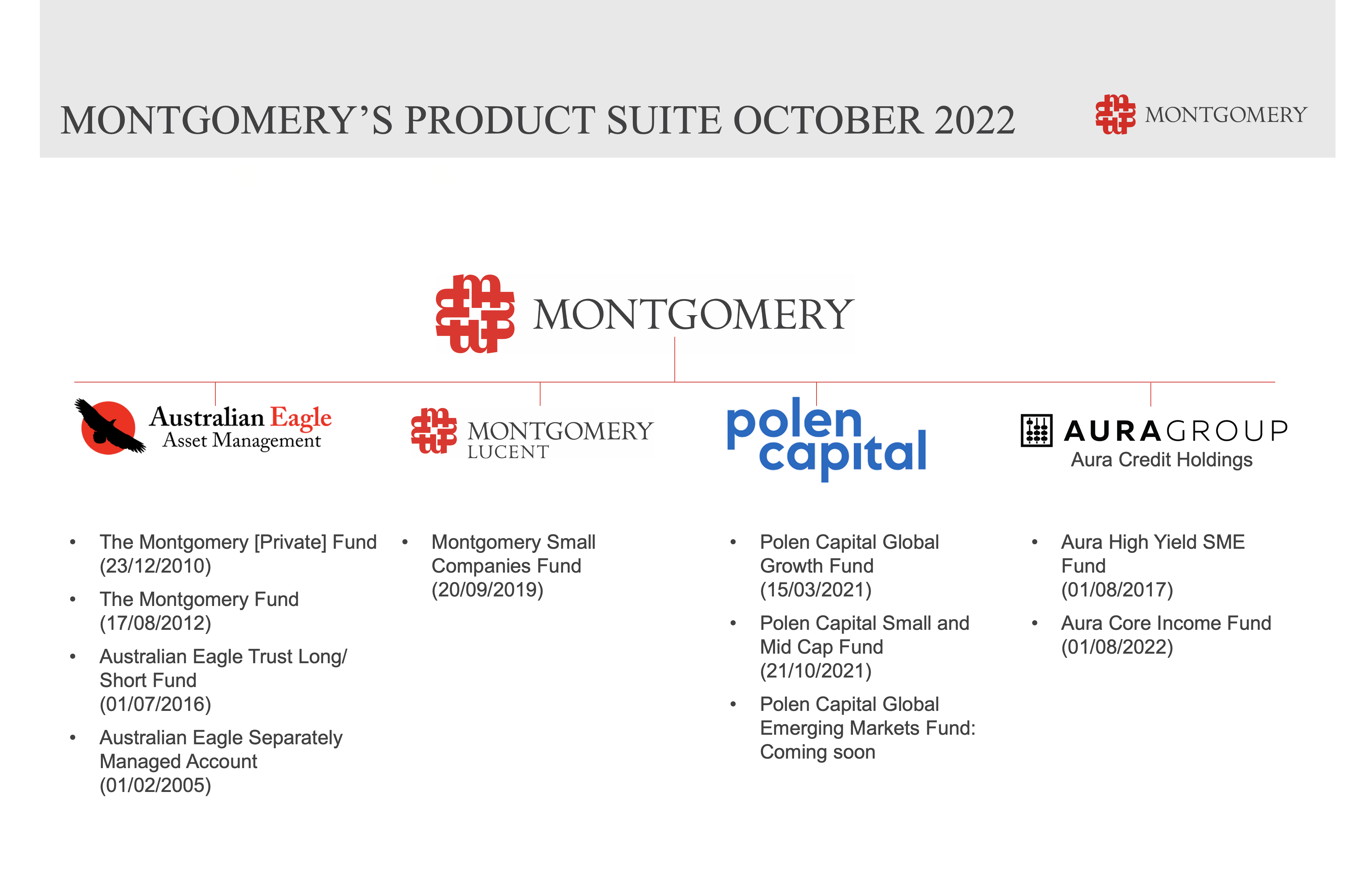 On the left is Domestic Large Cap Equities run by the team at Australian Eagle Asset Management.  Sean Sequeira, who is the Chief Investment Officer, has been with Australian Eagle for 17 years, and he's joined by Alan Kwan, Mark Oliver and Daniel Chan. Australian Eagle have an enviable track record and their Long/Short Fund has added around 8 per cent per annum of out-performance, after expenses, against the ASX 100 Accumulation Index over its 74-month life.
This Domestic Large Cap Equities Division includes The Montgomery [Private] Fund, which is designed for wholesale investors and is nearly 12 years old, The Montgomery Fund, which has just had its tenth anniversary, the Australian Eagle Trust Long/Short Trust which is over six years old, and Australian Eagle's "Long Only" strategy which has been running since February 2005.
The division second from the left comprises the Montgomery Small Companies Fund, which was launched over three years ago and focuses on smaller listed Australian and New Zealand equities. Run by the team from Montgomery Lucent – Portfolio Managers Gary Rollo and Dominic Rose ­– the Montgomery Small Companies Fund have beaten the ASX Smaller Companies Accumulation Index by 4.8 per cent per annum, after expenses.
Global Equities is the third division, second from the right. Polen Capital run the Polen Capital Global Growth Fund out their head office in Boca Raton, and this is headed up by Damon Ficklin and Jeff Mueller. 
The second strategy is the Polen Capital Global Small and Mid Cap Fund, and that was launched in Australia nearly twelve months ago. Portfolio Manager Rob Forker, who is based in Polen Capital's Boston office, is joined by eight investment professionals.
The third global equities strategy we plan on launching in 2023 is Polen Capital Global Emerging Markets, run by Damian Bird CFA out of Polen Capital's London office. An expected transaction, to be announced shortly, will see the Polen Capital Global Emerging Markets strategy expanded to a team of around 10 with approximately US$2 billion of Funds Under Management.
The fourth division, on the right-hand side of the slide, is Domestic Credit. The Portfolio Manager for Aura Credit Holdings is Brett Craig, and he is assisted by James Chapman and Natalie Kolenda. The Aura High Yield SME Fund, designed for wholesale investors, has delivered a compound annual average return of 9.5 per cent, after expenses, since launch in August 2017. Monthly interest payments have varied between 0.93 per cent and 0.60 per cent over its 61-month life. The more conservative Aura Core Income Fund has been recently launched.
I hope these four divisions offers at least one strategy which works for you.
Visit our fund page to learn more about our funds
You should read the relevant Product Disclosure Statement (PDS) before deciding to acquire any investment products.
Past performance is not an indicator of future performance. Returns are not guaranteed and so the value of an investment may rise or fall.
The information provided does not take into account your investment objectives, financial situation or particular needs. You should consider your own investment objectives, financial situation and particular needs before acting upon any information provided and consider seeking advice from a financial advisor if necessary.