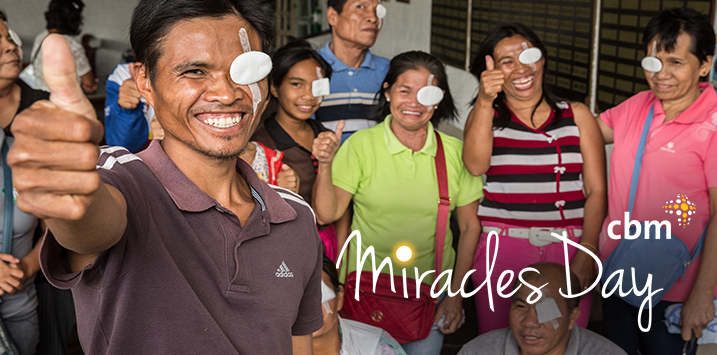 Making Miracles Possible
Dear Friends,
When the media talks of philanthropists they tend to focus on those giving millions, forgetting that the real philanthropists are those with far less and those that often give proportionately more. Of course it's rarely convenient to give and it's easy to put off giving until a 'better' time. However, what inspired me to give to Miracles Day was the simple fact that with just $32, I could buy a 12 minute procedure that would allow a women to see her daughter for the very first time – even though her daughter was 16 years old.  The immediate and positive impact I could have appealed to me.  I'd like you to consider this cause and consider becoming a philanthropist on August 17, Miracles Day.
When was the last time you could say with confidence: I made a real difference and changed someone life?
Restoring eye-sight to people living with cataracts in some of the poorest parts of the world costs only $32 and is a 12-minute surgery.
Yet incredibly more than 18 million people around our world live without sight because they can't afford the simple treatment they need. This year we'd like to permanently change the lives of 30,000 of those people.
You can partner with generous Australians who want to be catalysts for change, who want to restore sight, and give people dignity, hope, and a brighter future.
You can Make Miracles Possible.
Miracles Day is an annual event, hosted by CBM Australia, to help give the Miracle Gift of Sight-Saving Surgery to people who are needlessly blind because of cataract.
Earlier this year, a team from CBM Australia travelled to the Philippines and met Raul, a 34-year-old farmer whose eyesight started failing when he was 10.
Gradually his cataracts deteriorated to the point where Raul was left completely blind.
Losing his eyesight, meant losing his job and putting his family at risk. All Raul knew was farming, but who would hire a farmhand who couldn't see?
And as his family grew, he became a father to a new baby girl. But Raul was never able to see the face of his daughter. All he could do was gently touch her nose, eyes, and ears.
Without work and with a growing family, the challenge of paying for surgery seemed impossible. Raul had run out of options.
This is the reason for Miracles Day – to make miracles possible for those who need it the most.
Thanks to the support of a CBM partner in the Philippines, Raul underwent successful cataract-removal surgery, a simple procedure that took only 12 minutes.
After having his patch taken off, Raul was astounded – not only could he see, but he could realise a future for his family.
He shared with our staff his thanks, "You were God's instrument, a good God's instrument, that you came here to help us and I hope that you can help more people like me".
Raul shared a smile and the CBM Australia team knew in that moment that it wasn't just having his eyesight back that was overwhelming him.
It was the realisation that he could now look forward to seeing his daughter for the first time, and that he would be able to provide for her, his wife, and their future.
Join me on Miracles Day, 17 August, as CBM aims to give 30,000 people in the world's poorest countries the Miracle gift of 12 minute sight-saving surgery.
Please diarise to give the Miracle Gift of Sight on 17 August this year, and head to www.cbm.org.au/miraclesday or call 131 226.
Photo caption: Raul (left), from the Philippines, can now look forward to a brighter future after undergoing successful cataract removal surgery.