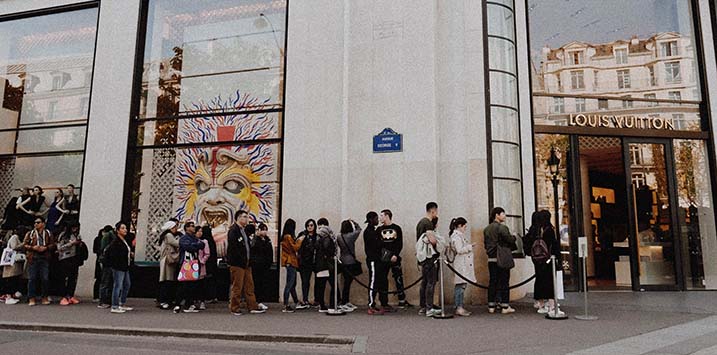 LVMH and the rise of China
I remember it like yesterday – several years ago walking up the Champs-Elysees towards the Arc de Triomphe, with my wife Penny. On the corner of Avenue George V stood the iconic Louis Vuitton store and outside, in an orderly line, were several hundred Chinese nationals, waiting patiently to be allowed in by a couple of enormous well-dressed security guards.
As their fellow countryman were leaving the store, sated with enormous quantities of bags and other fashion accessories in hand – thus avoiding the "fakes" at home – they were being ushed in, a few at a time. It was a time when conspicuous consumption of luxury goods amongst the wealthy Chinese was on a strongly rising trajectory.
LVMH, formerly known as Louis Vuitton Moet Hennessy, is a multi-national conglomerate specialising in luxury goods and headquartered in Paris. Its brands include Louis Vuitton, Dior, Sephora, Tiffany & Co, Fendi, Bulgari, Givenchy, Hennessy, Moet & Chandon, Celine, TAG Heuer, Kenzo, Hublot, Veuve Clicquot, Rimowa, Fenty, Ruinart, Berluti, Belmond and Christian Dior.
Despite very limited long-haul travel over the past year, the Luxury sector has held up relatively well.
In the December 2020 half-year, China grew strongly whilst the Western consumer demonstrated resilience. Sales forecasts for 2021 are expected to at least return to the levels recorded in 2019.  According to JP Morgan, the Asia Ex-Japan Luxury sector recorded a decline of 32 per cent in the quarter to March 2020 and 19 per cent to the June 2020 quarter. However, this has reversed with growth of 14 per cent and 20 per cent, respectively, in the September 2020 and December 2020 quarters.
The Luxury sector is expected to record organic sales growth of 24 per cent in calendar 2021, implying a full recovery to 2019 levels. With vaccinations likely to be implemented across much of the Western world this year, organic revenue growth of 12 per cent is forecast for calendar 2022.
An important driver of the Luxury sector is the rise of the "Global Affluent" (>US$62,000 of annual household disposable income) and the "Affluent" (US$46,000 to US$62,000) in China. As an example, the number of "Global Affluent" and "Affluent" in China is expected to jump by 15 fold from 4 million in 2010 to 60 million in 2030. And with high barriers to entry, where digital threats remains relatively small in the sector and store rents are onerous, the strong brands are likely to get stronger.
And with US$70 billion of annual revenue, this should benefit the leader in the pack – LVMH.
The Polen Capital Global Growth Fund owns shares in LVMH.  This article was prepared 16 March with the information we have today, and our view may change. It does not constitute formal advice or professional investment advice. If you wish to trade LVMH you should seek financial advice.
Applications for the Polen Capital Global Growth Fund are now open. You can read more about the fund here and apply online: Polen Global Growth