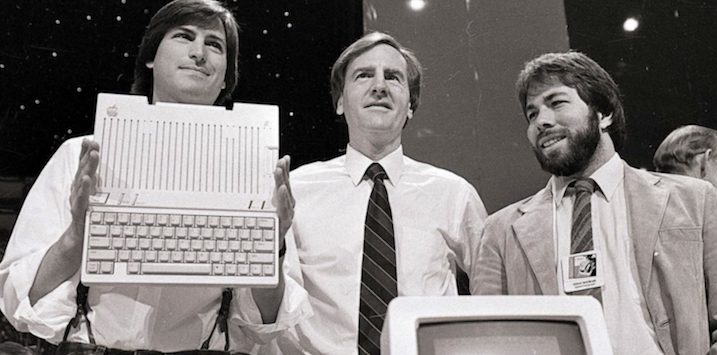 Looking Back at Steve Jobs' Future
In 1985, a hungry 29-year-old on the precipice of discovery was interviewed about the future of computer technology. More than 30 years on, Steve Jobs' words have aged timelessly and are reflected in the world we see today.
At the time he had just developed the Macintosh computer, which would become Apple's key to dominating IBM and the computer hardware industry.
Jobs' entrepreneurial spirit rings through in the interview. His comments highlight his remarkable vision into the future of a world he was standing at the foot of:
"The most compelling reason for most people to buy a computer will be to link it into a nationwide communications network … As remarkable as the telephone"
Not only was he right in predicting that everyone would not just want but need a computer in their home, there is an allusion to the creation of the World Wide Web, which Tim Berners-Lee only wrote the initial proposal for in 1989. Further, he compares the invention of the computer to the telephone, and of course the modern telephone is a computer.
"People really don't have to know how computers work. Most people have no concept of how an automatic transmission works, yet they know how to drive a car. You don't have to study physics to understand the laws of motion to drive a car."
This will forever be true of all complicated technology, and Jobs knew that the key to Macintosh's success was its simplified functionality, such that even a child immediately understood how to use it.
"Computer as servant. But the next thing is going to be computer as guide or agent."
It is hard to believe Jobs knew the extent of this prediction. He provides the example of an electronic stockbroker, who would buy and sell when a stock breached set limits. These days, we have computer automation that goes well beyond that, including algorithmic trading where data processors react to minute market inefficiencies in split-second time. Moreover, the future of computer automation through robotics and AI will become an even greater extension of this forecast.
"Frito-Lay doesn't have to innovate very much. They just watch all the little chip companies come out with something new, study it for a year, and a year or two years later they come out with their own, service and support it to death, and they've got 80 percent of the market share of the new product a year later"
An analogy Jobs used to depict an IBM-led market. Ironically there is an argument to suggest this is how Apple operates with its core products. Although they invest billions into projects outside of iPhones, iPads and MacBook computers, Apple is guilty of letting smaller players innovate before improving upon their ideas and releasing them under Apple's superior brand and aesthetic. And why would you not – alleviate the market risk that comes with being first by investing in R&D only once someone else has assured your success.
"The key thing to remember about me is that I'm still a student. I'm still in boot camp."
My favourite line of the interview.
You can read the full script here.
The Montgomery Global Funds own shares in Apple. This article was prepared 13 March with the information we have today, and our view may change. It does not constitute formal advice or professional investment advice. If you wish to trade these stocks you should seek financial advice. 
Image source: Business Insider