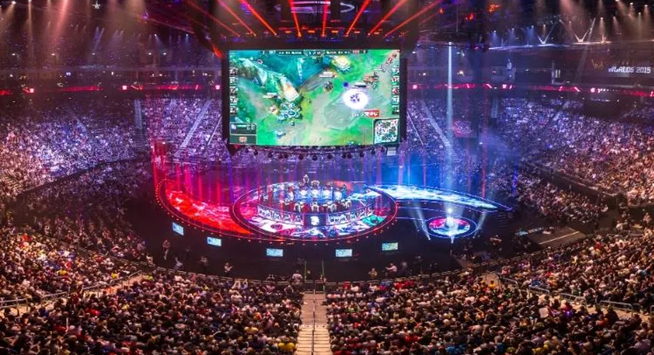 It's time to switch on to the spectacular growth of eSports
Lee 'Faker' Sang-hyeok is considered by many to be the best League of Legends player of all time. Why is this important? Because the eSports market, where 'Faker' is a major star, is growing – fast. And it's boosting the value of eSports businesses, like Tencent (HKEX: 700 HK) and Take-Two Interactive (Nasdaq: TTWO) – whose shares we are pleased to hold in the Montgomery global funds.
eSports is increasingly becoming an area in which video game publishers are trying to gain a foothold. The term eSports refers to competitive video gaming – that is, competitions staged in the virtual world of a video game. These tournaments are not constrained by genre, and span the sports, first-person shooter, and multiplayer online battle arena (MOBA) categories, among others.
Riot Games' League of Legends (LoL) World Championship (n.b., Riot Games is owned by Tencent) is one of the largest eSport tournaments, and the scale of this event is nothing short of mind-boggling (see the picture above). The League of Legends 2015 World Championship had an estimated 36 million viewers tune in to the finals. For comparison, Game 7 of the 2016 NBA Finals achieved approximately 31 million viewers. The prize pool for the LoL World Championship is more than $5 million, and these sorts of sums aren't uncommon in the realm of eSports. For example, The International Dota 2 Championships had a $20.8 million prize pool in 2016.
Recently, Take-Two Interactive (Nasdaq: TTWO) announced the NBA 2K eLeague, an eSports competition launched in partnership with the National Basketball Association (NBA) that is set to debut in 2018. This is the first official eSports league operated by a U.S. professional sports league, and it will consist of teams operating by actual NBA franchises. For example, you can play as your favourite LA Lakers player in a competition that is being sponsored and operated by the NBA.
The tournament will be a drawcard for new players and will help keep players from defecting to competing basketball video game franchises. This is a particularly important point as Electronic Arts (Nasdaq: EA) is launching a revamped console version of its NBA game later in the year. TTWO management have done a stellar job at pivoting the business to different growth areas, whether that be eSports, virtual currency and in-game spending, or mobile gaming via the recent acquisition of Social Point. The company also has a solid pipeline of upcoming game releases, helping underwrite strong future growth prospects for the business.
The Montgomery global funds own shares in Tencent (HKEX: 700 HK) and Take-Two Interactive (Nasdaq: TTWO).