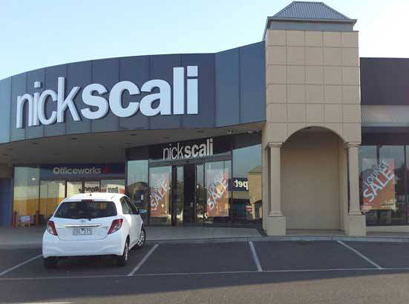 It's not all doom & gloom in retail
Upmarket furniture seller Nick Scali (ASX: NCK) had an excellent financial year in 2014 with its success seemingly continuing into FY15. I've made a few notes on their outlook, whilst reading through the Chairman & Managing Director's 2014 AGM addresses, which you can read in full here.
Comparable stores orders for the first quarter are ahead of the same period last year.
Potential margin erosion risk as a result of Australian dollar declines.
Mr Scali expects half year end NPAT may possibly be around 20 per cent above that of the previous corresponding period.
I commented on Nick Scali back in June (my prior comments are here) with a warning towards the end 'Nick Scali had a strong first half NPAT result of $7.9 million which was up 22 per cent on that of 1H13, however this was delivered when the six month consumer confidence average was 106. Given this, it would be wise for investors to be careful in their extrapolations of the full year result.'
Notably, FY14 NPAT was up 16.3 per cent which fell short of the expectations of anyone extrapolating 22 per cent. Again, I would reiterate this warning before extrapolating out their first quarter result. Especially given the trends we are seeing in consumer confidence.
Nick Scali is particularly appealing to the retail investor since its price is less influenced by the demand and supply of funds management firms and other large investors, who can bid up the stock well beyond its current 15x/16x price-to-earnings ratio.
In a nutshell, funds typically require the stocks they invest in to have ample liquidity on the market, i.e. enough shares trading daily so that the fund can move in and out of the stock as their investment views change on a sizeable position.
Nick Scali, being a relatively small and illiquid stock, cannot be bought by most large investors which means that there can be more instances for the security to be mispriced and hence a potential opportunity for retail investors, who typically do not require as much liquidity with smaller shareholdings.
None of the above, of course, is a recommendation to buy or sell this security, or an excuse not to do your own research.
Scott Shuttleworth is an Analyst with Montgomery Investment Management. To invest with Montgomery, find out more.
This post was contributed by a representative of Montgomery Investment Management Pty Limited (AFSL No. 354564). The principal purpose of this post is to provide factual information and not provide financial product advice. Additionally, the information provided is not intended to provide any recommendation or opinion about any financial product. Any commentary and statements of opinion however may contain general advice only that is prepared without taking into account your personal objectives, financial circumstances or needs. Because of this, before acting on any of the information provided, you should always consider its appropriateness in light of your personal objectives, financial circumstances and needs and should consider seeking independent advice from a financial advisor if necessary before making any decisions. This post specifically excludes personal advice.
INVEST WITH MONTGOMERY