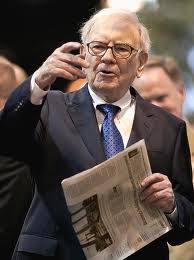 Is yesterday's news tomorrow's profits?
At this time each year, we look forward to the release of Warren Buffett's missive to his Berkshire Hathaway shareholders. Most interesting to me is this year's discussion about Newspapers. It is interesting because there was a time, not that long ago, when Warren Buffett had said he would not buy a newspaper at any price. As you read this year's Letter, you quickly discover Warren Buffett can quickly change his view…
It may interest you to know that during the past fifteen months, he and Charlie acquired 28 daily newspapers at a cost of $344 million.

His words about the value in local news are also timely for Australia as Regional MPs raise concerns with Julia Gillard about the dumping of so called 'reach-rules' for TV broadcasting by Communications Minister Stephen Conroy in December.
Two important insights are: "Newspapers continue to reign supreme, however, in the delivery of local news. If you want to know what's going on in your town – whether the news is about the mayor or taxes or high school football – there is no substitute for a local newspaper that is doing its job. A reader's eyes may glaze over after they take in a couple of paragraphs about Canadian tariffs or political developments in Pakistan; a story about the reader himself or his neighbors will be read to the end. Wherever there is a pervasive sense of community, a paper that serves the special informational needs of that community will remain indispensable to a significant portion of its residents."
and,
"Charlie and I believe that papers delivering comprehensive and reliable information to tightly-bound communities and having a sensible Internet strategy will remain viable for a long time. We do not believe that success will come from cutting either the news content or frequency of publication. Indeed, skimpy news coverage will almost certainly lead to skimpy readership. And the less-than-daily publication that is now being tried in some large towns or cities – while it may improve profits in the short term – seems certain to diminish the papers' relevance over time. Our goal is to keep our papers loaded with content of interest to our readers and to be paid appropriately by those who find us useful, whether the product they view is in their hands or on the Internet."
Excerpt from the 2012 Berkshire Hathaway Letter.