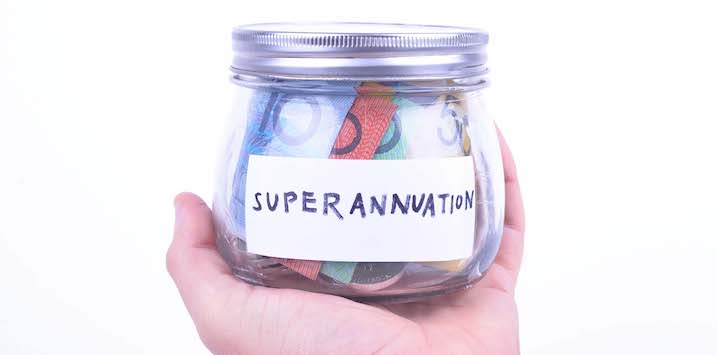 Is the early release of superannuation a good idea?
One of the actions announced by the government to stimulate the economy as a response to the current crisis is that individuals can apply for an early release of superannuation savings. The rules are that an individual can apply to withdraw $10,000 before the 30 June and another $10,000 between the beginning of July and the end of September.
On 18 May, APRA released updated stats on the current state of withdrawals (up until 10 May), and I thought it would be interesting to have a look at the data.
In total, $9.0 billion has been withdrawn spread across 1.19 million applications. There is a slight lag (not very long at 3.3 days on average) between the payments being made and applications being received, and the total amount of applications is for $10.0 billion spread across 1.34 million applicants meaning that the average withdrawal application is just under $7500.
If we look at which funds had the largest withdrawals, it should probably come as no surprise that it is primarily the industry funds that are top of the list as their members working in retail, food and accommodation are the ones hit the hardest by the lockdowns, but it is also interesting to see that there are significant outflows from the Health Employees Superannuation Trust which I would not have expected: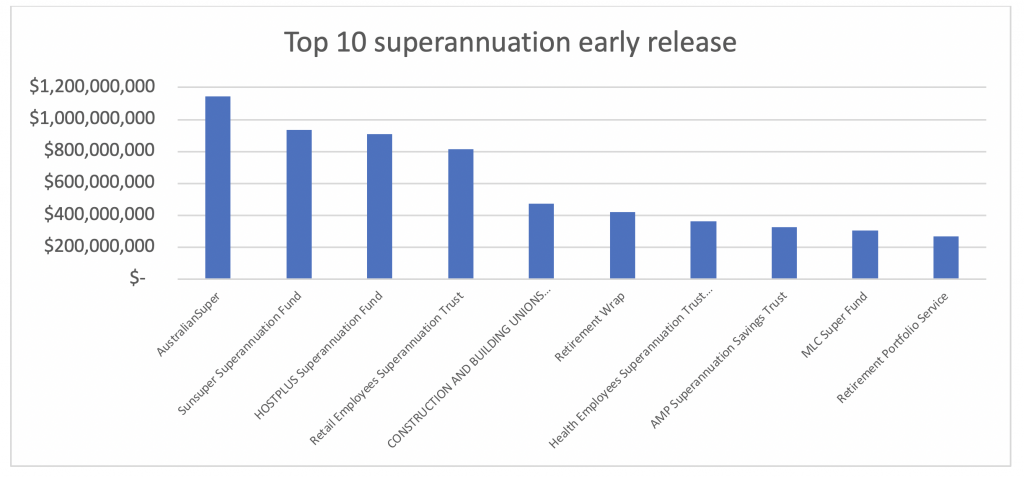 Given that we are still 1.5 months away from 30 June and people will be able to withdraw another $10,000 in the following quarter, we should expect the current figure of $10 billion to increase quite substantially. In the December quarter of 2019, the inflow to superfunds in total was around $30 billion and the total superannuation system balance is around $3 trillion, this might not seem like much to worry over as the total withdrawals is probably likely to amount to around one quarter of inflows. This might be an overly simplistic way to look at it as the withdrawals over time will have both short and long-term consequences, both for the people withdrawing and for the people who are not. These consequences can be quite substantial and unequitable. Some of the ones I can think of are:
The people applying to withdraw super are generally of lower incomes and have hence not benefited as much from the superannuation tax breaks as people on higher incomes. Withdrawing early for consumption before time accumulation has enabled higher wealth creation is therefore in effect quite a regressive tax on low income people.
Allowing primarily lower income people to withdraw super early will make it less likely that those people will be able to build up a big enough superannuation balance to not have to rely on the public pension in retirement and this is therefore a kind of tax increase on our children rather than a tax increase on the current working population.
A lot of superfunds invest in illiquid unlisted assets as well as in publicly listed assets where there is a clear market price. As we all know, we have seen a sharp selloff of publicly listed assets but there is always a lag between the valuation of publicly listed assets and unlisted assets as the funds have to go through a valuation exercise for the unlisted assets which takes time and also leaves significant leeway to arrive at a valuation that the managers of the fund prefers rather than what the reality might be. People withdrawing currently might therefore be doing so at an inflated valuation of the fund that does not reflect the true underlying value of the assets held and when the valuation of illiquid assets catches up to reality, the adjustment will have to be taken by the remaining investors in the funds. Allowing people to withdraw early just after a major fall in asset prices is therefore in effect a value transfer to the people withdrawing from the remaining investors.
These are all complicated issues and I do not profess to have the exact answer for what is the most equitable way to provide people with needed financial resources in the current situation. I can only hope that not too much of the withdrawn super is spent like an acquaintances brother who withdrew $10,000 and spent it on modifying his Subaru WRX while at the same time being on Jobseeker payments…..