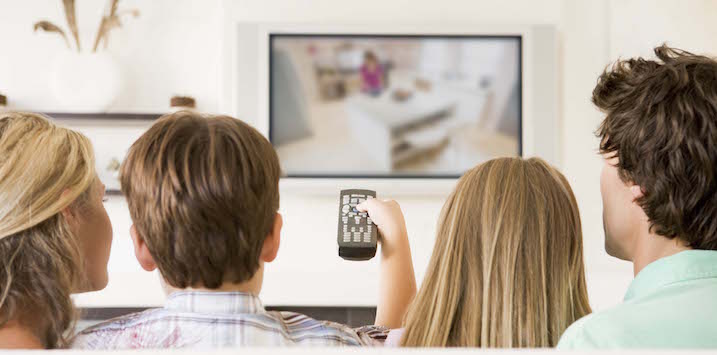 Is TEN the canary in the 'old media' mine?
Today, digital disruption is everywhere. We've written about this previously  – and talked about the massive shift in advertising dollars from old to new media. With TEN group entering voluntary administration, we thought we'd have a closer look at what's happening, and the prospects for mainstream media.
Ten has had a difficult history. It first aired on August 1 1964 as the third commercial television network in Australia (Nine and Seven both launched in 1956). TEN launched a number of successful shows (Young Talent Time in 1971 and Number 96 in 1972) which helped it grow viewers and in turn revenues (from $1m to over $10m).
Unfortunately, Ten continued to struggle and placed third on ratings (behind Nine and Seven). This led to Ten (and Seven too) filing for receivership in 1990. It relaunched in 1991 and didn't gain significant ratings until 2005 when it finished ahead of channel 7 in ratings.
This improved rating represented a cyclical change in the business as market share of TV spending shifted towards TEN and away from SEVEN. It also saw the stock rise 60% over the course of a year (from $20 to $32) as the market rewarded its growth in market share.
We can see the strength of revenue growth from ratings leading to near $1bn in revenues in the 2000s. TEN converted this traction into strong cashflows and saw strong returns for nearly 5 years following its strong market position.

It is shortly after this high that things started to get worse structurally for TEN. In 2007 TEN launched its first digital offering. Technology had started to change not only the format of viewing, but the entire dynamics of TEN's competition. Whilst it had previously fought for viewership in other networks, the increasingly digital world had gradually introduced new competitors for advertising dollars.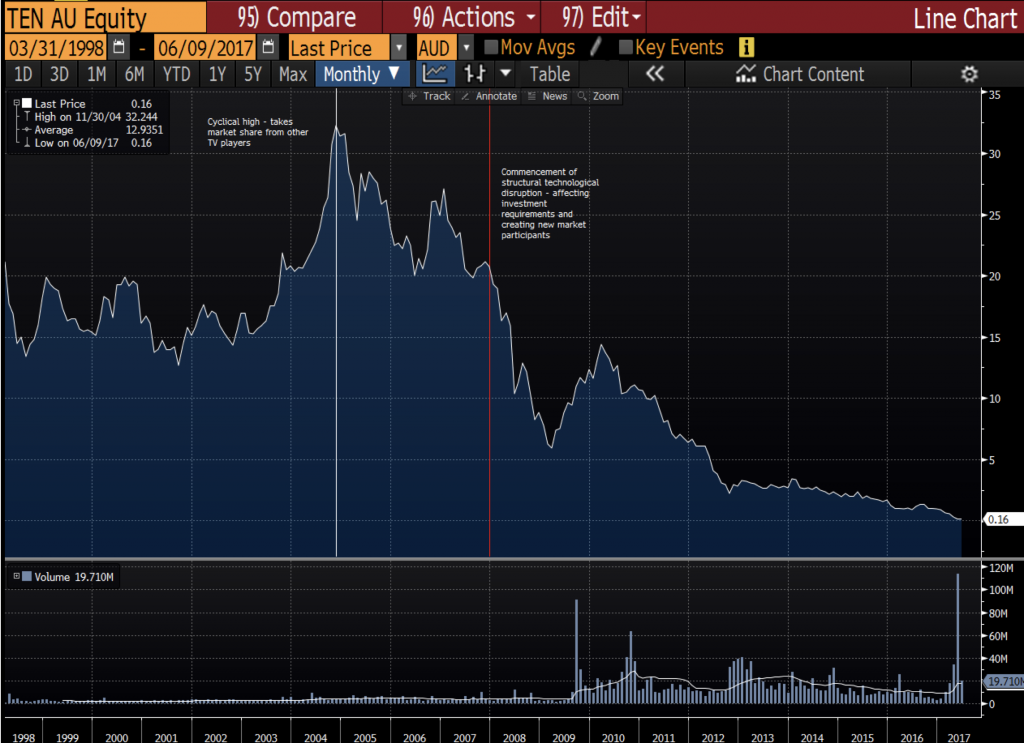 Traditionally TV had controlled the lion's share of advertising dollars (and in many places still does), but behind the scenes, the advertising industry had been fragmenting. Australians are watching less and less TV – an average of 2 hours 39 minutes today, down from 3 hours and 10 minutes 5 years ago[1]. This is also weighted to the older demographic, with younger audiences (and unfortunately where TEN has focussed its attention[2]) moving towards video-streaming and YouTube (PewDiePie has 55 million subscribers!).
This shift has forced advertisers to allocate an ever smaller proportion of wallet to TV (especially if targeting a younger demographic). This has shifted spending away from television to other media – whether it be outdoor or digital spending. We note that digital ad spending has now surpassed TV in the US, as shown in the next chart.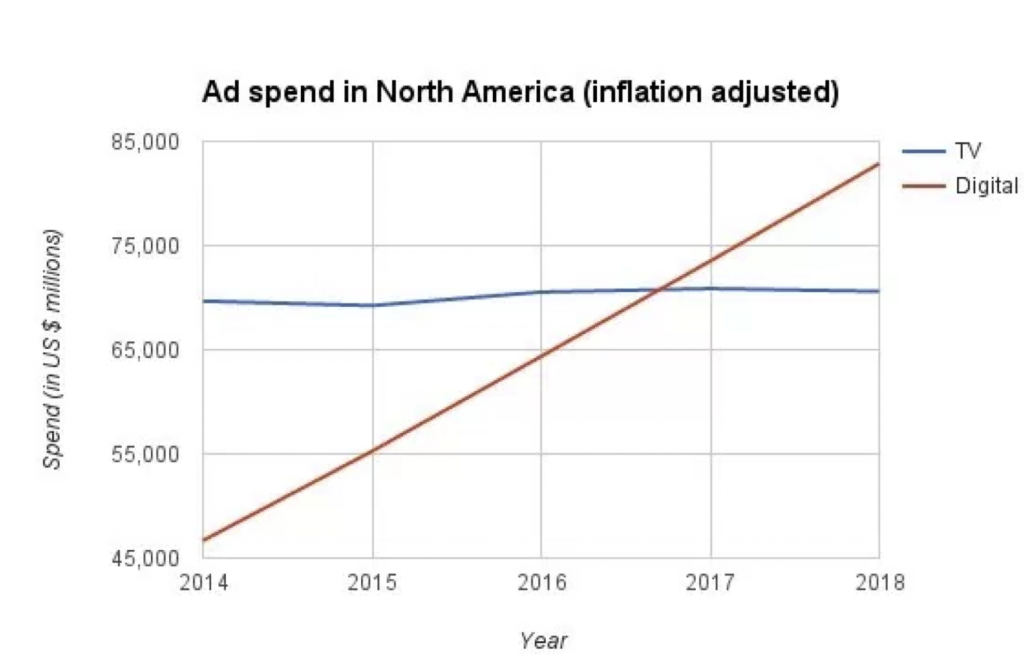 We can clearly see this in the data where traditional media – newspapers, TV and magazines – have suffered declining share of ad wallet over the past 5 years.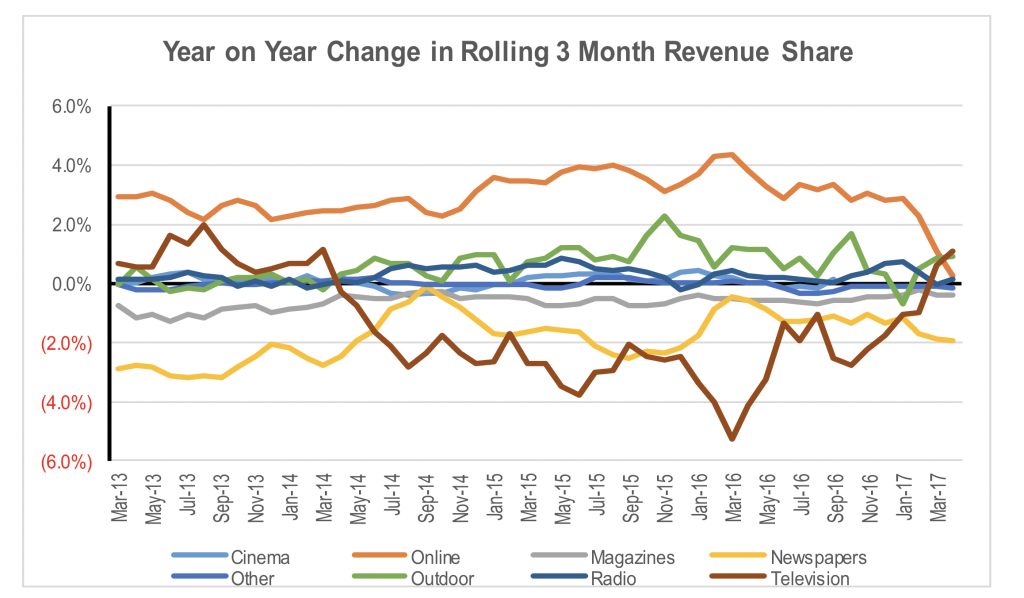 It's difficult to run a highly capital intensive business in a declining industry. Whilst TEN used to compete cyclically for share with Nine and Seven, the bigger structural picture has changed. For the past 5 years its competitors have become internet spend on Google, Facebook and other media – formidable competitors in a digitally disruptive world.
[1] Source: http://www.nielsen.com/au/en/insights/news/2017/how-australians-viewing-habits-have-changed-over-the-past-five-years.html
[2] Source: http://www.abc.net.au/news/2017-06-15/channel-10-demise-reflects-industry-challenges/8618622
This post was contributed by a representative of Montgomery Investment Management Pty Limited (AFSL No. 354564). The principal purpose of this post is to provide factual information and not provide financial product advice. Additionally, the information provided is not intended to provide any recommendation or opinion about any financial product. Any commentary and statements of opinion however may contain general advice only that is prepared without taking into account your personal objectives, financial circumstances or needs. Because of this, before acting on any of the information provided, you should always consider its appropriateness in light of your personal objectives, financial circumstances and needs and should consider seeking independent advice from a financial advisor if necessary before making any decisions. This post specifically excludes personal advice.
INVEST WITH MONTGOMERY