Is Apple still cheap?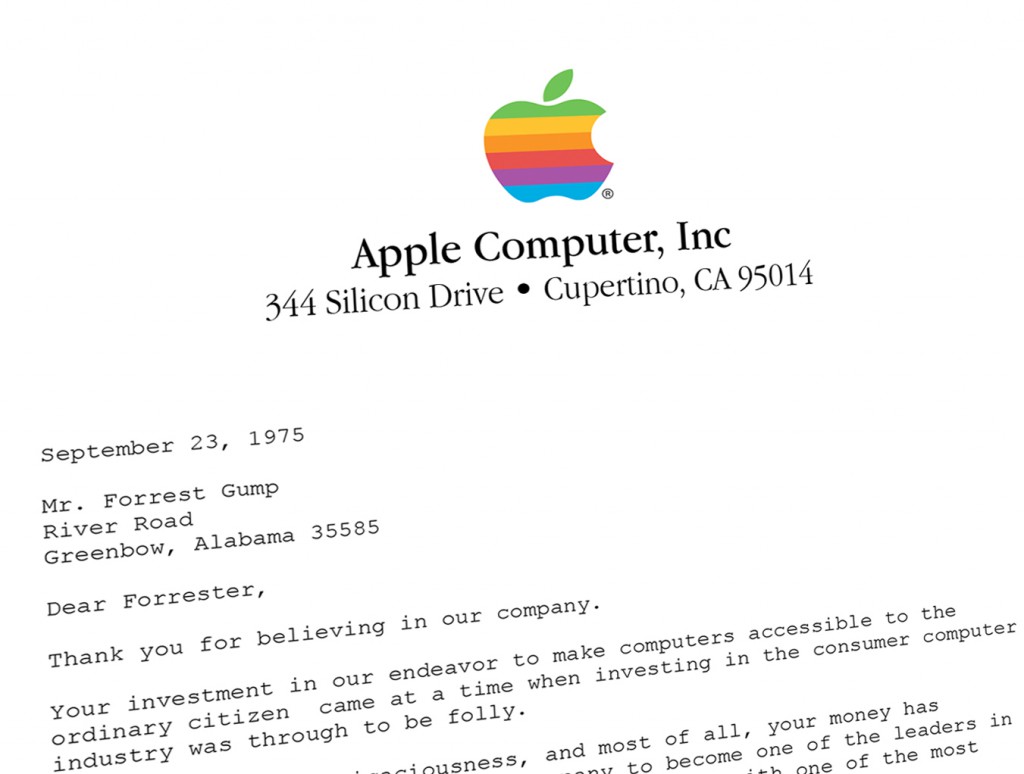 As Apple's share price summits new all-time highs and its market capitalization of nearly $550 billion exceeds that of all the remaining S&P500 retailers in the United States, some investors thought it high time I update my view of Apple and my intrinsic value estimate.
Apple was first reviewed here (http://rogermontgomery.com/is-apple-an-a1/) at the Insights Blog on 12 July 2010. The share price was $254.30 and my IV estimate was $262.56 for 2010 and $305.03 for 2011. Many investors were surprised to see how quickly Apple rose from $400 to $500 a share — it took just 34 trading days — but the climb to $600 took place in just 23 days.  So with the share price rising to over $600 and some analysts believing Apple's market cap could top US$1 trillion, while other commentators (read conspiracy theorists) suggest it is one of the stocks targeted by the US Federal Reserve for some irrational exuberance of their own, I thought it worth taking another look.
Of all the views and stats I have read, there is one question I am left asking; What if everyone who has an ipad/iphone/ipod decides they're happy with the one they've got?
In London this year at the Regent Street Apple store, there's usually plenty of excitement on launch days. But 30 minutes after the Apple store opened its doors to let the hard-core queuers in, the queue was empty. Less than 400 people waited outside the store, which was 250 less than for last year's iPad 2 launch. In Sydney there was virtually no queue.
A survey of queuers by Hudson Square Research at locations in Connecticut, New York found shorter lines than for the iPhone 4s or the iPad 2. They counted roughly 550 people on line at five locations vs. 2,300 people counted in their iPad 2 survey last year. Interestingly, all but three people surveyed already owned an iPad, whereas 69% of respondents in last year's survey did not already have the iPad1. Further, half of the current iPad owners had the iPad1 and the other half the iPad2.
But a survey (see table below) this year by Visioncritical – an IT research firm – ownership and purchase intention numbers continue to grow – even in countries where the iPad dominates. Indeed in the weekend before last Apple shipped over 3 million units of the iPad3.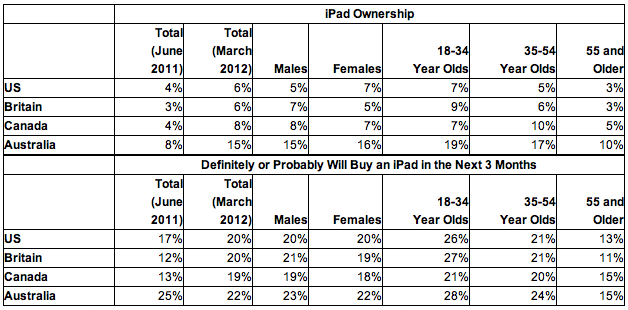 New markets and improving affordability may still drive increasing sales, but off the back of a much larger base, getting the same growth may become increasingly difficult.
Earlier this month the WSJ reported Deutsche Bank's analyst Chris Whitmore, was taking Apple off a list of short-term recommendations of stocks to buy. The columns went on to observe;
"Mr. Whitmore's skepticism about the pace of Apple's advance is one that many on Wall Street share, but one that few are willing to articulate. Previous bearish calls on Apple have been proven wrong time and again.
"And yet, worries are creeping in at the seemingly parabolic rise of Apple in recent weeks. If anything, Apple's share price has been accelerating in recent months — defying a belief that the stock's large size alone would limit its ability to zip higher."
The best insights I have seen relate to the narrowing market share dominance and observed margin compression Apple is experiencing as result of competition – especially Google's Android. This effect on margins is hidden by the fact that the mobile market is growing so wide, fast and deep that it conceals margin compression behind massive unit sales as noted above.
One analyst, Reggie Middeltone notes; "Android has moved to over 44% market share in tablets from less than 3% in less than a year and a half. That's amazing and much faster growth than it exhibited in smartphones – a category in which Android literally dominated in worldwide and US smartphone growth (as well as installed base re: US) in just a few short years. Apple dropped from just over 96% to just under 55% in the same time frame. Again, as with the smartphones, the Android tablet tech is superior to that of iOS products and as iOS normalizes the difference, margins will suffer. Margins will drop (is dropping) faster for tablets because prices are coming down as fast as tech is increasing."
This is also evident as the average selling price of the iPad has dropped from $654 in 3Q-11 to $599 in 1Q-12.
UBM Techinsights (see table below) also observes that manufacturing and input costs for the new iPad is rising as Apple inserts more technology advances to take the fight to Android devices.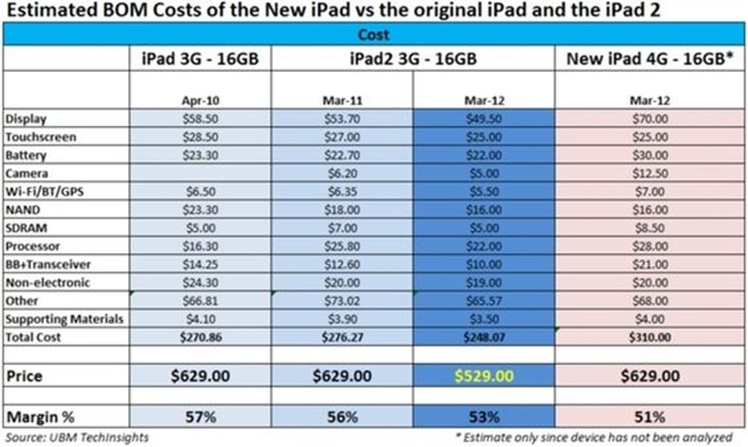 The end result must be lower margins. At present however lower margins aren't showing up in the reported numbers. This could be because Apple is believed to have moved large quantities of depreciated iPhones to consumers at full price in the most recent quarter. iPhones represented just over half of the company's revenue in the most recent quarterly results. But with greater competition from Android, Apple is expected to have to either spend up on R&D or discount the price of their products – either way it equals margin reduction. As an aside, to win the market share race (temporarily) one would expect the iPhone 5 will be spectacular. Despite dropping my iPhone in the pool last year, and saving it by dunking it in rice overnight, I am holding out for the iPhone 5.
Back to the story. 1) They are losing market share to Android devices. 2) margins are coming down. 3) The market is growing and so profits are growing. 4) Thus the share price is surging. 5) But in order to sustain the trajectory, two key products are being relied on – the iPhone and iPad.
Valuation:
Followers of the Buffettology approach to valuation (there's a couple of valuation tools out there for which investors pay thousands for this less than robust methodology) would simply take the $35.12 of trailing 12 months earnings, grow it by the analysts projected 13% per annum for five years to arrive at earnings per share in the fifth year of $64.72 and multiplying this by the current P/E of nearly 17 times provides a future price (not a valuation) of $1100.00. Discounting this back by, say, 15% produces a target price of $547.01. Of course the neatness of this number belies the fact that its just a price based on an assumed P/E (don't bother debating this point). If we use a more conservative P/E of 12 times, then we end up with $386.13.
Apples equity per share is $96 and it's earning a 37 per cent return on this equity. The current price is six times book value for a book that earns just under 40%. Simple observation tells me that's not so compelling from a value investing perspective. And now the company will be paying out a 30 per cent portion of that return on equity as dividends ($10.60 in the first year). This must reduce the valuation. Using $96 of equity per share, a 37 per cent return on equity, an 11 per cent required return and a 30 per cent pay out ratio, I get a very-rough-back-of-the-envelope estimated valuation of $481.69.
And those who love charts will look at the vertical share price and its eerie similarity to other blow offs that ended badly such as Google's price action at the end of calendar 2007.
As a value investor, you should be comfortable with the fact that you will be early to buy and early to sell. My view will change the second Apple releases some new device that redefines breathing, living and spirituality but until then it appears there's pressure on the business and possibly the share price because it may be higher than a rational estimate of intrinsic value.   Seek and take personal professional advice before engaging in any securities transactions.
Posted by Roger Montgomery, Value.able author, Skaffold Chairman and Fund Manager, 27 March 2012.