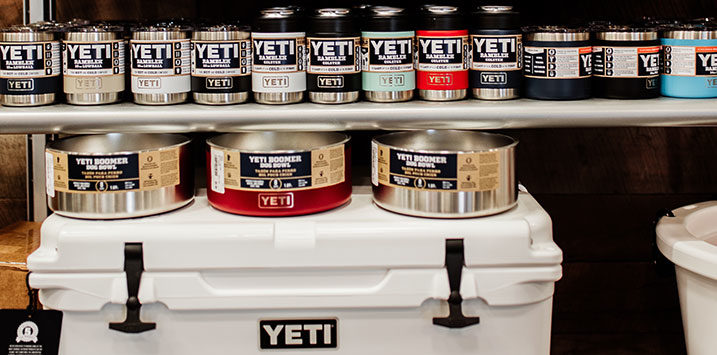 How Yeti Holdings and Floor & Décor Holdings are growing in the hard-surface industry
Our global investment partner, Polen Capital, seeks to invest in high-quality companies that have strong growth potential and competitive advantages.
In this article, we introduce two U.S. holdings in the hard-surface industry: Yeti Holdings and Floor & Décor Holdings. Both companies are leaders in their respective markets of outdoor products and hard-surface flooring, offering innovative and durable products to their customers.  
The idea of Yeti Holdings came to the founders, Roy and Ryan Seiders in 2006, two outdoors-loving brothers who grew frustrated by the unsatisfactory coolers available on the market.  A Texas-based outdoor goods manufacturing company, Yeti specialises in ice-chests (known as 'Eskys' in Australia or 'Chilly Bins' in New Zealand), vacuum-insulated stainless-steel drinkware and related accessories.
Yeti's hard coolers are made through a process called biaxial roto moulding which involves putting a powdered polyethylene plastic resin into a mould, and then heating and spinning the mould along two axes. As the powder liquifies, it layers across the mould which creates a seamless near indestructible product.
After revenue in the 2022 calendar year grew 13 per cent to US1.6 billion, with the Direct-to-Consumer ("DTC") channel increasing by 17 per cent, there was a severe slowdown in growth of only 3 per cent (equal to DTC 7 per cent) in the March 2023 Quarter.  Both periods were negatively affected by the voluntary recall regarding the magnet-lined closure of certain soft coolers.
The focus is on expanding the breadth of the Yeti products and the continued growth trajectory outside the US.  International sales account for an estimated 15 per cent of revenue, and management are targeting  this to exceed 40 per cent in the long-term so there is big potential. President and CEO, Matt Reinjes, believes that Yeti Holdings has excellent global growth prospects over the longer term.  The company's net cash position and reinvestment into the business is also worth highlighting.
Floor & Décor Holdings was founded in 2000 in Atlanta, Georgia in the US and is a speciality retailer of hard-surface flooring, offering a broad in-stock assortment of tile, wood, laminate, and natural stone flooring along with decorative and installation accessories. It has 194 warehouse-type stores and two design studios across 36 US States.  The company's ambition is to grow its store numbers to 500 over time, and this growth should provide some resilience into housing downturns. 
Revenue has grown from US$1.7 billion in the calendar 2018 year to $4.26 billion in the calendar 2022 year. And in the March 2023 Quarter, sales rose by 9 per cent to US$1.10 billion.  For the year to December 2023, the company is forecasting revenue of around US$4.7 billion (an increase of 10 per cent), however new store openings of 32-35 will equate to 17 per cent growth and this implies a three percent decline in same store sales.
Over recent months, the US housing sales figures have varied from 938,000 in April 2020 to 1.80 million in April 2022. A recent jump to 1.63 million in May 2023 reflected the view that with the US 30-year bond yield – the benchmark for long-term loans – rising from 1.2 per cent in mid-2020 to around 4.0 per cent today – many property owners with a mortgage will not sell, preferring not to refinance any purchase with much higher interest rates.
The Polen Captial Global Small and Mid Cap Fund owns shares in Yeti Holdings and Floor & Décor Holdings. This article was prepared 18 July 2023 with the information we have today, and our view may change. It does not constitute formal advice or professional investment advice. If you wish to trade these companies you should seek financial advice.