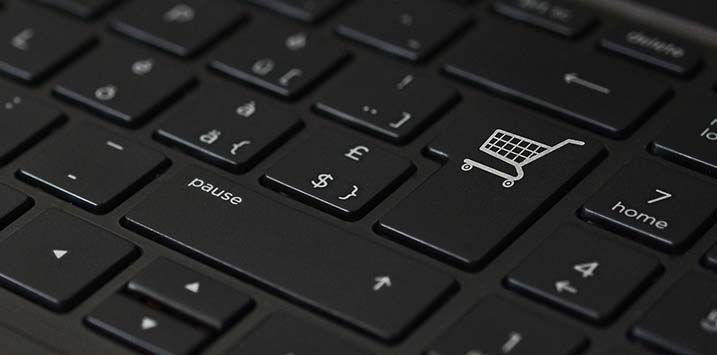 How much bigger can e-commerce get?
The coronavirus pandemic and associated lockdowns have put a rocket under e-commerce adoption in Australia, boosting the sales of companies with strong digital platforms – like Adairs and Temple & Webster. But how much further can e-commerce penetration go?  The experience of other developed nations gives a pretty clear indication.
Some time ago we shared the chart in Figure 1 with attendees to our investor and adviser webinars, displaying Australia's e-commerce penetration. While e-commerce penetration is growing at a rapid rate in Australia, it remains substantially behind that of our developed-world peers.
Figure 1.  Online sales penetration ex-grocery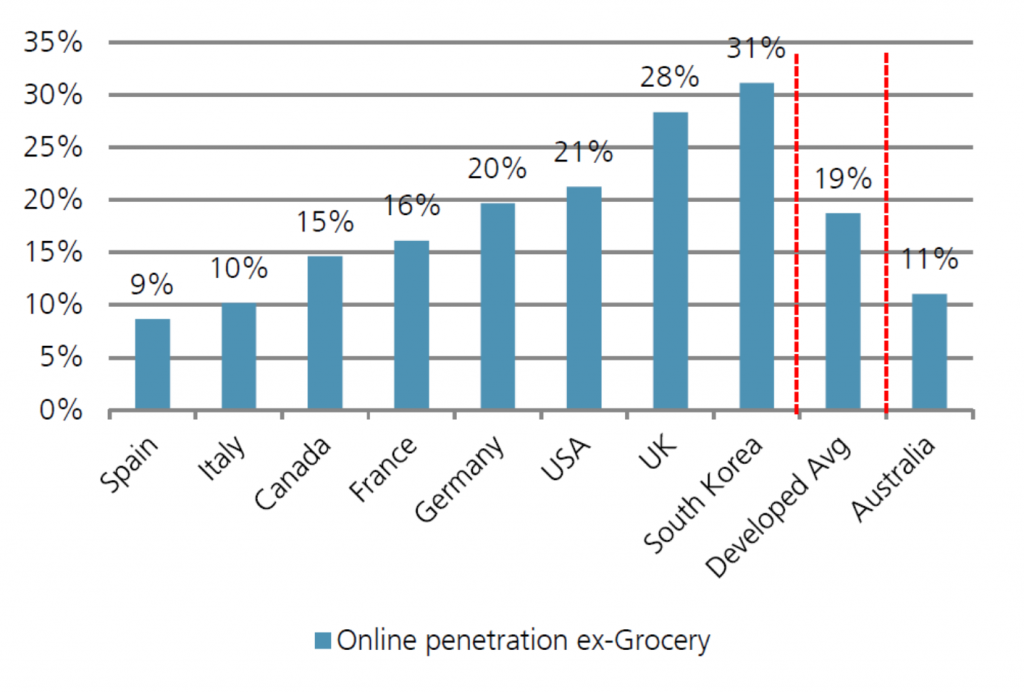 The data suggests that even after COVID-related restrictions are lifted, Australians have some way to go before reaching a ceiling in the proportion of retail sales that are conducted online.
Consider Adairs revealed in its recent trading update that total sales rose 22 per cent in the first 17 weeks of the 2021 financial year, compared with the previous corresponding period. All of the growth was driven by online sales, which surged 134 per cent, while in-store sales fell 0.6 per cent.
The proportion of total sales at Adairs that are online is now 41 per cent of the group's total. This is materially higher than the 17 per cent of total sales online represented a year ago. COVID-restricted at-home DIY interior decorators are responsible as is the acquisition of online-only merchant Mocka (Mocka sales were up 48 per cent between July and October compared with a year earlier).  Strength is also attributed to the fact Adairs traded online throughout the pandemic, closing all Australian and New Zealand stores in March for between five and eight weeks.
Another Australian small cap, and pure e-tailer, Temple & Webster, released their trading update as part of that company's Annual General Meeting on 21 October. First quarter EBITDA of $8.6 million, was more than total EBITDA for the previous financial year. Remembering that the July/August trading update revealed revenue growth of 161 per cent, the revenue increase of 138 per cent for the financial year-to-date (to mid-Oct) compared to the previous corresponding period reveals a decelerating trend. In October, growth rates have decelerated further but remain above 100 per cent. Even though the previous corresponding period (September/October 2019) was up 50 per cent, the 100 per cent growth for October confirms a further deceleration in growth rates.
Despite the confirmation of strong online trading from the likes of Adairs and Temple & Webster, as well as other listed retailers with strong e-commerce offerings, most have been sold off from recent highs. Adairs is 13 per cent under its recent highs, after almost doubling over the last twelve months. Temple & Webster is 22 per cent down, while Accent (-9.5 per cent), City Chic (-10.3 per cent), Super Retail Group (-6 per cent) and Nick Scali (-5.4 per cent) have also fallen from recent highs.
With international borders likely to remain firmly shut until at least late 2021, some portion of the $42 billion usually spent overseas (by those who weren't on JobKeeper in 2019) will be spent locally in 2020. Not all of it will go to retail but we expect Christmas trading to be strong and a Christmas to Remember.  There are caveats however.
One caveat of course is the extent to which booming retail sales to date have 'brought forward' purchases that would otherwise have been made at Christmas – bicycles for example. The other caveat is the extent to which the lowering of JobKeeper payments for full time workers from the end of September to $1200 from $1500 results in some conservatism emerging among consumers
More important however is the extent to which share prices have anticipated decelerating growth rates. The 2021 financial year will be another messy year in terms of the data available for analysts attempting to discern sustainable growth rates. A simpler question to answer, and one whose answer will be a useful guide to navigating the next six to twelve months, is whose sales growth rates will slow the least?
Navigating the shifts in leadership among companies as COVID restrictions are eased (and hopefully not reimposed) will be no small challenge for investors. Speaking regularly to company management will be a key to remaining ahead of the changing trends.
The Montgomery Small Companies Fund owns shares in Adairs, Temple & Webster, City Chic and Super Retail Group. The Montgomery [Private] Fund owns shares in Accent.  This article was prepared 29 October with the information we have today, and our view may change. It does not constitute formal advice or professional investment advice. If you wish to trade these companies you should seek financial advice.
The coronavirus pandemic and associated lockdowns have put a rocket under e-commerce adoption in Australia, boosting the sales of companies with strong digital platforms. But how much further can e-commerce penetration go?
Click To Tweet