Global Wealth Growth: The Journey that was and the Voyage Ahead
The last decade has seen an astounding increase in private wealth which now sits at a mind blowing US$215 trillion (for reference Australia's GDP is US$1.3 trillion). Perhaps even more staggering is that ~75 per cent of this wealth sits within 10 major economies and Australia is currently 9th on the list.
The last decade (2007-2017) has told some extraordinary economic stories, perhaps most significantly was the growth of the Chinese economy, which has seen private wealth increase by 198 per cent to US$24.8 trillion to become the world's 2nd wealthiest country (by dollar value). India also saw a sharp expansion with wealth jumping 160 per cent and of course our very own Australian economy, which saw the 3rd most significant expansion of wealth, pulling it into the 9th place. On the flip side of the equation was Italy (-19 per cent), France (-11 per cent) and Great Britain (-2 per cent), all of which exhibited wealth declines over the last 10 years and have not returned to pre-crisis levels in U.S. dollar terms.
Clearly if an investor had identified these growing and contracting economies a decade ago, it may have provided a foundation to narrow the opportunity set and focus on parts of the world that may provide attractive opportunities for investment (something we are constantly looking to do).
Global Wealth Growth Over the Last Decade (2007 – 2017)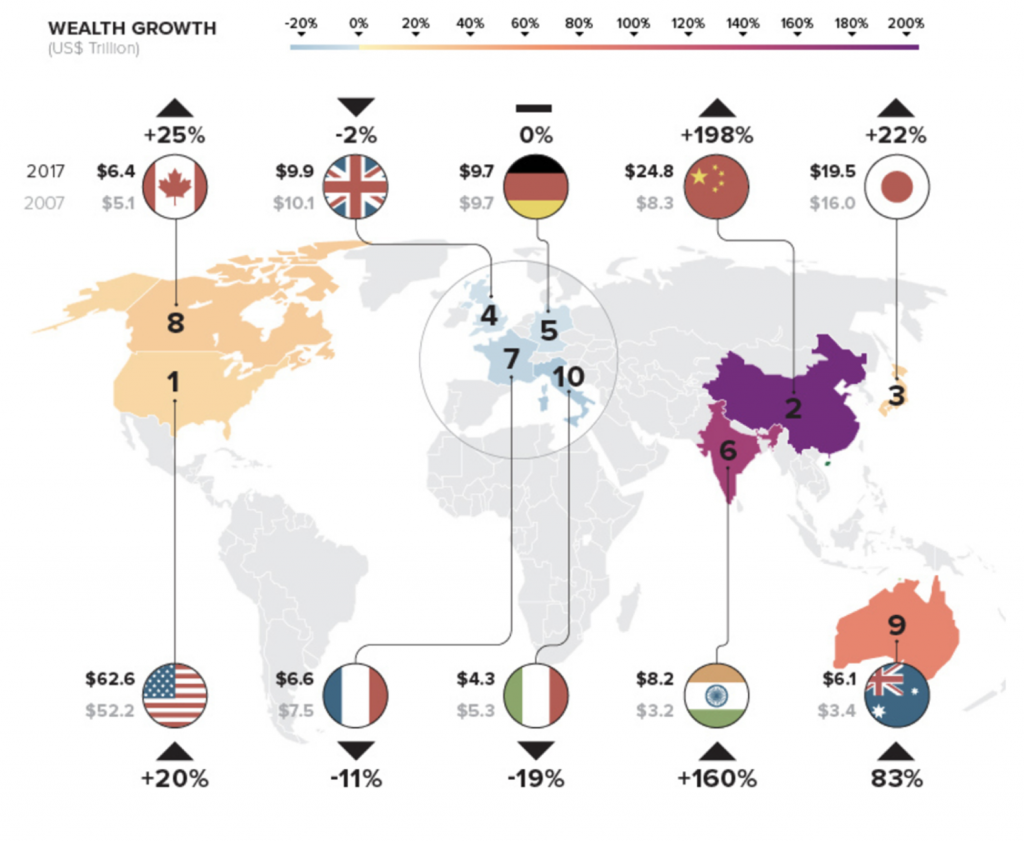 Source: New World Wealth Market Research 
The team at Montgomery Global is always focused on the future while constantly seeking to learn lessons from the past, with the next decade expected to represent another remarkable upward inflection in global wealth. However, the top 3 wealthiest nations are projected to retain their respective rankings, although flying up the leader board will be India, with a 200 per cent increase in wealth, moving it into 4th place and only fractionally behind Japan ($24.7 trillion versus $25.4 trillion). China is expected to continue its amazing ascent with private wealth nearing that of the United States, which itself will have grown ~20 per cent over that time. Of note is perhaps the expected wealth inequality within the top 10, with the U.S. and China having a combined 50 per cent more private wealth than the next eight countries combined.
As for Australia, it is expected to have another golden decade and by 2027 private wealth will have reached $10.4 trillion and rival traditional economic superpowers like Germany and the United Kingdom. This will place Australia within ~5 per cent of the 5th richest country on the planet, despite only having 24 million people.
Global Wealth Projected Growth Over the Next Decade (2017 – 2027)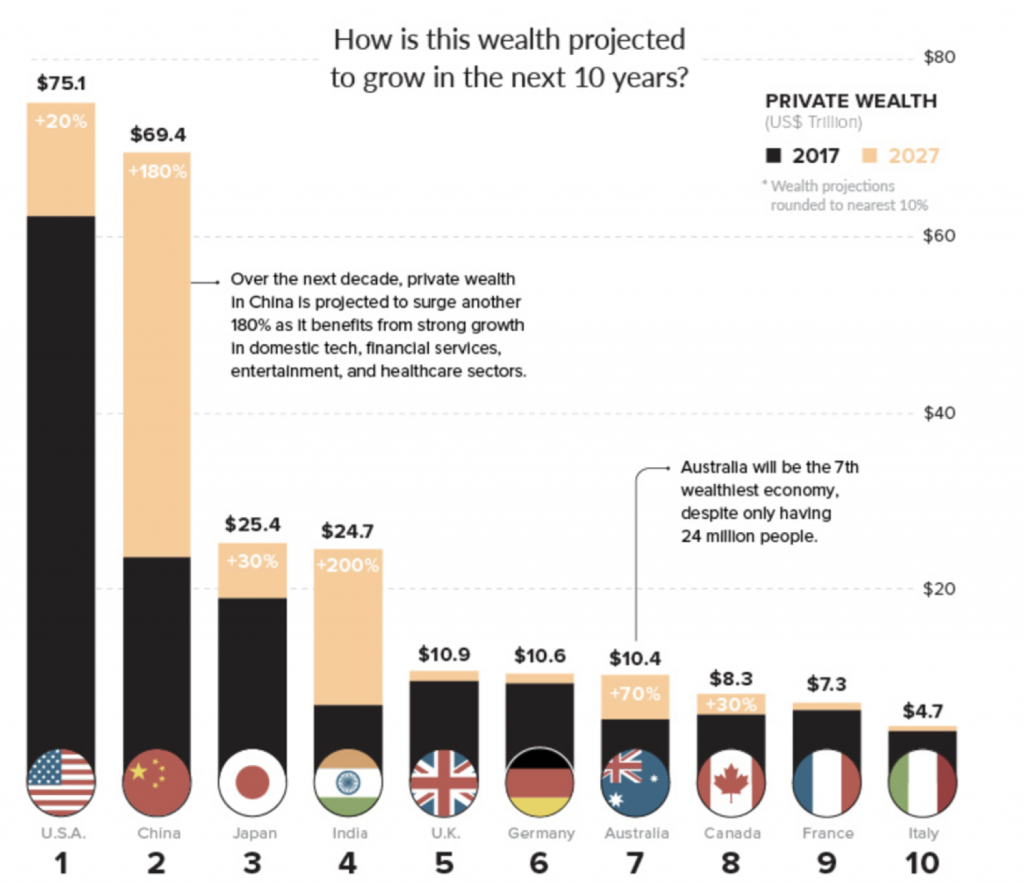 Source: New World Wealth Market Research 
We at Montgomery Global are relentlessly focused on identifying and investing in the world's best businesses at prices that imply significant upside to where they currently trade. We look forward to continuing to deploy our unique, bottoms up, fundamental, value investing framework over the coming decade and beyond as we strive to maximize returns on your capital.