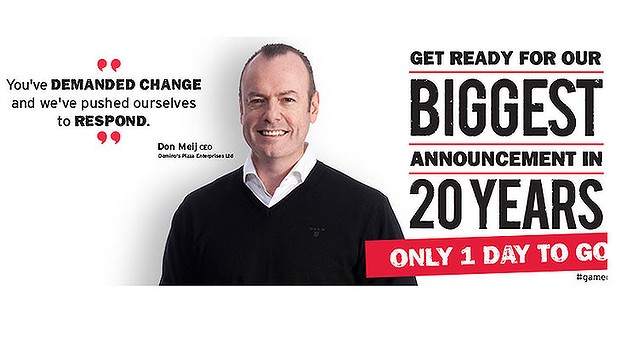 Gamechanger?
If you are fan of pizza – I am but only the home made variety I grew up with in inner northern Melbourne – you may have seen Domino's Pizza promoting its "biggest announcement in twenty years". The social media campaign caught our interest because the company made a $15.4 million net profit for the six months to December 2012 but enjoys a market capitalisation of $800 million. We wanted to know what their "game changer" was going to be. As one Facebook fan wondered, it could be GPS guided pizza missiles.
Dominos have done an amazing job of harnessing the internet and social media to radically change the fast food industry but this campaign backfired badly. Believe it or not, the "Gamechanger"/"biggest announcement in 20 years", was the release of new toppings and rectangular pizza bases. In a press release at the weekend Dominos announced:
"In the biggest and tastiest announcement in Domino's 20 year history, Domino's Pizza have revealed their new Chef's Best™ Range…

"Domino's new Chef's Best™ range is all about restaurant-quality ingredients designed with premium taste in mind – without the premium price tag! From ham off the bone, to roast pork belly, blue cheese crème fraiche and more, let yourself be tempted, treated and tickled pink by pizza unlike any you've had before.
The new range includes seven seriously delicious pizzas – with a slice to satisfy pizza traditionalists, aficionados and innovators alike – and all available for just $8! Pig out with Domino's Chef's Best™ BBQ Pork & Hollandaise – succulent BBQ roast pork, mushrooms, mozzarella, fresh tomato, tarragon & red onion on a BBQ base, topped with perfectly rich hollandaise sauce."
Dominos Facebook fans reacted predictably: "YOU HAD US ON THE EDGE OF OUR SEATS FOR THIS?"
As investors and business owners, we care about the effectiveness of management and marketing decisions. What we are most interested in is the thought process that went behind the campaign. To describe new toppings as the BIGGEST announcement in two decades is to say that there is nothing dramatic in the pipeline for the company – It's more of the same. But when a company's shares are trading at 27 times earnings, more of the same may just not be enough.
According to Skaffold.com, Domino's is an A2 business with a 2015 intrinsic value estimated at about $8.00. That is a long way from the current price, which rallied nearly a dollar last week in anticipation of the game changing announcement.