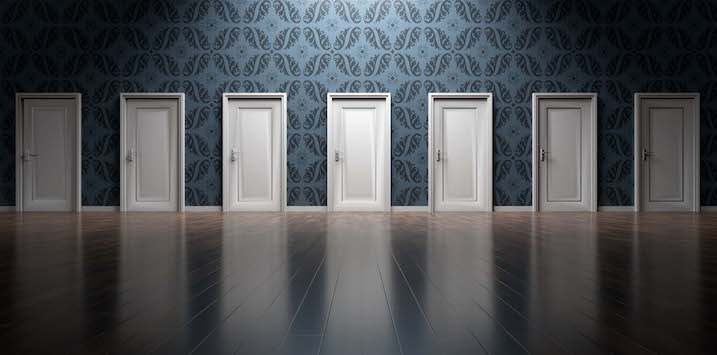 Exchange Traded Everything
The rise of Exchange Traded Product's (ETP) has been a blessing for some investors but a headache for others. With a buffet of listed strategies now available via the ASX, investors are asking which structure is best for me? And what are the differences between each?
The Australian Securities Exchange (ASX) recently hosted a webinar which looked to address different ETP structures.
As captured in the chart below, the ASX now offer five primary different types of ETP's which cover just under 500 strategies.  By Funds Under Management, the largest of the group is Listed Investment Companies and Trusts (LICs/LITs) at 108 total strategies and ~$40 billion (as at 31 May 2018) accounting for almost half of the ETP market. In second place are passive and active Exchange Traded Funds (ETFs) with a total of 182 strategies. Active ETFs are represented in the below table as ETMFs. It is worth noting that ETFs as class of ETP hasn't been around for as long as their LIC equivalents.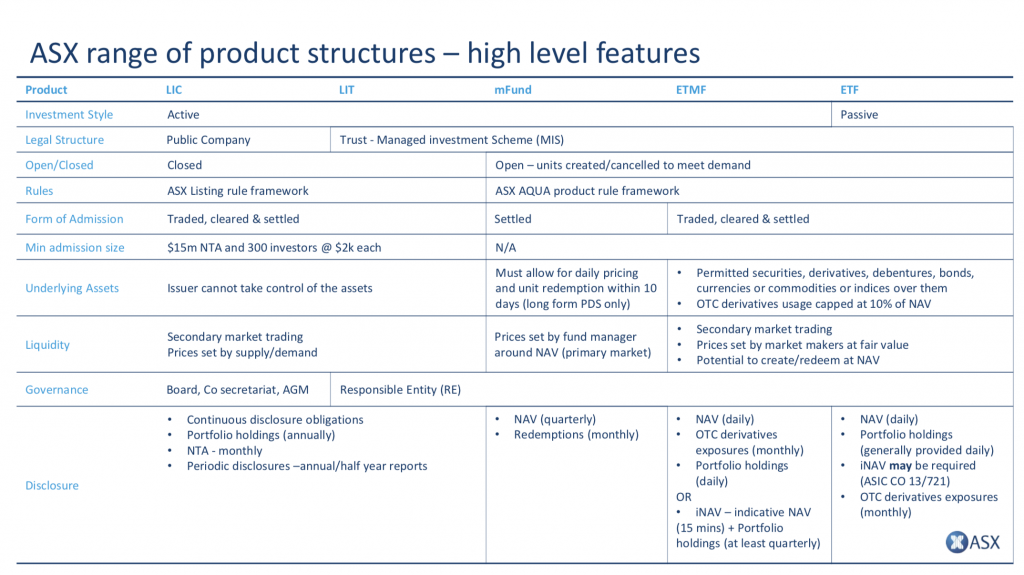 Source: ASX
So what are the key takeout's from above table? I think like any investment vehicle, ETP's have their own subtle differences and investors should be aware that they are in many ways their own species.
As such, decisions around which vehicle would best suit the investor comes down to your own preferences. When making decisions on which ETP is best for you, investors should focus on the level of holding transparency you are after, and importantly how closely the ETP trades to the value of the underlying assets in the fund itself.
One lesson I learnt from my time at Colonial First State, post GFC, is that not all Managed Funds are created equal. These strategies are often across many different asset classes, and at the end of the day, the fund is only as liquid as the underlying assets the strategy holds. Moreover, even a fund priced daily, doesn't mean the asset can be liquidated daily.
For investors looking at ETP's, the message is the same, in that they should focus primarily on understanding the underlying strategy and the assets ETP invests in first, and decisions around which vehicle to select should then come from understanding accessibility and appreciation of what each ETP brings to the table.
We were pleased to have launched our first ETP in December last year in the form of an Exchange Traded Managed Fund (ETMF). We chose this vehicle as it is open ended and trades at a narrow spread to the Net Asset Value (NAV) of the fund. Pleasingly, ASX:MOGL is now the fourth largest global equity ETMF, or Active ETF, on market.
If you would like to learn more about ASX:MOGL please click here.