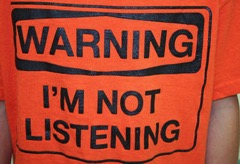 Earning your CEO stripes
For those of you looking for some relief from the trails and tribulations of investing; we had to laugh when we read this excerpt from the transcript of a conference call between analysts and Cliffs Natural Resources Chairman, President and Chief Executive Officer Lourenço Gonçalves. 
Cliffs Natural Resources Inc. is a higher-cost iron ore producer in North America.
There's no question about the humorous value in this dialogue. However, the question that remains is whether analysts are less likely to put a negative rating on a stock following such interactions.
If any Australian CEOs reading this blog are getting ideas… Our advice: don't. Just have a well-earned chuckle.
The next question is from the line of Sam Dubinsky from Wells Fargo. Your line is open.
Q. Sam D. Dubinsky: "Great. Thanks. Thanks for taking my question. Just in Q3 looks like pricing was pretty good in the U.S., better than I thought based on where spot is. Was there any higher priced carryover tonnage from the first half? Just because I know there was some supply disruption that pushed H1 into Q3 a little bit? And then I have a couple follow ups."
A. Lourenço Conçlaves: "Sam, I appreciate you saying thank you for taking your question, but I'm not going to answer your question, because you already knew everything about my company. You have a $4 price target and you think that we can't sell assets. So I'm going to take the next question. I'm not going to answer you. Next question, operator, please."
The next question is from the line of Lucas Pipes from Brean Capital. Your line is open.
"Hey. Good morning. This is actually Fred Hathmire on right now for Lucas Pipes. I just wanted to ask, Lourenço, what has the biggest surprise been since you joined Cliffs."
A. Lourenço Conclaves: "I'm sorry. Say it again?"
Q. Fred Hathmire: "Sorry about that. Just asking this morning, what have you found to be your biggest surprise since joining Cliffs?"
A. Lourenço Conçlaves: "That you wrote – not you, Lucas Pipes wrote in the report of Brean Capital that we only cut APIO costs of just $5 per ton. So I cut costs 10% and you write in the report that it was just $5. It's very insulting. That was the biggest surprise I had."
Q. Fred Hathmire: "Okay. Well thank you very much."
A. Lourenço Gonçalves: "You are very welcome. Thank you very such for joining me on the call. This is just my first call here at Cliffs and in a little more than one week I'll complete my first three months on the job. I'm giving myself an A+ in my 90-day plan, and we plan to continue to work very hard to reward the long-term shareholders. I wish you all a great quarter and we'll talk again soon. All the best. Bye now."
You can listen to some of the conference call here.