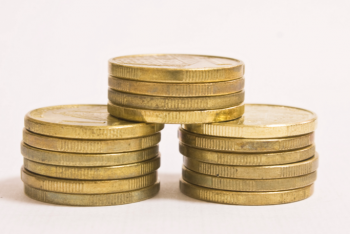 Do people who open a SMSF actually get higher returns?
Recent figures from APRA show that there are over 565,000 self-managed super funds in operation as at December 2015 and that represent 29.1 per cent of all superannuation assets in Australia. There is no doubt that the growth of SMSFs has been phenomenal considering they are, at their essence, just a structure and are not product sold or promoted by a particular company, such as an iPhone or a pair of Nike shoes.
Many people cite control, flexibility, choice and potential for better returns compared to retail super funds as the main reason for opening an SMSF. But do people who open an SMSF actually get higher returns?
Much of the marketing by cut-price SMSF providers insinuates that people who open an SMSF will achieve better returns, however, it is worth considering whether or not SMSFs actually outperform other public offer funds.
The ATO report 'Self-managed super funds: A statistical overview 2013-14' makes for interesting reading. Note, this is the most recent report from the ATO which has data that is approximately 18 months old. It shows that overall, SMSFs do not outperform average APRA funds (these are generally public offer funds with four or more members).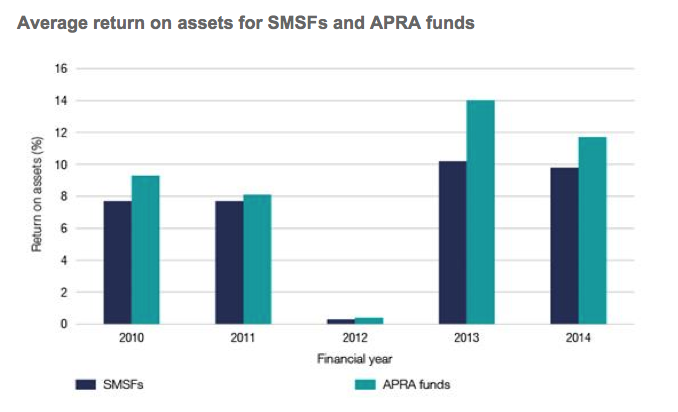 Source: ATO
Looking at the overall diversification of SMSFs, the reasons why their returns may be less than stellar become more clear.
Investment Trends' Self-Managed Super Fund Survey released in May 2015, highlights that the average SMSF has only 18 holdings and 51 per cent of the fund is invested in banks and resource stocks. This split largely represents the ASX market index as a whole, which from a capital gain perspective has been basically flat over a 10-year time frame. Long term readers of the blog will know Montgomery's view on the resources stocks.
One way that SMSF investors can diversify their holdings away from the standard index mix is to increase exposure to smaller, less well known names in the technology, healthcare or industrial sectors. Doing this independently takes a lot of time, research and monitoring and there is no guarantee of success.
Another way is it to allocate a portion of their SMSF to an equity trust, that has the flexibility to move money into stocks that show more promise than the standard 'blue chips'.  Generally, equity trusts (sometimes called managed funds), have a team of analysts and experienced fund managers who are focused on finding the best opportunities in the market.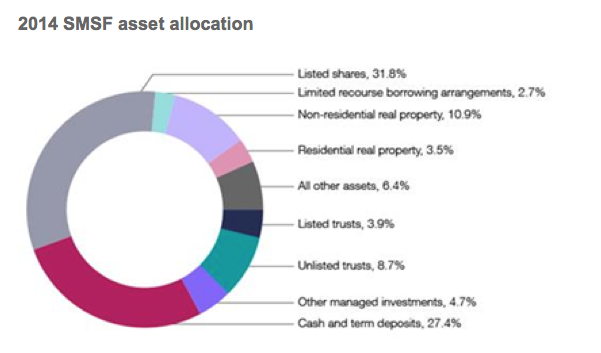 Source: ATO
Another interesting finding by the ATO is performance of SMSFs based on the size of the fund. It indicates that the larger the fund, the better the rate of return, to the extent that a person with an excess of $2million in their SMSF is likely to receive twice the returns than someone with $500,000.
There are many competing thoughts as to why this is the case, some argue it is because high net worth individuals see the value in professional management and have benefited from their expertise – they are happy to outsource or rely on experts rather than trying to navigate the markets themselves outsourcing the management of some or all of their investment portfolio to share-based managed funds who they feel have a better chance to outperform than themselves.
Source: ATO
In selecting an investment manager, it is important to look past recent performance and carefully consider their investment philosophy, their investment universe (i.e. the sectors/markets they will focus on) to make sure you are comfortable with the way they will manage your money, and whether it is a good fit for the overall super strategy. We offer multiple funds here at Montgomery that may help you diversify your super investments.
You can invest your super into Montgomery funds with, or without an SMSF. No matter what your current superannuation structure is, we can help you to find a suitable option to diversify your super investment portfolio.
Scott Phillips is the Head of Distribution of Montgomery Investment Management. To invest with Montgomery domestically and globally, click here to find out more.