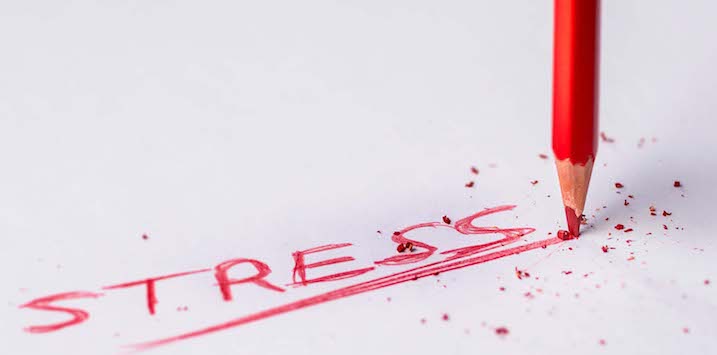 Despite low interest rates, mortgage stress is on the rise
Although interest rates remain at historically low levels, we've seen a continuing increase in mortgage stress over the past two years. Today, over 30 per cent of owner-occupier borrowing households across Australia are in mortgage stress. And things could get even worse if the major banks raise their rates.
Back in March, I took a look at mortgage arrears. It is now three months since these numbers came out and Standard & Poor's (S&P) has just released its figures for April arrears statistics. Interestingly, the steep increase that S&P showed for loans in arrears in January 2018 seems to have been reduced somewhat in the new dataset but it is still possible to see a clear increase over the period January to April.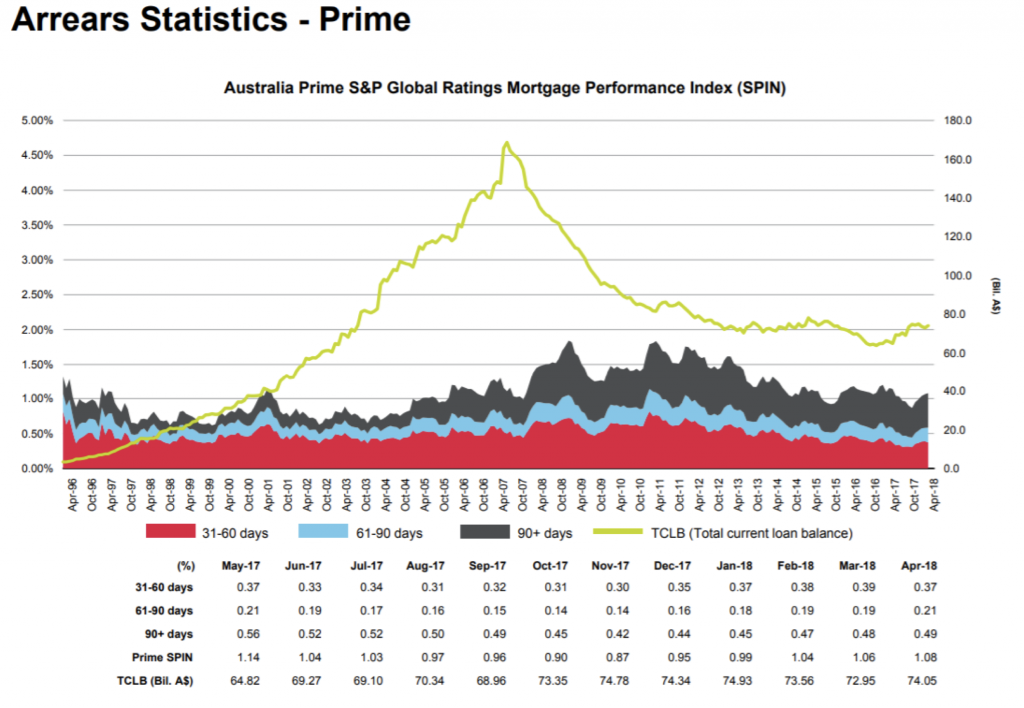 Source Standard & Poor's
What is even more interesting is looking at the numbers between the type of lenders. We can clearly see what is driving the increase in arrears is the lending from the major banks, which is showing the steepest increase. Other types of lenders are also seeing increases but not to the same extent and we should also remember that they are smaller in total than the major banks.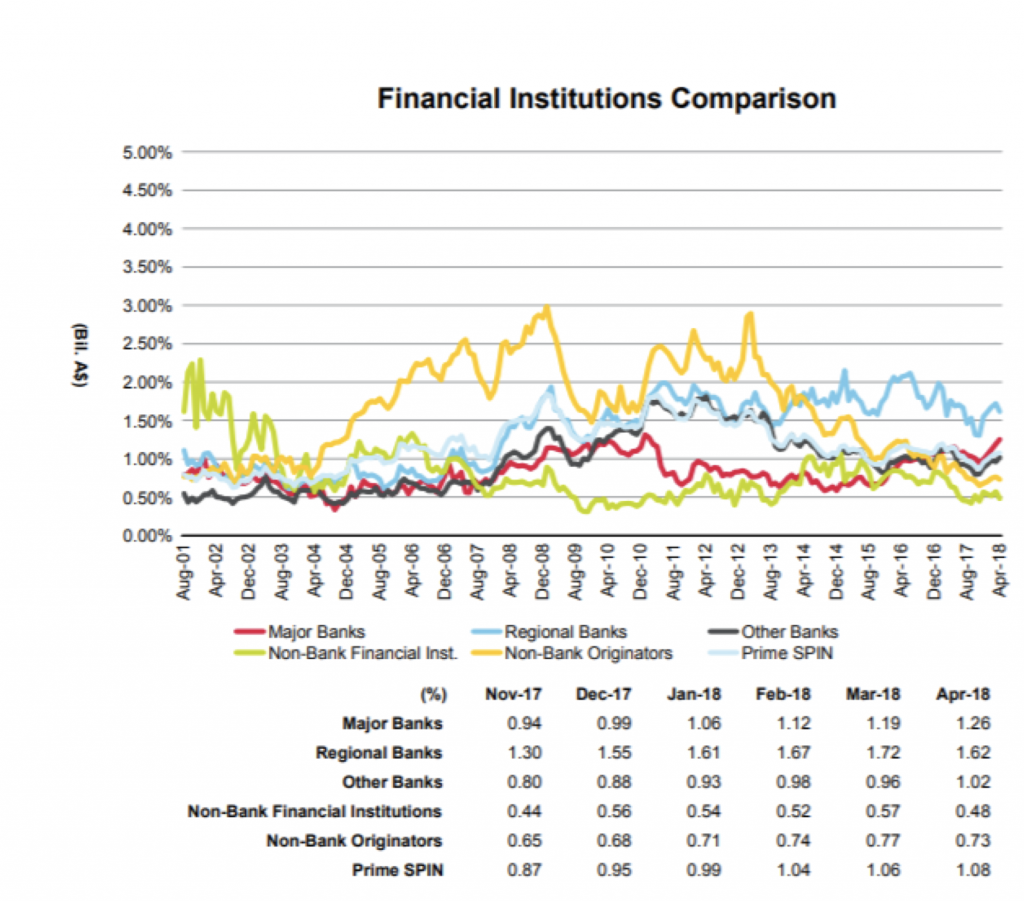 Source Standard & Poor's
So, what is causing this? My guess would be that it is the limits on interest-only loans that the major banks have been forced to undertake that is now starting to show up and what we are seeing is the effect of borrowers having to switch to principal and interest from interest-only and not being able to afford it.
The data from S&P is backwards looking and only measures loans that are actually in arrears (and it also only looks at loans that are underlying a Mortgage Backed Security (MBS)). It is therefore interesting to look at this data in combination with the data from Digital Finance Analytics.
Digital Finance Analytics is an economic research firm that, amongst other things, specialises in analysing the mortgage sector. They publish a monthly report showing the number of households that are under mortgage stress. Being under mortgage stress is defined as not having any excess cash-flow after servicing your mortgage and your basic expenses. It is split into "mild" stress – meaning you have very little leeway and are not able to save anything once your normal expenses are covered – and "severe" stress – meaning you are in negative cashflow and have to either liquidate other assets or take up additional debt to service your mortgage. This data is based on a survey of 52,000 households as well data from lenders and aggregators and RBA, ABS and APRA.
The data for April showed that 963,000 households, representing 30.1 per cent of owner-occupier borrowing households across Australia, were estimated to be in mortgage stress, which was up from 956,000 in March. The longer-term data shown in the chart below shows the clear uptrend in the number of households that are under stress during the last 15 months – from around 20 per cent to the current 30 per cent level.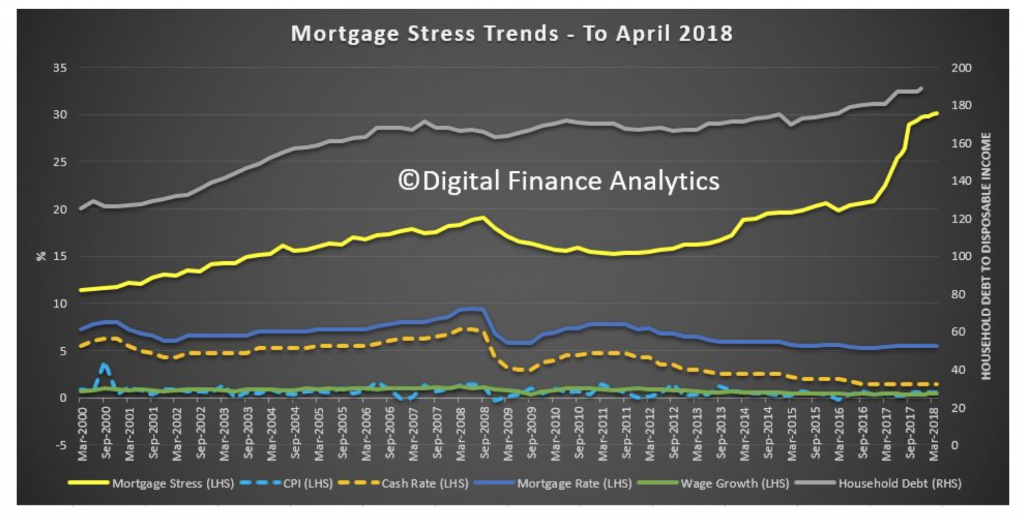 Source: Digital Finance Analytics
When looking at this data, we should remember that it only shows data up until April so it also predates any further tightening resulting from what was aired on mortgage lending at the Royal Commission, the potential outcomes of which I have described in this blog post. It also pre-dates any increase in interest rates from some of the smaller banks and, as Stuart writes about in this blog post, which we will probably see from the major banks reasonably soon due to increased funding costs.
The Montgomery Funds own shares in the Commonwealth Bank of Australia, Westpac and NAB. This article was prepared 09 July 2018 with the information we have today, and our view may change. It does not constitute formal advice or professional investment advice. If you wish to trade the Commonwealth Bank of Australia, Westpac or NAB you should seek financial advice.