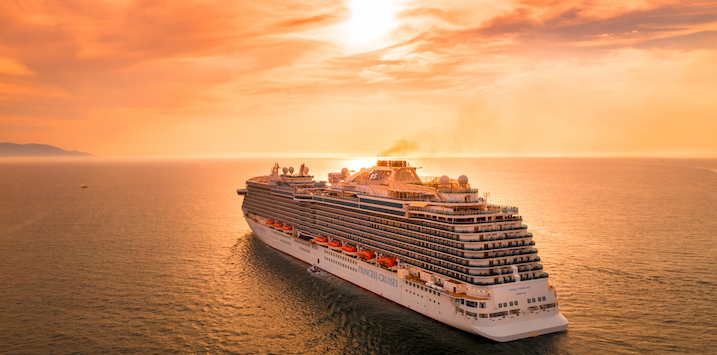 Cruising in Uncharted Waters
The cruise line industry is highly consolidated with the three largest players representing around 80 per cent of industry revenues. The market is mixed on the prospects for the industry as significant passenger capacity is expected to hit the market in the near-to-medium term.

Carnival (NYSE: CCL) is the world's largest cruise line operator with around 45 per cent market share by revenue and the next two largest competitors, Royal Caribbean (NYSE: RCL) (24 per cent) and Norwegian Cruise Line (NYSE: NCLH) (10 per cent) are significantly smaller.
Cruise Lines are a Highly Consolidated Market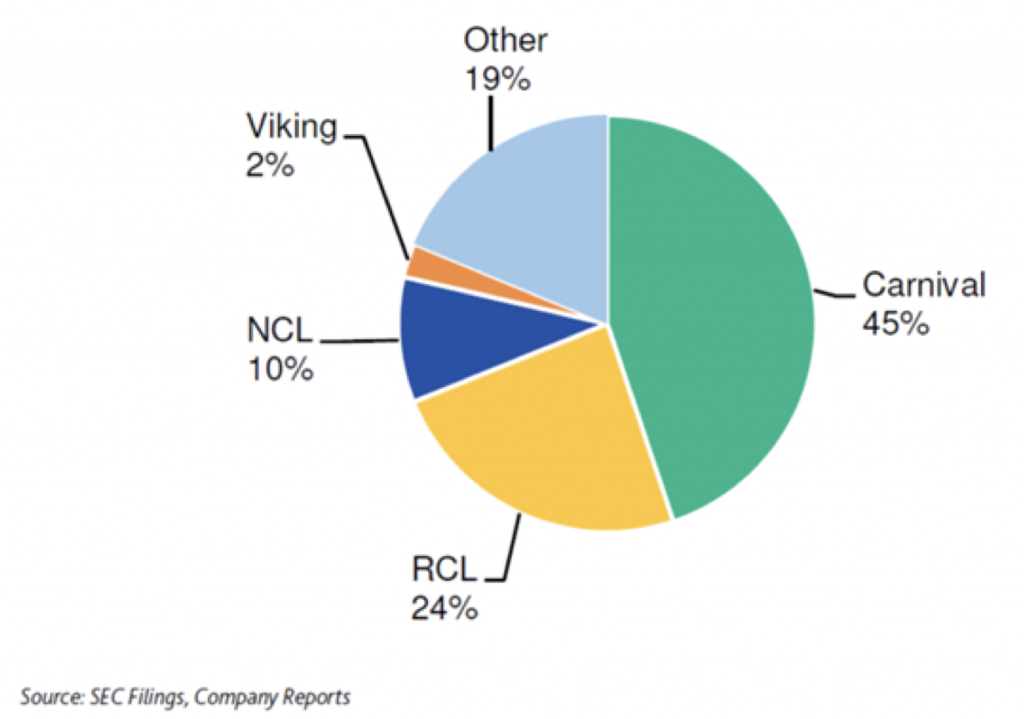 Currently the market is mixed on the prospects for the industry as significant passenger capacity is expected to hit the market in the near-to-medium term. Specifically, industry capacity will grow at approximately 6.7 per cent compounded annual growth rate (CAGR) from 2018 through to 2022. This is higher than around 4.8 per cent CAGR seen from 2010-2017 which is causing some concern about oversupply. Following this period however, supply growth will slow to around 2.0 per cent CAGR (from 2022-2027) which is much more aligned to general global growth, however we need to get through an initial digestion phase first.
Given the nature of cruise line capacity, we can obtain good visibility on supply by looking at shipyard pipelines which are available out to 2027. These indicate no new supply can be added before 2023 (capacity full) and given there are only three shipbuilders responsible for nearly all of the world's passenger cruise ship supply, we can narrow our focus (they include Fincantieri from Italy, STX Europe from Norway and Meyer Werft from Germany).
Global Cruise Line Capacity Expected to be Added Well Above Recent Trend

Given the incoming ship supply, demand may need to increase to absorb it (more customers / penetration), ageing ships may need to be retired (reduce existing supply) or the market may dislocate and lead to significant headwinds for the major cruise line operators requiring heavy discounts in order to clear the added capacity. This would present a significant setback for the cruise line operators.
That said, the market has historically expanded as capacity is introduced. In other words, as more cruise capacity was dropped into the market, demand matched the supply and penetration rates have grown (without cruise lines discounting prices significantly). This of course indicates cruising may be a penetration story, which will certainly be tested in the coming years as significant supply enters the market.
Cruising as a component of the global travel market
To frame the potential penetration story, let's look at cruising as a component of the Global Leisure Travel market in which people spend around $1.2 trillion annually and the industry is growing at approximately 5 per cent, per year.
Of this market, cruising represents around 8 per cent ($96 billion) meaning that cruise lines would need to expand its penetration of the market by approximately 70 basis points (to 8.7 per cent or $122 billion) in order for it to absorb all of the incoming supply (6.7 per cent CAGR) through 2022. While this doesn't sound too difficult on the surface, we will need to see evidence of this occurring before becoming too attached to this perspective, as the dollars required for this move are a very significant (+$26 billion).
Cruise Spend Would Match Supply Growth if Penetration Improved round 70 basis points (from 8.0 per cent to 8.7 per cent)

Positive demographics
Another source of demand for cruise line capacity may come in the form of ageing demographics, which are expected to organically absorb part of the incoming supply. Given most cruisers are older, with more than 50 per cent of cruise line customers aged 50 years and over, the effects of ageing, increasing retirements and people living longer will potentially account for more than 20 per cent incoming cruise supply over the next five years.
Cruise Lines Well Positioned to Benefit from the Ageing Population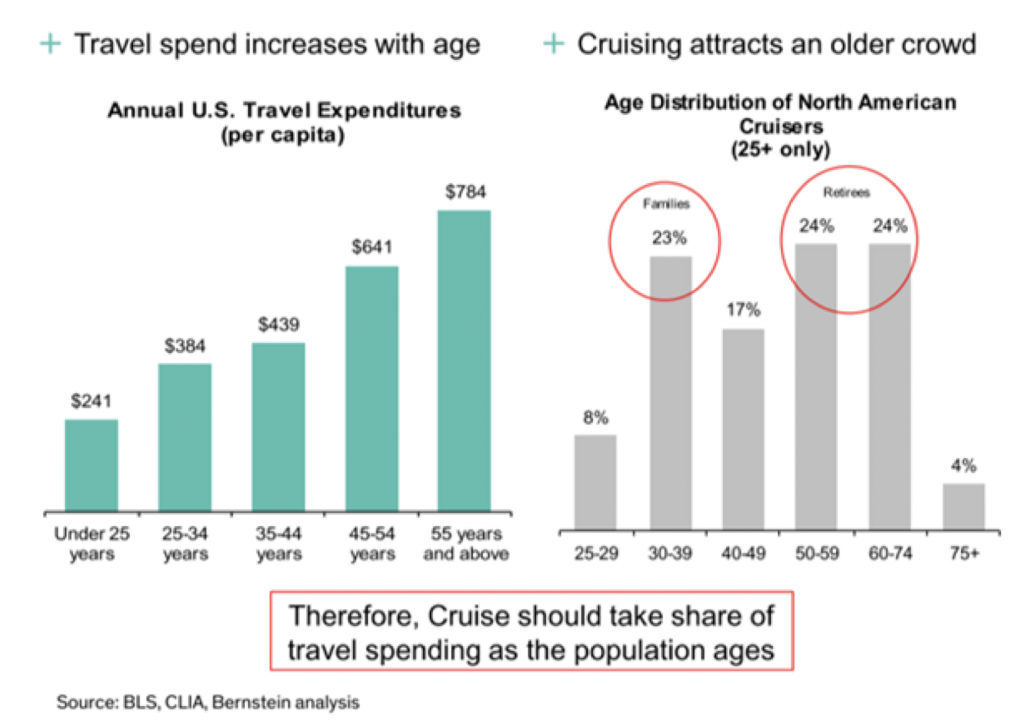 Finally, ageing ship capacity may cause retirements to accelerate which would also remove supply. Currently 3.5-4.0 per cent of total global cruise line capacity is over 30 years old with another 6.5-7.0 per cent of capacity turning 30 and over through 2022.
This would take total global capacity that is 30 plus years old to 10-11 per cent and represents around 35 per cent of the supply that will be added to the industry over that period. While cruise ships are depreciated over 30 years in the industry, often cruise lines operate ships beyond this age, hence retirements are difficult to predict and may not offset as much supply as might otherwise be expected.
Cruise Industry's Fleet is Rapidly Ageing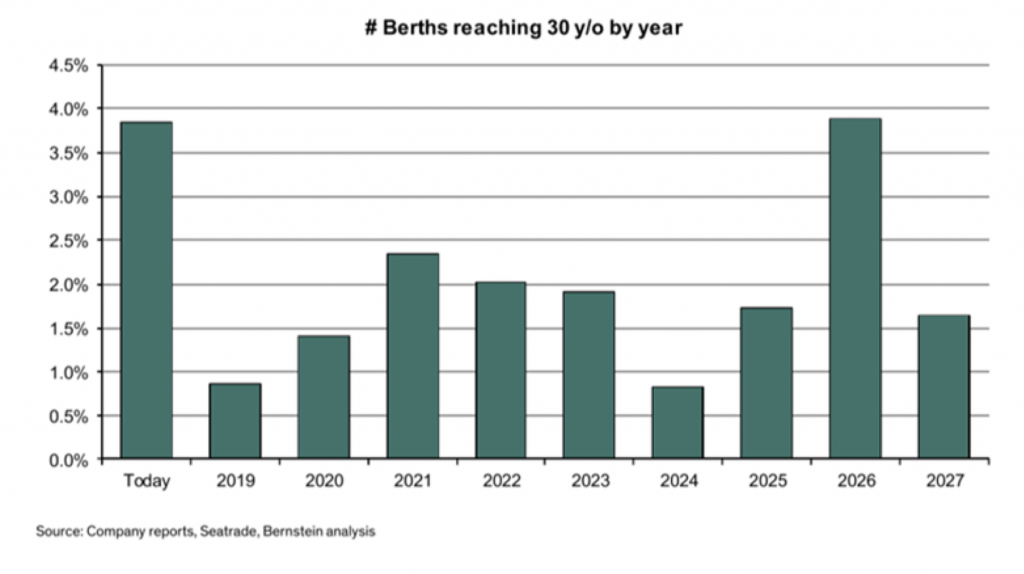 As the industry embarks on this significant test of the penetration thesis we will patiently observe the market for indications of its validity or a price reaction that discounts the risk sufficiently, such that we don't have to buy-in or pay for the thesis upfront and may choose to own it as a source of potential upside.
The cruise line industry is highly consolidated with the three largest players representing around 80% of industry revenues. Amit takes a closer look into the industry, are there any opportunities?
Click To Tweet