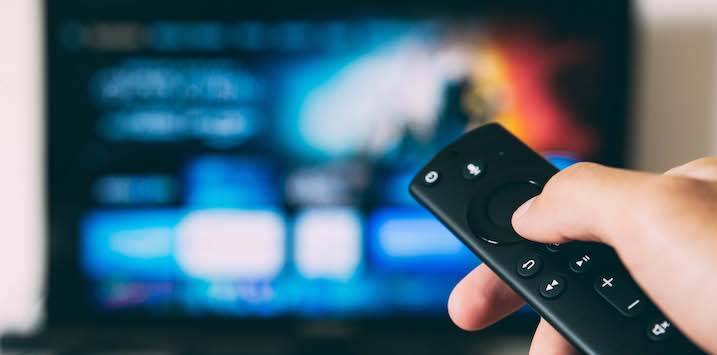 Could BVOD rescue our free-to-air TV networks?
Over the past 10 years, Australia's free-to-air (FTA) television networks have been increasingly squeezed by the influx of highly competitive streaming services and falling advertising revenue.  They've responded by offering broadcasting-video-on-demand (BVOD). It's proven to be extremely popular, and is helping to offset declining revenues.
How FTA television networks generate revenue
Media companies often negotiate and bid for blocks of advertising time during shows at certain times of the day – and the price they are willing to pay depends on the demographics of the viewership at that point in time. These media buyers represent businesses that want to advertise their products or services to a mass audience or a particular demographic of audiences. Therefore, it is critical for broadcasting companies like, Seven, Nine and Ten, to ensure they are broadcasting high-quality content to captivate as large an audience as possible, as agencies prefer to advertise on shows that reach a large audience base.
The availability and price-point of Streaming-video-on-demand (SVOD) in recent years has caused a structural shift in the entertainment viewing habits of people globally and domestically – resulting in declining FTA market revenues. See figure 1 below – displaying the decline of the Australian Metropolitan FTA market. Due to declining viewership, advertisers are willing to pay less per advertisement as the impact of that advertisement upon a company's potential customer base is reduced.
Figure 1: Total Metro FTA Market Revenue Growth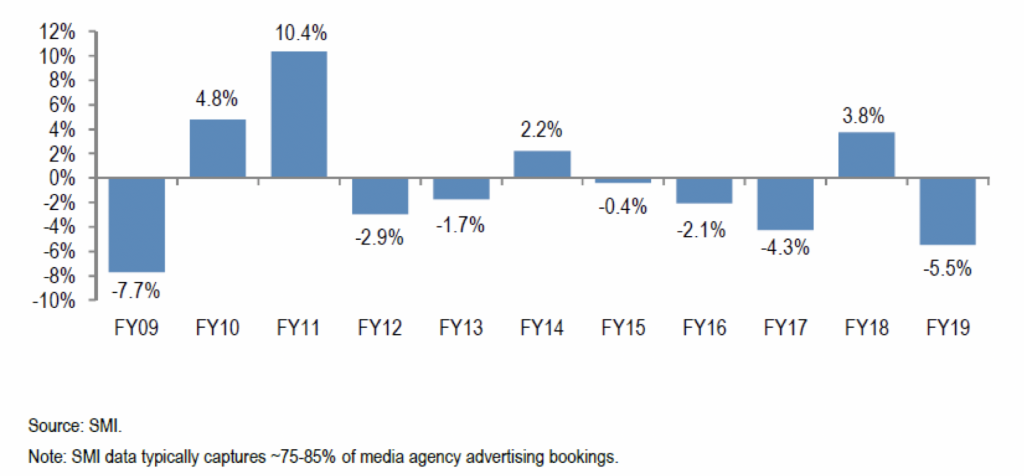 This has a compressing effect upon the margins of the broadcasters, because the costs of their content remain relatively fixed – depending on the mix between purchased programming vs in-house content. Further, domestic broadcasters still must compete for the broadcasting rights to larger sports events like Origin, the NRL, the AFL and the Australian Open, as these events historically have drawn in the greatest viewership. However, the price inflation of these events has been quite significant over the years, to the point that the advertising revenue generated may not offset the greater incurred costs. For example, Channel 9 acquired the FTA broadcast rights for the NRL '18-'22 seasons at a cost of $185 million per year in 2015, representing a 106 per cent uplift on the previous deal.
Enter video-on-demand
Due to these structural headwinds facing broadcasters, their margins are compressed and it has resulted in the search for new avenues of growth which have come in the form of Broadcasting-video-on-demand (BVOD). BVOD is an evolving landscape that allows viewers to watch content on their own schedule and device and its popularity in Australia has skyrocketed over the last couple of years. It offers advertisers a greater variety of insights into their target audiences which directly increases the advertising revenue generated by the broadcasters. See figure 2 below -displaying the increasing penetration of BVOD.
Currently, penetration of the BVOD market is growing.  However, it remains to be argued that there is room for further penetration as 9Now has 7 million registered users, 7Plus has 3 million unique users and 10Play has 3.5 million monthly visits. Of course, astute readers will now question, could BVOD be a new opportunity for Australian broadcasters to evade the slump of the free-to-air market? And is there enough of a penetration opportunity for that situation to materialise?
Figure 2: BVOD Total Minutes Viewed per Week