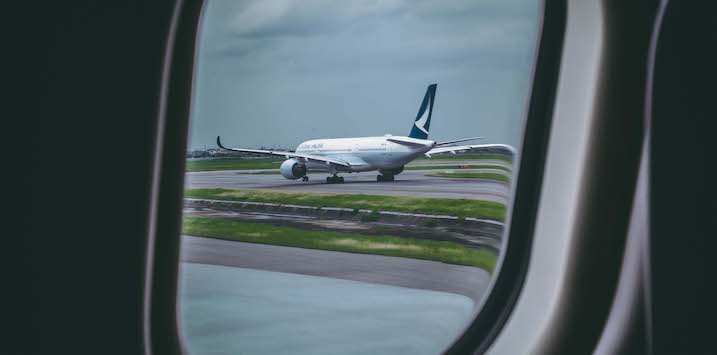 Coronavirus adds to Cathay pain
As aerospace headlines are flooded by the Boeing 737 MAX crisis, behind the scenes Cathay Pacific Airways have faced troubles of their own. Hong Kong's flagship airline, Cathay has struggled amidst the ongoing protest situation. Tourism to Hong Kong has fallen sharply since the often-violent demonstrations began.
Fewer travellers to Hong Kong has left a demand gap that forced Cathay to cancel flights and maximise the remaining ones. December inbound traffic fell 46 per cent year-over-year, continuing a months-long trend. Outbound traffic meanwhile has been declining in mid-single digits against 2018 numbers, which the airline noted was "significantly below" for a peak holiday period. Herding passengers onto remaining flights has helped maintain Cathay's load factor, reporting a slight increase to 85 per cent.
Cathay's Chief Customer and Commercial Officer Ronald Lam Siu-por commented on the upcoming year, saying they "anticipate 2020 will continue to present us with a highly challenging operating environment." Sadly, the protests appear to be far from over, leaving Hong Kong's economy to struggle through.
The Chinese Lunar New Year was expected to be a period of reprieve for Hong Kong's struggling retail, hospitality and travel sectors. However, the recent Wuhan coronavirus outbreak has caused many would-be travellers to rethink their plans. Media reports have covered the rapid spread of the respiratory illness around China and into greater Asia, concerning homebound Chinese citizens.
Travel destinations' tourism economies rely increasingly on Chinese visitors, particularly during the Lunar New Year. Likewise, China's domestic economy counts on the millions of Chinese who return to their hometowns or travel domestically to enjoy the holiday. China's largest travel platform, Ctrip.com, estimated that Chinese would take roughly 450 million trips within China for the Lunar New Year between January 24 and 30, an 8.4 per cent increase from last year.
The Cathay Pacific Airways Flight Attendants Union, which represents about 7,000 of the airlines 12,000 cabin crew, has come forward declaring that coming to work is now a safety concern for their members. They want the cabin crew to be allowed to wear masks while on international flights to limit their chance of exposure.
As though they were not challenged enough, the coronavirus outbreak adds to Cathay's pain as they begin the new year. Commercial Officer Lam had noted that "advance bookings for Lunar New Year appear promising with the boost in transit passengers; however, we continue to see a significant shortfall for the period after that, especially from inbound traffic." Evidently, the airline may have to survive without some of the expected windfall of the Lunar New Year period and push through their already demanding 2020.
The Montaka Global Fund is short Cathay Pacific (293 HK). This article was prepared 23 January with the information we have today, and our view may change. It does not constitute formal advice or professional investment advice. If you wish to trade Cathay Pacific (293 HK) you should seek financial advice.