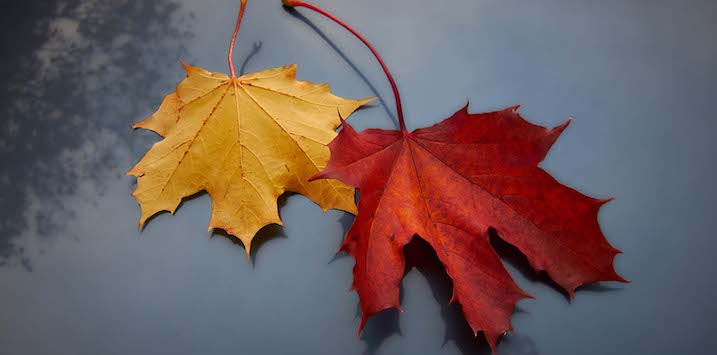 Compare the pair: is it that simple?
The peak of the Royal Commission seems to have coincided with the peak in advertising air time for the industry super funds. I am not sure of the experience of the readership here on the blog, but it appears to me that the industry funds have really stepped up their campaigns over the last 12 months.
Recently on a visit to Port Macquarie and Coffs Harbour on the Mid North Coast of New South Wales, it was noted several times by Financial Planners that they were being asked to compare the returns of their investment portfolios to that of an industry super fund more frequently. But is it as simple as comparing the pair? As much as I like the meerkat ads at present, I think it can be dangerous to compare the returns of the industry super funds without understanding both the asset split and underlying assets that they hold. As such, I have put together a few points which I think need to be considered when making a comparison of an industry fund to that of another.
Basics of an Industry Super Fund
The first thing to note is that an industry fund is both a fund of funds and a multi-asset strategy. Moreover, the industry fund would appoint an investment manager who would then be responsible for sourcing investment mandates for the fund across a number of asset classes which can be passive and/or active, including (and not restricted to) growth assets such as local and international shares, private equity, alternatives, property and infrastructure, and defensive assets such as fixed interest, corporate and government bonds and cash (or cash derivatives). The industry fund would generally use their scale (or dollars under management) to negotiate lower management fees for the respective managers they choose. Their dollars under management can also be a double edged sword in the sense that they often have to choose several managers within an asset class due to capacity constraints of the managers based on the parcels that industry fund would like to invest.
Be mindful of Asset Allocation
As an example, I have sourced the asset allocation for the HostPlus Balanced Fund below. This strategy seeks to employ active managers across a number of asset classes to achieve its objective of CPI plus 3 per cent per annum on average over 10 years. Interestingly, Canstar defines "Balanced" in the context of asset allocation in Superannuation Funds as "a reasonably even mix of safe and risky asset classes, good for someone who wants higher returns but less risk."[1] A reasonable allocation, in my experience, would be an allocation of growth to defensive assets of 60-50 per cent/40-50 per cent respectively. However, when summing the asset allocation of the HostPlus Balanced Fund it is apparent it has a very sturdy lean towards growth assets of 90 per cent/10 per cent to defensive by traditional class definitions.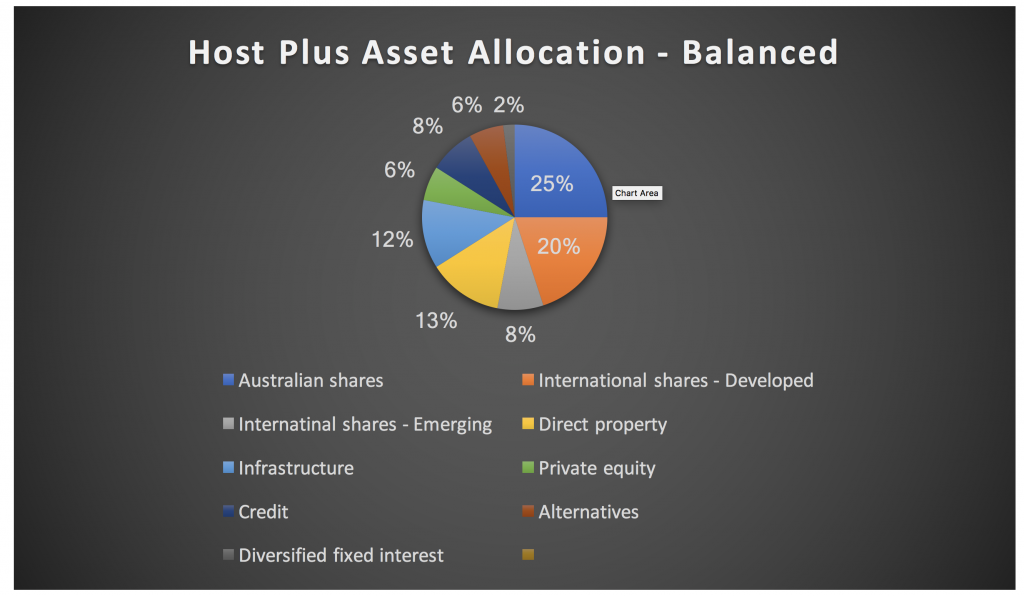 Source: Host Plus
By way of comparison, I have also sourced the asset allocation below for the Colonial First State FirstChoice Balanced Fund and the Morningstar Balanced Fund. Like the HostPlus Balanced Fund, both strategies also seek to employ active managers under their investment mandate with slightly different objectives. The Colonial First State Fund aims outperform the option's composite benchmark over rolling three-year periods before fees and taxes, and from an asset allocation perspective has a growth/defensive split of 70 per cent/30 per cent respectively. Conversely, the Morningstar Fund aims to outperform the SAA weighted composite return of the sector benchmarks over 5 to 7 years and is clearly underweight growth assets relative to HostPlus and Colonial First State, with a growth/defensive split of 52 per cent/48 per cent respectively.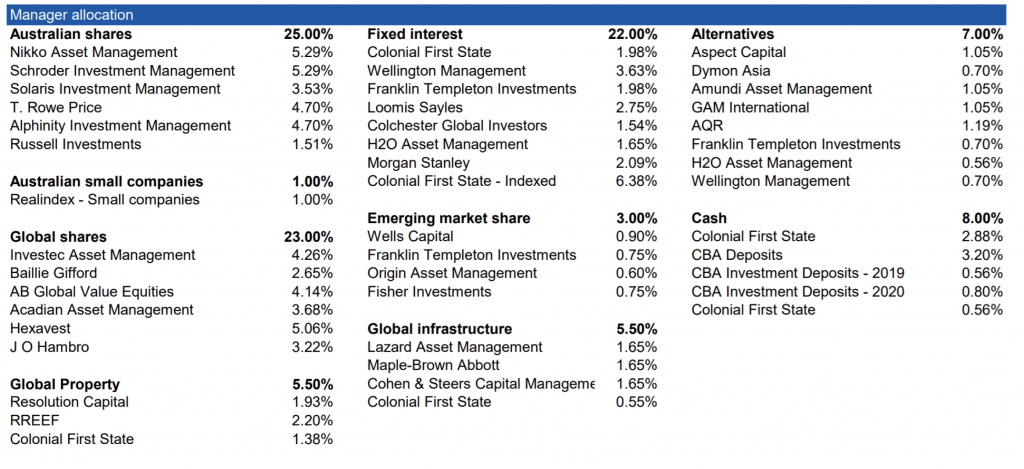 Source: Colonial First State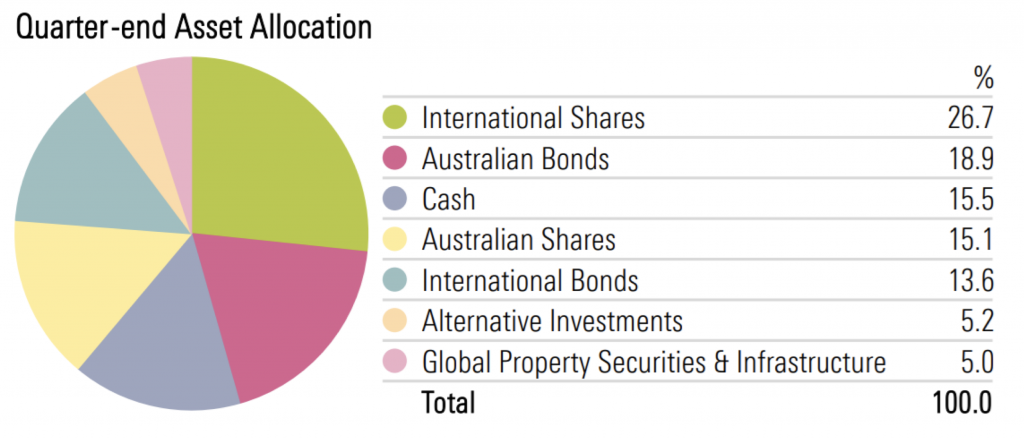 Source: Morningstar Investment Management Australia
Putting it together
It is apparent there is varying industry definitions around what asset split constitutes "Balanced" and what you would in fact define as a growth and defensive asset in the first instance.
Ultimately both have significant implications for return comparisons, as strategies with a higher net growth asset allocation would have naturally outperformed over the last decade.
Exploring this further, property and infrastructure are assets, some may believe fall on the cusp of growth/defensive, but as we have seen locally (and globally), property prices are not immune to volatility and infrastructure can also experience swings depending where you are at in the interest cycle.
Morningstar have also done some work on the risk versus reward outcomes of these asset classes relative to their average return and drawdown since 1 January 2010. The way you would read this chart is the further up and to the right of the chart you are, the better the result is from a risk/reward perspective. As it illustrates, property (both local and global) does have similar risk/reward outcome to that of shares over this time period, particularly when compared to that of bonds.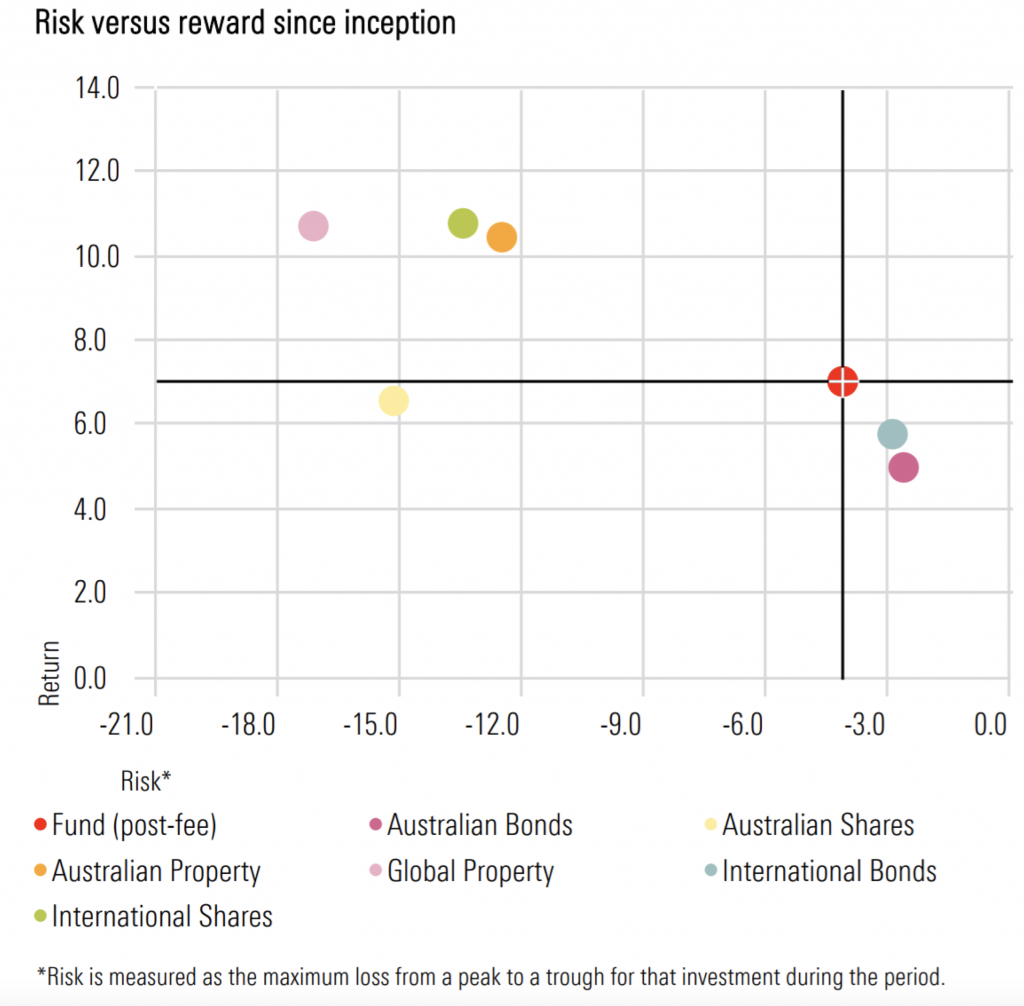 Source: Morningstar Investment Management Australia
Does that mean you should not invest in an industry fund at all? I am not concluding this, but rather challenging individuals to think about understanding what underlying assets drive the returns of a multi-asset fund, or in fact in any fund you are reviewing.
As above, the key is to make sure you are comparing like for like from a growth/defensive allocation perspective, and also be mindful of comparing returns over common periods.
To aid investors, the one piece of advice I can reflect on when comparing funds is that of our Chief Investment Officer at Montgomery Global in Andrew Macken, "to outperform the equity market, one needs to invest – in a fairly concentrated way – with a small number of talented and disciplined active fund managers that follow a process which is logical and clearly understood by the investor."
[1] (Source: https://www.canstar.com.au/superannuation/asset-allocation-superannuation-funds/).