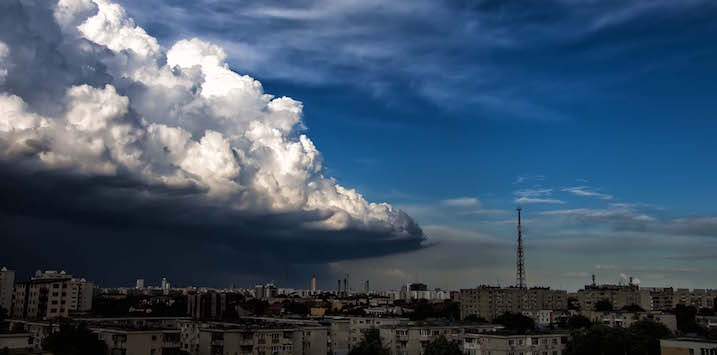 Businesses that could survive the Amazon onslaught
Morgan Stanley's tech team recently devised a framework to help investors consider which industries should withstand the impending Amazon threat. Labelled the BRIAN framework, it makes essential reading for all investors.
"The Amazon Effect" – that is, Amazon's dominance over all things retail and the shift in consumer expectations around the shopping experience – has become increasingly visible. The traditional retail distribution model of selling goods via brick and mortar stores has been disrupted, with a growing share of retail transactions shifting online to players such as Amazon. Amazon's entry into a market irreversibly changes consumer shopping habits, disrupts supply chains and exerts price and margin pressure on incumbent retailers. These trends have been well-publicised, and the lack of any signs to indicate that they are abating makes the framework all the more important.
The BRIAN framework elucidates a number of barriers that should make it harder for Amazon to disrupt these businesses. While Amazon boasts a huge range of items, data on consumers' preferences, distribution infrastructure and the necessary systems to make the shopping experience seamless, it's likely that businesses with the following characteristics are less likely to be displaced by Amazon.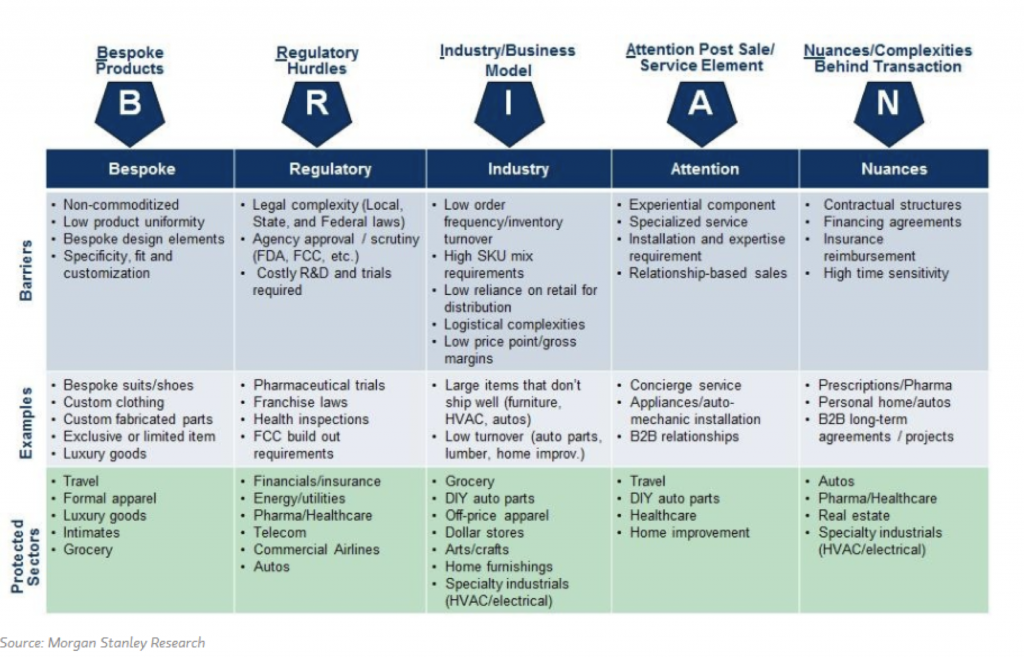 Let's look at each of these barriers in turn.
Bespoke
Firms that sell unique and bespoke items such as luxury goods retailers, grocery stores, or tailor-made suits are better-positioned.
Regulatory hurdles
Industries with heavy legal and regulatory burdens when making a product sale provide barriers that protect these companies. The pharmaceuticals and insurance industries are good examples of this.
Industry/business model
Morgan Stanley suggests that e-Commerce companies find it more difficult to scale products with lower gross margins, lower order frequencies, lower inventory turnover, and/or heavier weights. Retailers that sell goods of this nature are likely to be more difficult for an e-commerce player such as Amazon to disrupt. Industries such as auto parts and home furnishing sell goods characterised by these factors and may be more defensible against online competition.
Attention post sale
Businesses that require a high level of post-transaction customer service are better-placed to compete against Amazon. Examples include the travel industry, where customers may need to contact a travel agent if issues arise, as well as auto parts, given that some components need to be installed after purchase.
Nuances
Transactions that are complex and nuanced are harder for Amazon to capture, and the increasing complexity of a transaction makes scalability more difficult. For example, a contract for a large-scale machinery purchase could take weeks or months to negotiate, making it ill-suited to being displaced by Amazon's current retail model.
While the above framework may spark thoughts about which retailers are better-placed to compete in an environment that includes Amazon, there's no assurance that the online juggernaut won't evolve its model to eventually encroach on these businesses.
The Montgomery Global Fund and Montaka own shares in Amazon (Nasdaq: AMZN)
Are you looking for a simple way to invest in high quality global businesses? Find out about the new Montgomery Global Equities Fund – a simple way to gain global diversity. Listing soon. Find out more here.