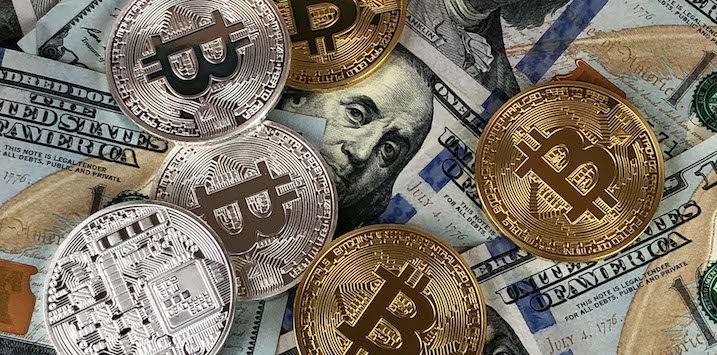 Bitcoin takes a plunge
Following 3 months of relative stability, the price of Bitcoin started diving last week and crashed through the perceived $6000 per "coin" floor, and then below the psychological support level of $5000 before eventually bottoming out in the short term at $4300.
The blame was laid on a few factors – including a hard fork (or a split) in Bitcoin Cash (which itself was a fork of Bitcoin) and increasing regulatory scrutiny which had been expected for some time. (My personal view is these seem like "after-the-fact" reasons for those seeking explanations rather than genuine triggers).
Price chart for Bitcoin in 2018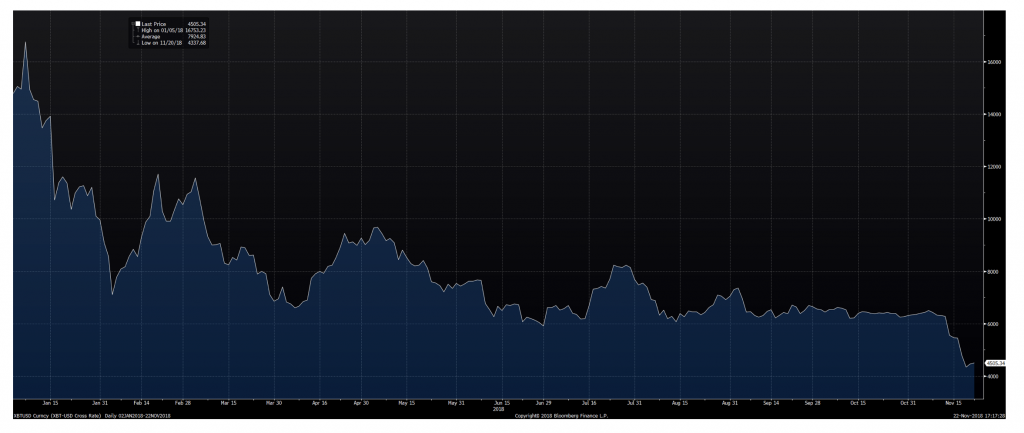 Source: Bloomberg 
Much like gold, the absence of a value-in-use concept makes it difficult to determine a short-term floor, at least in US dollar terms for the price of Bitcoin. Cryptocurrency investors may take some relative comfort in the fact that Bitcoin has recorded a price drop of over 80 per cent from its peak of $20,000 in December 2017 and – rightly or wrongly – point to "relative" value. However, this ignores the reason for why it got to that price in the first place and establishes the concept of value through the lens of an anchoring bias.
Price chart of Bitcoin in 2017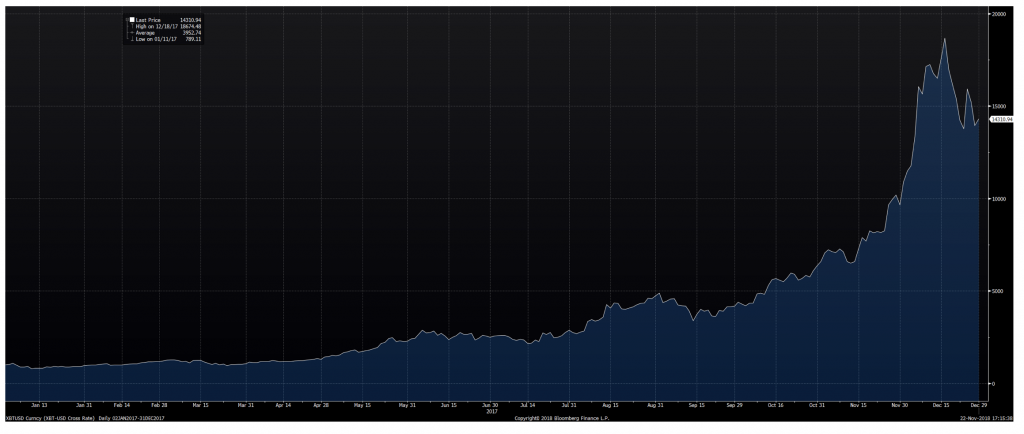 Source: Bloomberg
To demonstrate the importance of narrative and context – consider just 14 months ago, September 2017 Bitcoin was trading at a similar price of $4,500 but had more than doubled in two months from $2000 in July, and up over 400 percent since January. Headlines at the time were reporting "record highs" for Bitcoin while "investors shrug off risks like upcoming fork", with Bitcoin continuing its upward march even after a fork in August created Bitcoin Cash. In a survey conducted in October 2017, CNBC reported nearly half of the 23,000 people who voted believed Bitcoin was heading to $10,000 in the next six to 10 months (a prediction which ultimately proved correct!). I wonder if these same people would vote the same way now when shown a chart of Bitcoin's recent price slide.
Whatever your thoughts on the potential for blockchain technology, one of the lessons from Bitcoin's recent price fall for new-age investors and speculators is one that has been repeated many times in history – investing on the basis of Greater Fool theory relies on heuristics such as anchoring, readily manipulated by context and sentiment, with minimal fundamental basis driving buy and sell decisions.