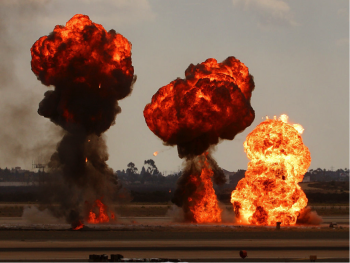 Big Miner Boom?
Before we launch into the resources discussion, an update on our Yellen-could-keep-rates-lower-for-longer-fuelling-a-possible-stock-market-boom thesis.
From Bloomberg this week: "Yellen emphasized last week that slack in the labor markets remains 'significant'".
And now, back to our regular programming…
We are following, with great interest, the discussion currently unfolding in the market about iron ore and the big miners.
On the one hand, we have the spriukers calling for a 'rotation' out of banks and into the big miners. The logic is no more sophisticated than saying: "You should sell the banks and buy the miners because the banks have gone up a lot and the miners have gone down a lot, so it's now time for the miners to go up a lot".
On the other hand, we have those that believe the risks for the iron ore price are to the downside because supply is building and demand growth is slowing. This latter view is also held by Montgomery. We note that tougher credit conditions continue to impact iron ore prices, with some trading firms discovering it's increasingly difficult to secure letters of credit from banks. This comes as the government attempts to consolidate industries where overcapacity exists, by reining in lending and attempting to avoid future bad debts.
In any case, if there's one type of business that we are loath to own at Montgomery, it is the one that cannot increase or even maintain the price of its product in the face of excess supply. By definition, mining companies are not the prized businesses that can take large amounts of equity capital on which they can subsequently generate high rates of return.
For now however, the band is playing, the music is loud and the cheap money is flowing. The party is in full swing. It is no surprise then that the shares of the big miners have not followed the iron ore price lower, but revellers would be wise to dance close to the exits.
Here's a chart we constructed on Bloomberg.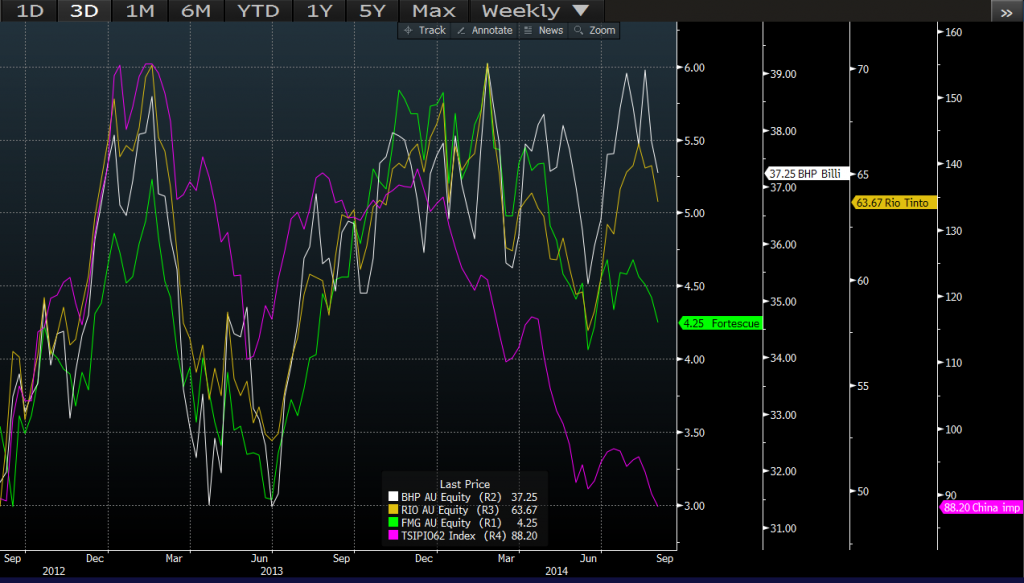 From the final calendar quarter of 2013, the iron ore price has fallen 34 per cent from close to $140/t to about $92/t. The share prices however of the three big miners (BHP, FMG and RIO) have held up.
Of course, this is partly due to increased production offsetting the lower prices (for which the increased production can be blamed). It's also attributable to the fact that a dearth of value in the market combined with low interest rates – fuelling baby boomers to chase yield – is making those spruikers look right (for now).
Interestingly, BHP has moved to spin off the 'non-core' aluminium, Columbian Nickel manganese, NSW south coast and South African Coal assets, as well as its silver assets. These are described by some as the very assets that represent the bulk of what Billiton PLC brought to the merger in 2001. The move has disappointed investors who were expecting a capital return, as well as UK fund managers who will have to sell the ASX-listed stock – just as Aussie fund managers had to sell FOX when it was delisted here and appeared on the NASDAQ.
For those with memories longer than the short-term traders spruiking a rally in the big miners, you might recall BHP has spun assets off before. The long steel division became known as OneSteel in 2000 (now Arrium), and the flat steel division became the individually listed BlueScope in 2002. BlueScope is now nearly 50 per cent below its float price and Arrium is about 2 per cent below. BHP clearly know what they are doing.
BHP's core delivered 97 per cent of the company's underlying earnings and spinning off the non-core businesses are expected to improve margins dramatically from 47 per cent to an estimated 55 per cent. But one does not expect these gains to be treated as permanent by a market focused on short-term cheap money, a nice yield and baby boomers in the panic phase of retirement preparation (read: seeking a better return than cash).
But short-term factors are, by definition, ephemeral; and our long-term view of iron ore is that the prices obtained during the three decades prior to 2004 ($10–$20/t) are just as valid as the prices traded in the decade from 2004 to today ($20–$187/t). Of course, nobody is expecting prices to fall to anywhere near $20/t, last of all the chartists (but more about them in a moment). Humans however, are notoriously poor at doing anything other than expecting the future will look like the recent past. If the price of iron ore has been between $187/t and $87/t in the last few years, why should next year be any different?

Some chartists believe that support for iron ore at $89–$90/t should hold. The only problem of course is Chinese steel mills and construction companies aren't making their buying decisions based on the support line drawn on this chart.
As we have warned for some years, credit growth is slowing in China, and demand for iron ore is expected to do likewise.
Whether or not the price of BHP, RIO and FMG follow in the short-term is anyone's guess, but the fundamentals don't provide investors with the kind of risk profile we would be comfortable with. Those looking for reliable dividend yields should be looking elsewhere.