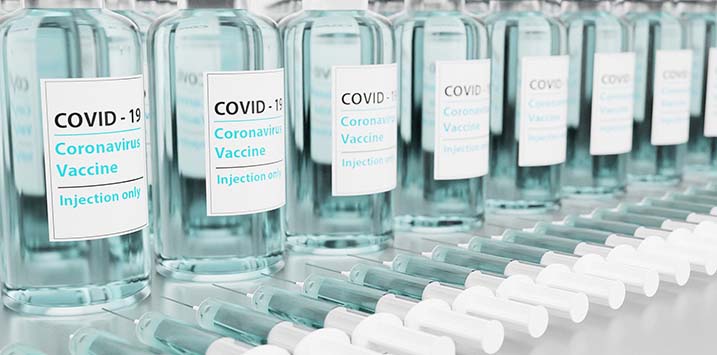 Australia's COVID-19 National Plan charts our way back to normal
Finally, Australia's vaccine rollout is beginning to gain traction. In July, around 4.5 million vaccinations were administered – more than double the rate achieved in May. While we're still playing catch-up with other countries, like Israel, the UK and USA, it's heartening to see we are working our way back to life as we once knew it. The aim now is to get 80 per cent of the population fully vaccinated as fast as possible.
According to reports, almost a million doses are being administered each week with a cumulative 12.3 million doses now administered. One in three people over the age of 16 are said to have received their first dose, and more than 60 per cent of individuals over the age of 50 have received their first dose.
Further, the Australian Government has recently announced it has secured an additional 85 million doses of the Pfizer-BioNTech vaccine. The scale of the purchase (compared to a population of 25 million) reflects the clear need for booster shots to become a part of normal life.
What else can we expect from life with COVID-19?
Encouragingly, for the economy and the nation, National Cabinet has agreed on a four-phase National COVID-19 Response process, A through D. Australia is currently in Phase A (Vaccinate, Prepare and Pilot).  Suppression of the virus and minimising community transmission remains a priority until a higher proportion of the population is vaccinated.
Before transitioning to Phase B, Australia will need to attain a vaccination rate of 70 per cent of the eligible population. Phase C, which includes the lifting of outbound travel restrictions for vaccinated Australians, will commence when 80 per cent of the population is vaccinated.
What can we expect from being a highly vaccinated nation?
Billions of doses have been administered globally and with the benefit of experience, we are learning a great deal.
Taiwanese sampling has found that a 10 per cent increase in vaccine coverage leads to a 7.6 per cent reduction in case fatality. In other words, the current crop of COVID-19 vaccines are very good at protecting individuals against hospitalisations and deaths, but clearly they aren't protecting 100 per cent of the population. So, they aren't perfect.
Nevertheless, we now know that vaccination is producing a 40-50 per cent reduction in COVID-19 cases among an infected individual's household contacts. And this is the kind of transmission-inhibiting protection against infection that is essential if herd immunity – which is required to end the pandemic – is the goal.
From the experience of The Netherlands, however, we also know that more transmissible strains are responsible for fresh outbreaks and what are known as 'breakthrough' infections. Consequently, in high-risk settings, masks and social distancing are still required.
For all restrictions to end, the world will need to see success, from the new generation of vaccines being developed, in reducing transmissions by much more than 50 per cent.
Does mixing vaccines generate a more vigorous immune response?
In the meantime, there is some evidence that mixing vaccines (heterologous vaccine regimen) appears to generate a more vigorous immune response than a homologous mRNA vaccine regimen (Figure 1.).
Figure 1.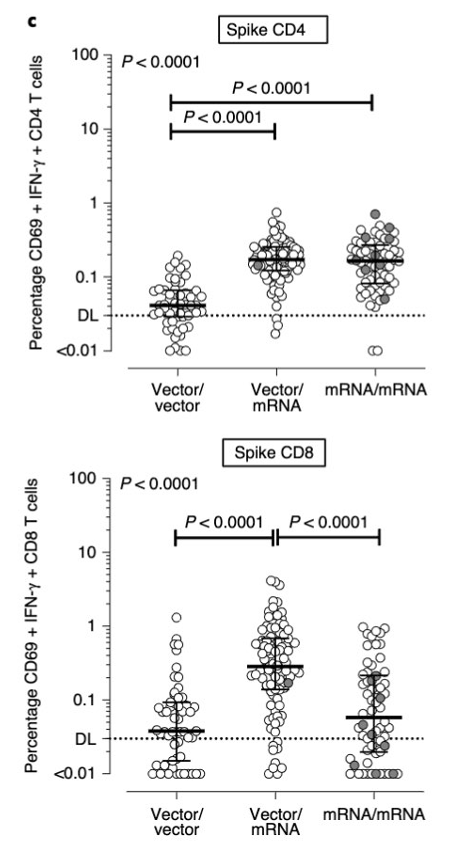 On 26 July 2021, Nature Medicine published research that revealed, in healthy adult individuals (n = 96), the heterologous vaccine regimen induced spike-specific IgG, neutralizing antibodies and spike-specific CD4 T cells, the levels of which were significantly higher than after homologous vector vaccine boost (n = 55) and higher or comparable in magnitude to homologous mRNA vaccine regimens (n = 62). Moreover, spike-specific CD8 T cell levels after heterologous vaccination were significantly higher than after both homologous regimens.
Obviously, as we live longer with the virus we will learn more about it and about what is possible.
The emergence of the Delta strain of the COVID-19 virus has revealed it is this strain's increased viral load in a person's airways – up to 1,200 times higher in those newly infected than the Alpha variant – that makes it such a tough adversary.  Unsurprisingly, many are asking whether one vaccine offers more protection than another. According to the New England Journal of Medicine a study published in July this year revealed the first dose of Pfizer/BioNTech offered effectiveness of 35.6 per cent against the Delta variant, while AstraZeneca offered 30 per cent effectiveness.
Efficacy peaks at 96.2 per cent in the two months after the second jab
In terms of the important aspect of permanency of vaccine protection, time may not be our friend. According to an unpublished study by Pfizer, following vaccinated individuals for up to six months, researchers are finding a gradual decline in vaccine efficacy. Efficacy peaks at 96.2 per cent in the two months after the second jab and gradually declines to 83.7 per cent from four months. Every subsequent two months leads to a further six per cent decline in efficacy.
UK researchers are currently of the view that, as immunity falls, more individuals will be infected; however, the virus will boost their immune response and these individuals will control infection with their own immune system with few or no symptoms being experienced.
It is currently accepted, however, that booster shots will be required and vaccination campaigns will be required for some years.
With the Delta strain dominant in many countries, along with its ability to break through vaccine-induced immunity, it is likely we will be wearing masks and social distancing in some circumstances for some time to come. Travel restrictions will probably ease in due course but the risks associated with travel, especially to countries with low coverage, will be risky.
Until we know more about the virus, and more about the effectiveness of vaccines and the timing of boosters, we will not be able to turn the clock back to 2019.  A new generation of vaccines is on the horizon and that provides more encouragement. For now, however, our best hope is to inoculate as many people as are willing, and perhaps even those that are not.