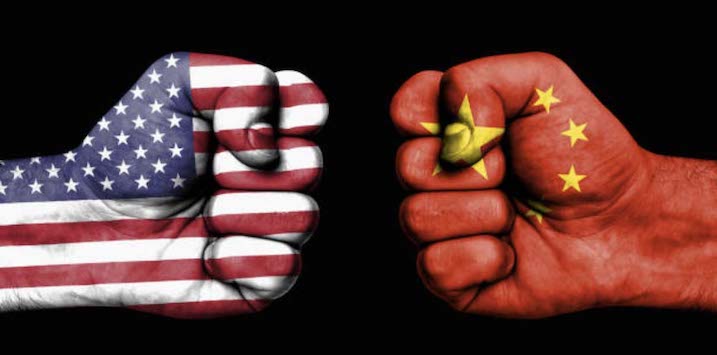 A China Trade War?
With the risk of a trade war between the U.S. and China, volatility is creeping back into markets. On Wednesday, after China announced retaliatory tariffs, the Dow Jones Industrial Average fell by 2 per cent in the opening minutes, only to end the session up around 1 per cent, presumably on the hope that a compromise will ultimately be reached.
Staying abreast of these geopolitical developments is important – it can help investors identify risks and opportunities within their portfolio, as well as finding potential investment candidates on both the long and short side.
So what exactly has happened?
After a prolonged period of friendly trade relations between the U.S. and China, the Trump administration has adopted a much tougher stance on China's trade policies. Gripes by the Trump administration include U.S. companies being forced to share their technology with Chinese companies, the stealing of trade secrets by Chinese firms (through cybertheft and otherwise), as well as foreign ownership restrictions in China. In short, the U.S. has opened up its trade borders for years, only to find that China has held a much more restrictive trade stance.
The U.S. has brought the issue of its dissatisfaction with China's trade policies to a head by announcing steel and aluminium tariffs. More recently, the tariffs were expanded to US$50 billion of goods imported from China, with the Trump administration publishing a list of around 1,300 Chinese exports that would attract a 25 per cent tariff. China responded with its own tariffs on US$50 billion of imports, on products including soybeans, tobacco, and aircraft. The Chinese embassy, in a rare break from the usual dry rhetoric, threw in a bit of cheek: "As the Chinese saying goes, it is only polite to reciprocate".
How does it play out from here?
Some China observers believe the recent spat is a game of chicken, with the two economic powerhouses going tit-for-tat in a trade battle that is likely to escalate. If this is the case then there's cause for concern. A trade war would be particularly damaging for both U.S. and Chinese companies in terms of supply chain disruptions and rising prices for consumers. However, the more likely outcome is a negotiation – and recent news reports indicate that both parties are willing to thrash out some form of agreement. Commerce Secretary Wilbur Ross recently said that "Even shooting wars end with negotiations…So it wouldn't be surprising at all if the net outcome of all this is some sort of negotiation".
The U.S. tariffs will not come into effect for weeks, or even months, after when the public comment period ends on May 22. This leaves both sides time to attempt to reconcile their differences and reach some sort of agreement. In the past, the difficulty for the U.S. has revolved around getting the Chinese government to change its practices. Since 2010, the Chinese government has stated that it will stop requiring that foreign companies surrender their trade secrets and technology for market access, according to the Office of the U.S. Trade Representative. China's actions have diverged from these commitments, no doubt to the chagrin of the U.S.
While the two parties are likely to negotiate – it's not exactly clear what either side wants. There appears to be particular discord in what various members of the Trump administration are after. Conversations to date have revolved around China making concessions – e.g., lowering the tariffs on American cars, or having China open up its financial services market to a greater extent. However, policy hawks within the administration, namely Peter Navarro and Robert Lighthizer, are unlikely to be satisfied by these changes around the edges, and are likely to be pushing for a much broader and revolutionary change to the U.S.-China trade relationship.
China may try to pounce on the lack of consensus within the U.S. administration, but is also managing any concessions with the desire of Beijing to project an image of strength to the world to send the message that China can not be bullied into making policy changes.
Cui Tiankai, the Chinese ambassador to the U.S., recently said: "Negotiation would still be our reference, but it takes two to tango…We will see what the U.S. will do". While negotiations seem likely, settling the matter expeditiously and in a way that is advantageous to both parties is by no means a forgone conclusion. It would not be surprising if there's disagreement, more angry POTUS tweets, and elevated volatility in the markets going forward. Investors need to be mindful of these risks and ensure that they are scrutinising the impact of these trade tensions on individual stocks in their portfolios.
Staying abreast of geopolitical developments is important – it can help investors identify risks and opportunities within their portfolio.
Click To Tweet