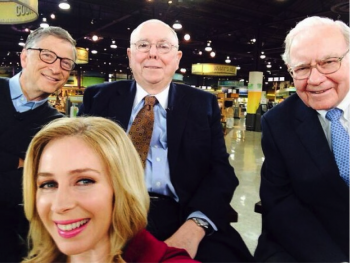 A chat with Warren
Warren Buffett was on CNBC's On the Money program over the weekend, and we thought you might be interested in his very latest thoughts…Following is the unofficial transcript of the interview with Billionaire investor Warren Buffett and CNBC's Becky Quick. The full transcript can be found here.
Becky Quick: He's the man that many call America's greatest investor. An oracle, Warren Buffett is here right on set with us and Warren, thank you so much for joining us today.
Warren Buffett: fun to be here.
Quick: So when we have you here, we have a lot of people who are at home watching the stock market who have gotten very nervous by some of the dips that they have seen recently. People starting to wonder if things are topping out. What advice would you give to those people who are sitting at home?
Buffett: Well I have no idea what the stock market is going to do tomorrow, or next week, or next month, or next year. I do know it is going to be higher ten years from now. And if you own your stocks as an investment, just like you would own an apartment house or a farm or anything, look at them as a business. And you have a group of American businesses and you are going to own them for ten years, you're going to do fine. And if you are going to try and buy and sell them based on news or you know, something your neighbor tells you or anything like that, you're probably not going to do well. So find a good bunch of businesses and hold them.
Quick: And that is what you have been doing for decades and decades, and it has paid off.
Buffett: I've been doing it all my life, yeah. And you will not make money trying to buy and sell stocks daily or weekly.
Quick: You may not know exactly what is going to happen to the market tomorrow, but you do have a pretty good idea about what is happening in the economy. You know that through all of the companies.
Buffett: Sure.
Quick: From Burlington Northern, which is a very good read on the economy, to a company like American Express that you hold a big stake in. Where do you think we are headed?
Buffett: Well the economy, since the fall of 2009, that's five years now, has been increasing at a pretty steady rate. People have gotten – periodically they got more enthused or more depressed about it. They talk about double dips, and all these sorts of things we've heard, but it has been a pretty steady increase. It doesn't accelerate a lot, it doesn't decelerate a lot. And what we see now is exactly what we have been seeing for five years. An increase not a rate that gets people all excited, but – and I think we will be seeing that a year from now.